Federal Reserve: Observations on the Ag Economy- June '17
On Wednesday, the Federal Reserve Board released its June 2017 Beige Book update, a summary of commentary on current economic conditions by Federal Reserve District. The report included several observations pertaining to the U.S. agricultural economy.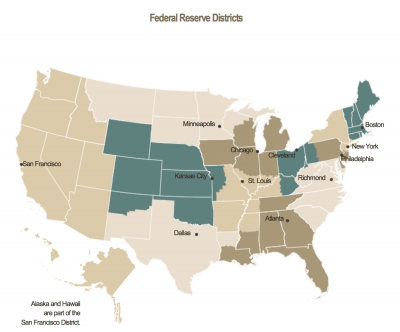 * Sixth District- Atlanta– "Agriculture conditions across the District were mixed. By mid-June, rains had significantly improved drought conditions in much of the District.  However, recent heavy rainfall due to Tropical Storm Cindy exacerbated areas' crop moisture conditions in much of the District that were already categorized as abnormally moist to excessively wet, and there were early indications of some crop damage. During the reporting period, the District's cotton crop was mostly on par with the five-year averages and soybean planting in Louisiana, Mississippi, and Tennessee was ahead of their five-year averages. The June forecast for Florida oranges was up slightly from May but remained considerably lower than last season's production. On a year-over-year basis, prices paid to farmers in April were up for cotton, soybeans, and broilers but remained down for corn, rice, beef, and eggs."
* Seventh District- Chicago– "The agricultural sector continued to operate under stress in late May and June, with reports of some crop and dairy operations exiting or filing for bankruptcy. Crop conditions and maturity lagged that of last year's bumper crop, but the overall harvest is still expected to be around trend."
"Contacts expected a smaller corn harvest than last year, but there is a small chance that the soybean harvest will be larger because the wet spring led some farmers to switch acreage from corn to soybeans.  Hog prices moved up, but cattle prices dropped. Milk prices were lower, which contributed to mounting losses for many dairy operations."
* Eighth District- St. Louis– "Agricultural conditions improved modestly by the end of June as row-crop farms recovered from flooding.
Contacts reported a few Arkansas fields had still not dried up enough to replant and many fields would be replanted with soybeans because other crops' planting windows had passed.
"As of June, the percentages of District corn and soybeans rated fair or better were below their 2016 values, but corn improved slightly from a month prior. The percentage of rice rated fair or better was above the year- and month-ago values, while the cotton percentage was slightly better than a year prior and slightly worse than a month prior."
* Ninth District- Minneapolis– "District agricultural conditions weakened since the previous report. Severe drought conditions affected the Dakotas and parts of Montana, hampering crop progress and triggering disaster relief payments to ranchers in some areas. By contrast, crop conditions in the eastern parts of the District were mostly good or excellent as of late June."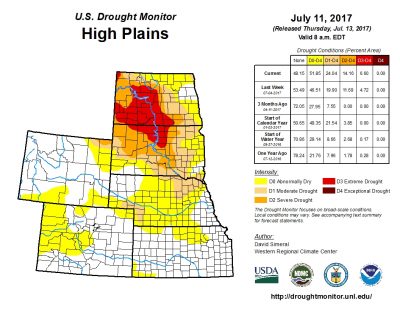 * Tenth District- Kansas City– "District farm revenue remained subdued since the previous reporting period as most agricultural commodity prices remained low. Corn and wheat prices increased slightly, but were lower than a year ago due to elevated global supplies.
Similar to last year, District contacts reported that corn and wheat prices remained below levels generally thought to be profitable and financial stress continued to increase at a gradual pace for many producers.
"Soybean prices declined slightly from the previous reporting period and were also slightly less than a year ago. Livestock operators were slightly more optimistic than earlier, as cattle prices increased modestly from a year ago. Hog prices also increased modestly from the previous reporting period as global demand for meat products remained relatively strong."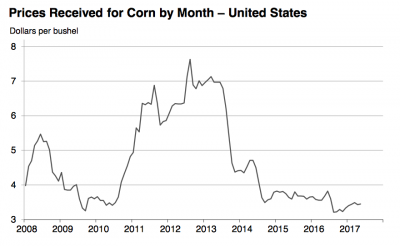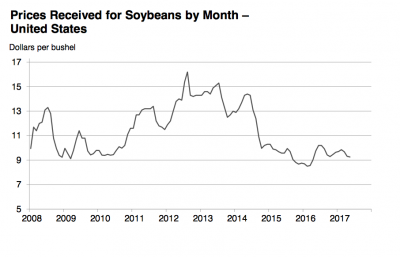 * Eleventh District- Dallas– "Moisture levels remained favorable across the district, boosting crop conditions. The wheat harvest was wrapping up, and production was down sharply from last year because of lower yields and fewer acres planted.
While farmers were generally feeling positive about 2017 row crop production, they remained concerned about low crop prices and financial strain from not being able to cover production costs.
"Input prices are too high compared to grain prices—something has to change," banker comment from @DallasFed, 2nd Q Ag Survey.

— Farm Policy (@FarmPolicy) July 4, 2017
"Export demand for U.S. cotton will likely not be as strong this year due to average crop quality and higher global supply. The cattle industry continued to benefit from very strong beef demand, both domestically and internationally."
* Twelfth District- San Francisco– "Activity in the agriculture sector picked up to a modest pace over the reporting period. In the Central Valley of California, yields of nuts and row crops were up over the previous growing season. Ample water supplies boosted cherry harvests.
On balance, improved global economic conditions nudged up demand for some agriculture products, particularly pork.
"Increased global production pushed raisin inventories higher, reducing profitability for some growers."
Although the Federal Reserve recap contained some troubling observations with respect to the U.S. agricultural economy, Iowa State University agricultural economist Wendong Zhang recently noted that a repeat of the 1980's farm crisis is not likely, "Despite Some Alarming Signs, Repeat of 1980's Farm Crisis Seen as Unlikely."