Federal Reserve: Observations on the Ag Economy- August 2018
On Wednesday, the Federal Reserve Board released its August 2018 Beige Book update, a summary of commentary on current economic conditions by Federal Reserve District. The report included several observations pertaining to the U.S. agricultural economy.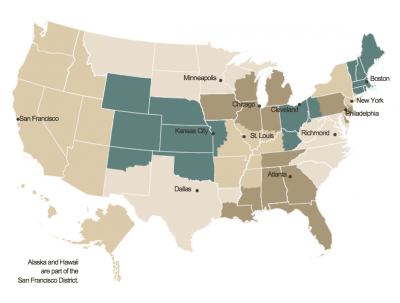 * Sixth District- Atlanta– "Agriculture conditions across the District continued to be mixed. Drought conditions were little changed from the previous report; most of the District remained drought free although there were reports of abnormally dry conditions in much of Louisiana and in parts of Mississippi and Alabama. August production forecasts indicated year-over-year increases in rice, soybean, and cotton, while peanut production was down. Year-over-year prices paid to farmers in June were up for corn, cotton, rice, soy- beans, broilers, and eggs, while beef prices were down.
However, since the last report, weekly comparisons indicated lower commodity cash prices for some recently tariffed agriculture exports such as soybeans, and the USDA has announced a financial relief program for affected agriculture producers
* Seventh District- Chicago– "Overall crop yields in the District appeared set to forge a new record as the result of widespread good weather. Contacts expected a record harvest for soybeans but not for corn, reflecting the shift in the composition of crops in this year's plantings.
The anticipation of large supplies and uncertainty about trade policy led to lower corn and soybean prices.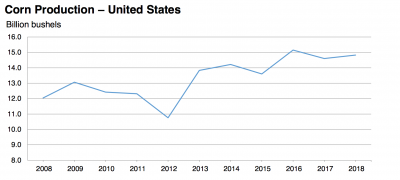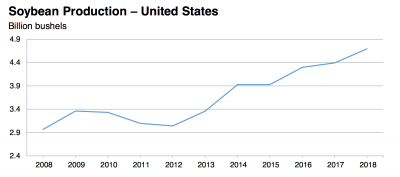 "Wheat prices were higher though, because of tighter world supplies. Specialty crops were generally in good shape. Hog prices were down, as tariffs led to a drop in exports. Dairy farmers continued to struggle as milk prices remained low, while egg producers benefitted from modestly higher prices. Contacts throughout the District continued to express concerns about the impact of trade disputes and tariffs on the agricultural industry, in spite of the favorable news on NAFTA negotiations and the announcement of government assistance, which contacts largely viewed as inadequate."
* Eighth District- St. Louis– "District agriculture conditions have deteriorated since the previous report. Compared with late June, the percentages of corn and soybeans rated fair or better declined moderately, while those for cotton and rice increased modestly. Relative to the previous year, however, the percentage of District rice rated fair or better was modestly higher, while corn and cotton was unchanged. The percent of soybeans rated fair or better was modestly below its August 2017 value.
Farmers continued to express concerns over low agricultural commodity prices resulting from the trade dispute between China and the United States.
"Contacts in Missouri and Indiana indicated that farmers did not lock-in pre-tariff pricing for a majority of their soybean crop, leaving them exposed to current market conditions."
* Ninth District- Minneapolis– "The District agricultural sector was weak overall. Growing conditions in much of the District were good this summer, with producers in some areas expecting record yields. However, low commodity prices continued to drag on farm finances and contacts remained concerned about trade conflicts."
* Tenth District- Kansas City– "Farm income and credit conditions in the Tenth District weakened, and crop prices remained relatively steady following sharp declines in June and early July. The price of corn and soybeans increased modestly in late July, but declined in August to a level similar to the previous reporting period.
With agricultural commodity prices generally lower than a year ago, District contacts reported a decrease in farm income in addition to stronger demand for farm loans. Loan repayment problems also worsened slightly throughout the District and were most significant in Nebraska, Colorado, Wyoming and New Mexico.
"District contacts reported that uncertainty surrounding trade was a primary concern, and the prolonged weaknesses in the agricultural economy were increasingly impacting farm borrower finances. Although interest rates on farm loans continued to increase along- side weakening agricultural credit conditions, farmland values declined only modestly."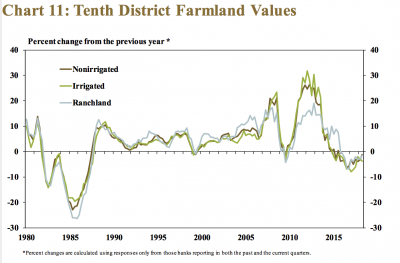 * Eleventh District- Dallas– "Lack of soil moisture continued to dampen agricultural conditions in Texas, with more than half the state experiencing drought.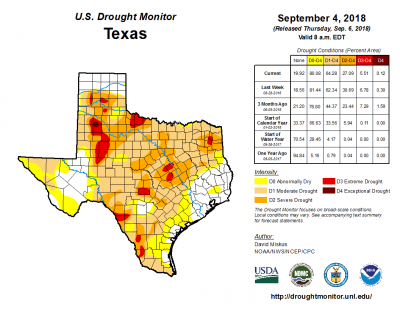 "The corn and soybean crops were generally in fair to good condition, while pastures and the cotton and sorghum crops were mostly in fair to poor condition. Texas crop production this year is expected to be down 27-33 percent from 2017, depending on the crop, according to USDA estimates. There is also concern among the agricultural community about tariffs and trade wars. However, a potential bright spot for Texas agricultural producers is the high probability for an El Nino climate pattern this winter, which could mean cooler and wetter weather for the state."
* Twelfth District- San Francisco– "Conditions in the agriculture sector improved modestly, though contacts noted a somewhat weakened outlook due to heightened trade tensions. In the Mountain West and California, crop yields were higher than expected due to better weather."