Caitlin Dewey reported in the Washington Post on December 7th that, "President-elect Donald Trump has promised a major crackdown on illegal immigration, triggering immense alarm among the country's 11 million undocumented people. But Trump's deportation promises, if fulfilled, would ripple far beyond the lives of illegal immigrants. Deportations would affect vast swaths of the economy — with a particularly dramatic impact on agriculture.
As a result, Americans could see the cost of some fruits and vegetables soar.
Ms. Dewey pointed out that, "Undocumented workers account for 67 percent of people harvesting fruit, according to the Agriculture Department. They make up 61 percent of all employees on vegetable farms, and as many as half of all workers picking crops.
"Agricultural economists across the political spectrum say that there's no way that workforce could be raptured up without reverberations throughout the food system — think farm bankruptcies, labor shortages and an eventual contraction of the broader economy. And even if you're far from the agriculture industry, you could see $4 milk, low-quality oranges, and extortionately priced raspberries."
The Post article explained that, "The logic behind these dire predictions is pretty straightforward. If Trump were to begin deporting farmworkers or requiring that farms verify their work status, farmers would have three ways to fill in the labor gaps. They could hire legally authorized workers, who are vastly more expensive; switch away from crops that require human laborers to harvest them; or cut production, allowing fields to fallow and fruit to go unharvested."
"'The [labor share of grocery costs] depends entirely on what you buy and how much it's automated,' said Michael Roberts, an agricultural economist at the University of Hawaii. 'For some goods, the labor costs are already pretty high. And we don't know how much higher they'd have to go to fill positions.'
"Take sweet cherries, for instance, which must be picked by hand — slowly, and below certain temperatures — to prevent bruising. Labor costs account for between 45 and 60 percent of costs, according to the California Cherry Board, and many growers already operate on razor-thin margins."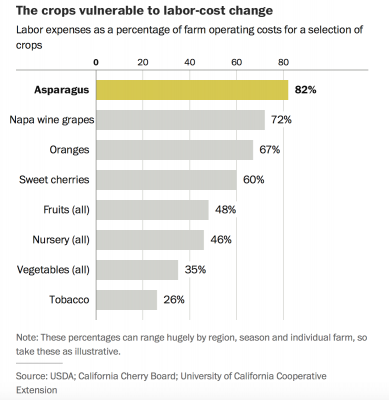 Ms. Dewey added that, "Asparagus is similarly labor intensive: The plants must be hand-cut multiple times per day during their two-month harvest season. Labor accounts for about 82 percent of farmers' operating costs, according to the Agricultural Issues Center at the University of California at Davis. Labor costs for San Joaquin Valley oranges top out at 67 percent of operating costs; for wine grapes, costs can range from 48 to 72 percent. Berries, peppers, onions, watermelons and apples are also typically picked, often at great expense, by hand."
In conclusion, the Post article stated: "'There are some fruits and vegetables we just might not be able to produce in the U.S. anymore,' said Luis Ribera, an agricultural economist at Texas A&M. 'We had a farm labor shortage even without Trump. Whatever he does will just compound the problem.'"