Federal Reserve: Observations on the Ag Economy- January '17
Yesterday, the Federal Reserve Board released its January '17 Beige Book update, a summary of commentary on current economic conditions by Federal Reserve District.  The report included several observations pertaining to the U.S. agricultural economy.
* Fifth District- Richmond– "Reports on agricultural activity in recent weeks were mixed. A South Carolina farmer indicated that improved weather conditions after Hurricane Matthew allowed crops to dry out enough to be harvested; yields, however, were down markedly from historical averages. A Maryland contact said that the fall harvest finished early, which allowed grain farmers to get moderately better prices than growers in the Midwest. Dairy farm consolidation continued and milk production was stable due to technology enhancements. Agriculture investments rose slightly for light equipment while large equipment sales remained weak."
* Sixth District- Atlanta– "Agriculture conditions across the District were mixed. By the end of November, much of the District was categorized as experiencing severe to exceptional drought conditions. December rains brought some relief, although parts of Alabama and Georgia remained classified in severe or extreme drought categories and dry conditions expanded through most of Florida. The USDA again designated many counties in the District as natural disaster areas due to damages and losses attributed to the drought. Florida's December orange forecast was unchanged from November, remaining below last season's production. On a year-over-year basis, prices paid to farmers in November were up for cotton, soybeans, and broilers, but down for corn, rice, beef, and eggs.  In light of poor pasture conditions caused by the drought, livestock producers using corn for feed benefited from low corn prices."
* Seventh District- Chicago– "Farm incomes were little changed in late November and December. Corn prices moved higher and sales picked up some, but inventories remained high following the record harvest. Soybean sales were up moderately while soybean exports remained strong. Contacts reported modest declines in input costs, as fertilizer and seed prices fell.
Farmland rents were also somewhat lower, but had not fallen as much as land values.
"A rally in cattle prices, as well as increases in dairy, egg, and hog prices, provided some relief for stressed livestock operations."
* Eighth District – St. Louis– "As of late November, 95 percent of the District's planned winter wheat had been planted, which is a roughly 1- percentage-point improvement over last year. Faster planting occurred partly because District farmers planned to plant 13 percent fewer acres than they did for the prior crop year. Reports suggest that low snow accumulation, which serves as insulation for winter wheat, and periods of extremely cold temperatures may reduce yields."
(Note that for the entire U.S., USDA's National Agricultural Statistics Service indicated last week that, "Winter wheat seeded area for 2017 is expected to total 32.4 million acres, down 10 percent from 2016.")
* Ninth District- Minneapolis– "District agricultural conditions remained weak, with bountiful harvests offset by low commodity prices."
* Tenth District- Kansas City– "Farm income expectations weakened slightly as most agricultural commodity prices remained lower than a year ago. In the livestock sector, cattle prices declined from the previous year due to growing inventories, and hog prices also remained lower than year-ago levels. In the crop sector, large corn and wheat inventories kept prices subdued, but strong yields in some areas helped to offset losses from low prices. However, strong export demand boosted soybean prices moderately from a year ago.
With the exception of soybeans, livestock and crop prices remained below the cost of production for some producers.
"District contacts reported weaker loan repayment rates than the previous year as farm income and cash flow continued to tighten. Weaker farm income and credit conditions also continued to pressure farmland values downward modestly."
* Eleventh District- Dallas– "Record grain yields in 2016 have created burdensomely high stock levels, despite firm demand, keeping prices below the cost of production for most producers. Very strong cotton yields in West Texas led to another upward revision of Texas (and U.S.) cotton production, putting further downward pressure on prices which were already near breakeven or sub-profitable levels. Still, cotton prices are relatively better than feed grain or wheat prices, and contacts expect an increase in cotton acreage in 2017. Beef exports have increased, and low feed costs are helping producers' bottom lines."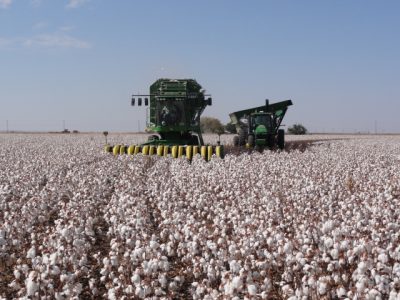 * Twelfth District- San Francisco– "Activity in the agriculture sector was mixed over the reporting period…[H]arvests of cherries and apples grew at a moderate pace. Profit margins in the dairy industry improved somewhat. However, contacts noted that dairy producers' investment in equipment was sluggish and focused on replacing aging machinery. Dollar appreciation slowed beef exports, and profitability remains a concern for many producers. Contacts reported that some farmers in California took land out of production due to drought conditions and labor shortages."