Federal Reserve: Observations on the Ag Economy- April '17
On Wednesday, the Federal Reserve Board released its April 2017 Beige Book update, a summary of commentary on current economic conditions by Federal Reserve District. The report included several observations pertaining to the U.S. agricultural economy.
* Fifth District- Richmond– "Agriculture conditions were also mixed. Poultry and farming operations picked up in Virginia and West Virginia. In South Carolina, planting season was underway, having been somewhat delayed by cold weather. Also, a late winter freeze significantly damaged the state's peach crop. Investment in new farm equipment slowed slightly."
* Sixth District- Atlanta– "Agriculture conditions across the District softened. By late-March, drought conditions expanded in the District with drought ratings ranging from dry to extreme. During the same time period, parts of the District also experienced a cold snap that damaged some fruit and vegetable crops. There were limited reports of poultry that tested positive for avian flu in Alabama, Georgia, and Tennessee with stop movement orders, surveillance, quarantine, and depopulation employed as containment methods. The March forecast for Florida oranges was down from February and last season. Some citrus contacts indicated that they are looking for alternative crops in light of the chronic problems caused by citrus greening.  Contacts continued to report farm consolidations.  On a year-over-year basis, prices paid to farmers in January were up for cotton and soybeans, but down for corn, rice, beef, broilers and eggs."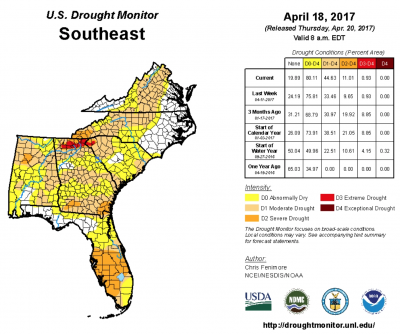 * Seventh District- Chicago– "Lower crop prices put further stress on the agricultural sector. Prices of corn, soybean, and wheat all fell during the reporting period. With profit margins looking to be higher for soybeans than for corn, demand for soybean seeds was high. Recent rains delayed the start of corn planting in portions of the District. Additional delays could hurt yields, and, because soybeans are planted later in the season, could further shift the crop mix toward soybeans.
Expectations of low incomes for 2017 led to lower farmland values and cash rents for cropland compared with last year. However, land values for higher quality ground and recreational tracts were steady on balance.
"Milk and hog prices were lower, while egg and cattle prices moved up. Expectations of falling milk prices and rising feed costs led more dairy operations to lock in margins."
(For more on the "delayed" start to planting this spring and the potential implications for corn and soybean acres, see the farmdoc daily link below by Todd Hubbs.)
* Eighth District- St. Louis– "Agricultural conditions were unchanged from the previous report and the same time last year. In March, farmers planned to plant about 20 percent more cotton than last year, but 20 percent less rice. These movements correspond to a continued increase in cotton fiber prices and a continued decline in rice prices. With corn and soybean prices remaining low, farmers planned to reduce corn acreage by 5 percent and increase soybean acreage by roughly the same percentage.
This planned switch in the District's two largest crops was largely driven by the fact that soybeans, with much lower per acre costs, require much smaller operating loans.
(With respect to soybean acres, recall that a recent farmdoc daily update ("Using the Soybean-to-Corn Price Ratio to Predict Corn and Soybean March Planting Intentions") noted that, "The results imply that a variety of factors other than price ratios influence corn and soybean planting intentions. These factors likely include, cropping rotations, relative cost of producing corn and soybeans, profitability of other crops that compete for the same acreage, and the general level of crop prices that may influence the magnitude of acreage planted to all crops.")
* Ninth District- Minneapolis– "District agricultural conditions remained weak since the previous report. Most of the District remained drought- free heading into planting season."
* Tenth District- Kansas City– "Farm income remained subdued in the Tenth District as most agricultural commodity prices stayed low. In the crop sector, corn and wheat prices declined moderately in March and were less than a year ago. Profit margins were expected to remain weak for corn and wheat producers, although some input costs were expected to moderate from last year. Soybean prices also decreased in March but were slightly higher than a year ago. With soybean prices somewhat more favorable, producers were expected to plant more soybeans this year and less corn and wheat. In the livestock sector, cattle prices increased slightly in March and hog prices remained higher than a year ago. Slightly higher prices and lower input costs improved profit margins modestly for both hog and cattle producers since the last reporting period."
* Eleventh District- Dallas– "Moisture levels remained favorable across the district, with ample rainfall received over the reporting period. The winter wheat crop was in good shape, and row crop planting continued. Cotton acreage is expected to be up sharply in 2017, driven by expectations of higher cotton prices this year. Grain prices remained weak and trended down over the past six weeks. The cattle industry benefitted from strong pasture conditions and rising cattle prices."
* Twelfth District- San Francisco– "Activity in the agriculture sector grew modestly over the reporting period. Increased water availability in the West boosted yields for some crops. A greater-than-anticipated snow cover in parts of the West spurred ranchers to increase herds' food allowances, boosting the demand for hay."