U.S. Dairy Trade Issues- Trump Weighs In
Recall that a FarmPolicyNews update last week noted that a trade dispute with Canada over dairy policies related to ultra-filtered milk is adversely impacting some dairy farms in Wisconsin, Minnesota, and New York, and some of these dairy farms could be forced out of business as a result.  Today's update highlights additional news developments on the Canadian dairy dispute, including remarks on the issue from President Trump, as well as concerns the U.S. dairy sector has with exports to Mexico.
U.S. – Canada Dairy Trade Dispute
Milwaukee Journal Sentinel writer Rick Barrett reported on the front page of Sunday's paper that, "Suppose you get an unsigned letter, and it looks like junk mail, but the message is that in 30 days your livelihood, your home and your family's legacy are in great peril.
"That's what happened to about 75 Wisconsin dairy farmers this month when they learned their milk buyer was dropping them, effective May 1, and they didn't have another place to sell their highly perishable product."
So when that letter came in the mailbox informing farmers that Grassland Dairy Products would no longer buy their milk, a lot of folks were badly shaken.
The article explained that, "The company, based in Greenwood, said it was dropping the farms because it lost millions of dollars in business in a trade dispute with Canada.
"'This difficult but necessary announcement is very hard for us as a company, and we will do our best to work with you through this transition,' Grassland said in the letter to farmers."
Sunday's article added that, "Grassland blamed the loss in business on the Canadian dairy industry changing its pricing policies, to the detriment of milk imported from Wisconsin and New York.
"State and federal lawmakers are urgently seeking a remedy for the U.S. farms – including a short-term fix and an investigation of trade agreements with Canada."
"Wisconsin's congressional delegation has asked federal officials, including Acting Trade Rep. Stephen Vaughn, to investigate whether Canada has violated trade agreements with the U.S. by changing its policies regarding the ultra-filtered milk — used in making cheese — that had come from American farms," the article said.
Meanwhile, Caitlin Dewey reported on the front page of Tuesday's Washington Post that, "The [Canadian dairy] dispute — which has played out in surprisingly barbed remarks across the normally friendly northern border — illustrates the enormous complexity of fulfilling President Trump's promise to renegotiate the North American Free Trade Agreement, the free trade pact with Canada and Mexico.
"While NAFTA is often portrayed as a single trade agreement, it has specific provisions affecting thousands of products in hundreds of industries. The trade pact contains terms governing dozens of different dairy products alone."
"Reworking many of these, experts say, will involve not just complex technical discussions but a fight between powerful political interests on both sides of the border. And in almost every case, on the line will be the livelihoods of the people who grow or make the products, each with a compelling case for why their side should prevail," the Post article said.
Ms. Dewey explained that:
But ultrafiltered milk hit the market after NAFTA's 1994 enactment. As a result, it could enter Canada without facing big tariffs.
"Ontario farmers, frustrated with the arrangement, last April dramatically cut the prices on Canadian ultrafiltered milk. Other provinces plan to follow suit, posing a dire threat to U.S. farms.
"Companies such as Grassland and New York's Cayuga Milk Ingredients have already reported losses of $150 million since the price drop began."
President Trump Comments on the Issue While in Wisconsin
Later on Tuesday, Reuters writer Rod Nickel reported that, "U.S. President Donald Trump promised on Tuesday to defend American dairy farmers who have been hurt by Canada's protectionist trade practices, during a visit to the cheese-making state of Wisconsin.
"Canada's dairy sector is protected by high tariffs on imported products and controls on domestic production as a means of supporting prices that farmers receive. It is frequently criticized by other dairy-producing countries.
'We're also going to stand up for our dairy farmers,' Trump said in Kenosha, Wisconsin. 'Because in Canada some very unfair things have happened to our dairy farmers and others.'
The Reuters article noted that, "Trump did not detail his concerns, but promised his administration would call the government of Prime Minister Justin Trudeau and demand an explanation."
Paul Vieira reported on Tuesday at The Wall Street Journal Online that, "At the heart of objections from Mr. Trump, and House Speaker Paul Ryan —whose home district is in Wisconsin—is Canada's supply-management system. Under this scheme, prices for dairy products are set based on the average costs of production. Production is controlled through a regulated quota system, and competition is thwarted through tariffs."
The Journal article noted that, "In a letter issued Tuesday to Wisconsin Gov. Scott Walker and New York Gov. Andrew Cuomo, Canada's chief envoy in Washington, David MacNaughton, said the country 'does not accept the contention that Canada's dairy policies are the cause of financial loss for dairy farmers in the U.S.' Mr. MacNaughton responded to the two governors because of a letter they sent to Mr. Trump, urging him to address Canada's 'protectionist' dairy policies.
"Mr. MacNaughton said trade statistics indicate U.S. dairy exports to Canada rose by a robust 17% in 2016, adding Canada has not taken 'any broader measures to limit [dairy] imports from the U.S.'"
And Bill Glauber, Jacob Carpenter and Rick Barrett reported on the front page of yesterday's Milwaukee Journal Sentinel that, "Trump said he would start working on a solution with Gov. Scott Walker, U.S. Sen. Ron Johnson and House Speaker Paul Ryan.
"'We're going to get together and we're going to call Canada,' Trump said. 'And we're going to say, 'What happened?' And they might give us an answer but we're going to get the solution, not just the answer.'"
Yesterday's article added that, "Some farmers suggested that if Trump ordered the U.S. Department of Agriculture to buy large amounts of dairy products, it could help stimulate the market and, in turn, help the farmers."
For more details and background on the dairy disputer with Canada, see this Farm Bureau analysis by John Newton, "Canada Closes a Door on U.S. Dairy Farmers."
Dr. Newton also discussed the issue this week with Mike Adams on the AgriTalk radio program (audio below).
U.S. Dairy Exports to Mexico- NAFTA Concerns
The U.S. dairy sector is also concerned with NAFTA issues when it comes to milk exports to Mexico, which is a bigger market for dairy products than Canada.
Associated Press writer Lisa Rathke reported this week that, "U.S dairy farmers already struggling with low milk prices worry President Donald Trump's talk of renegotiating the North American Free Trade Agreement could harm trade to Mexico, its biggest export market.
"About 15 percent of dairy production in the United States is exported with one-third valued at $1.2 billion going to Mexico in the form of milk powder, cheese and whey protein, according to the National Milk Producers Federation, which says trade with Mexico is its top priority. That's nearly double the value exported to Canada, the country's second biggest export market, according to the United States Department of Agriculture."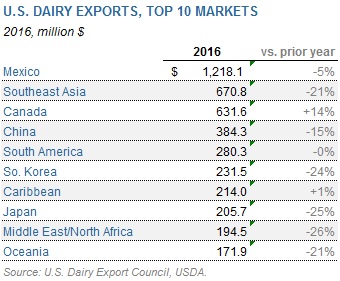 The AP article indicated that, "'The income of dairy farmers, whether they're in Vermont or California, depends heavily on our export to Mexico,' said Jaime Castaneda, senior vice president responsible for domestic and international policy for the federation.
"If just 1, 2 or 3 percent of the exports were to come back to the United States, 'we would see a significant drop on overall prices,' he said."
The article added that, "U.S. dairy trade with Mexico has jumped by 558 percent since NAFTA's implementation in 1994, according to the U.S. Dairy Export Council."