Secretary Perdue Visits Iowa- Discusses Trade, RFS
Secretary of Agriculture Sonny Perdue visited an Iowa farm on Friday and took questions from producers.  In his remarks, Secretary Perdue addressed a number of issues; today's update focuses more narrowly on his comments relating to trade and biofuels.  Also, Secretary Perdue was in Arkansas on Sunday to survey flood damage with Arkansas Governor Asa Hutchinson.
Secretary Perdue Visits Iowa
DTN Ag Policy Editor Chris Clayton reported on Friday that, "Agriculture Secretary Sonny Perdue spoke to Iowa farm leaders Friday morning, reassuring them he would take the lead in trade talks for farmers and defend renewable fuels production, which is critical to Midwest agriculture.
"Perdue has been on the job less than two weeks, but he has already made trips to Kansas City, Missouri, and central Iowa, promising to relieve farmers from regulatory burdens while working on critical policy issues. Perdue's visit to Nevada, Iowa, on Friday was dubbed as his major policy speech, but Perdue's talk was more about the atmosphere he wants to bring to USDA and how he is going to do business. Perdue also touted the work by President Donald Trump and the White House to roll back regulations on businesses, including farmers."
Mr. Clayton noted that, "Perdue toured the 5,000-head Couser Cattle Co., feedyard with perfect weather conditions. He gave his speech with local high-school students flanking him. Perdue was impressed with feedyard owner Bill Couser's operation, which Perdue described as 'a very technical, scientific production system that not only grows healthy, wholesome food, but also grows a healthy environment.'"
Trade
More specifically on trade, Donnelle Eller reported in Saturday's Des Moines Register that, "U.S. leaders hope to renegotiate a new NAFTA trade agreement within the next six months, the nation's new ag secretary said Friday after meeting with Iowa farmers.
'We're not talking years long, but weeks and months,' Sonny Perdue told reporters.
The Register article explained that, "Perdue told farmers the North American Free Trade Agreement between the U.S., Mexico and Canada has been good for farmers 'but maybe not as much for manufacturing.'
"'We've got to balance that out so the American economy can thrive across the spectrum,' he said.
"President Trump has said 'we're going to give these countries a few more days to renegotiate NAFTA in a way that's more fair and balanced,' said Perdue, who met with U.S. Sens. Joni Ernst and Chuck Grassley, Rep. Steve King, Iowa Agriculture Secretary Bill Northey and other state leaders before the town hall meeting began."
Ms. Eller indicated that, "Perdue, however, offered few details about how the Trump Administration would protect the gains agriculture has seen through NAFTA, while negotiating improvements for manufacturing and other industries."
Saturday's article added that, "Canada and Mexico are Iowa's two largest trade partners. The state exported $3.4 billion in goods to Canada last year, and $2.3 billion to Mexico, according to U.S. trade data."
A brief video clip of Sec. Perdue discussing trade, and U.S. beef export issues with China, is available here;  he stated to the producers in the crowd that, "You grow it and we will sell it."
Recall also that Mark Dorenkamp reported late last week at Brownfield Online that, "New U.S. Ag Secretary Sonny Perdue listed his top priorities during a roundtable discussion with farm broadcasters at USDA headquarters Tuesday, and one issue seems to trump them all.
"Perdue says a recurring theme developed as he went through what he calls a '100 day' confirmation process.
'Number one was trade, number two was trade (and) number three was trade,' [Perdue said.]
Additional Details on Trade
With respect to the importance of trade to U.S farmers, note that a recent farmdoc daily update ("A Reminder on NAFTA and Agriculture") stated that, "Imports of corn by Canada and Mexico have increased since 1994 when NAFTA was passed. In 1991 to 1993, Canada imported 38 million bushels of corn. Canada's corn imports have varied over time but have generally grown."
The update also pointed out that, "Mexico is a substantially larger market for corn than Canada. From 1991 to 1993, Mexico imported 67 million bushels of corn. Similar to Canada, Mexico's imports of corn increased after 1994. From 2014 to 2016, Mexico imported an average 513 million bushels of corn per year."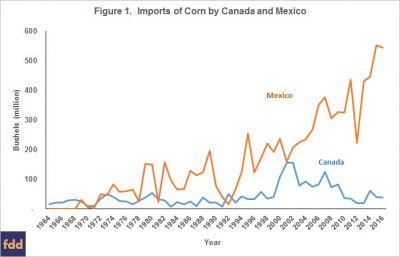 "Similar to corn, soybean imports into Canada and Mexico have substantially increased since the passage of NAFTA in 1994," the farmdoc update said.
Beyond grain, and in a closer look at U.S. livestock exports, James Mintert pointed out earlier this month at farmdoc that, "Combined, the two NAFTA trading partners absorbed 27 percent of all U.S. beef exports in 2016…[and]…Mexico and Canada absorbed approximately 41 percent of U.S. pork exports [in 2016]."
More broadly, an Amber Waves update this month from USDA's Economic Research Service ("U.S. Agricultural Trade in 2016: Major Commodities and Trends") stated that, "Trade is an important component of the U.S. agricultural sector. Exports of agricultural goods have averaged nearly $140 billion since 2010, while imports have been close to $100 billion."
"The United States has had a surplus in agricultural trade every year since 1959. Agricultural exports have accounted for 10 to 11 percent of total U.S. exports in recent years, while agricultural imports accounted for about 5 percent of total imports," USDA said.
Also on trade, Reuters writer Rod Nickel reported late last week that, "U.S. President Donald Trump's criticism of the protected Canadian dairy system has emboldened American farm groups to tackle other longstanding agriculture irritants, as the countries move toward rewriting trade rules.
"U.S. poultry exporters, who include Tyson Foods Inc and Pilgrims Pride Corp, as well as egg sellers, are expected to seek greater access to Canada's tightly controlled market in renegotiations of the North American Free Trade Agreement (NAFTA).
"The United States, the world's second-biggest chicken exporter, will demand market access gains at least equal to those they would have realized under the failed Trans-Pacific Partnership (TPP) deal, industry groups and experts say."
Mr. Nickel added that:
U.S. farmers also want changes to Canadian grain laws that automatically assign the lowest price for their wheat.
Biofuels
And Matthew Patane reported on Friday at The Gazette (Cedar Rapids, Iowa) Online that, "With steam from a nearby ethanol plant visible behind him, the nation's new agriculture secretary confirmed his support for the fuel and its production Friday.
"Sonny Perdue, recently confirmed as the U.S. Secretary of Agriculture, told a crowd 'You have nothing to worry about' regarding the future of the Renewable Fuel Standard and President Donald Trump's commitment to support the industry.
"'Did you hear what he said during the campaign? Renewable energy, ethanol, is here to stay and we're going to work for new technologies to be more efficient,' Perdue said, later sporting a 'Don't Mess with the RFS' pin."
Flood Damage
A news release last week from USDA indicated in part that, "U.S. Secretary of Agriculture Sonny Perdue today pledged the full resources and support of the U.S. Department of Agriculture (USDA) in response to severe flooding occurring in many states across the center of the country.  Representatives of relevant USDA agencies, including the Farm Service Agency, the Office of Rural Development, and the Natural Resources Conservation Service, will be on the ground gathering information and assisting members of the agriculture community with their needs as they prepare to assess the damage."
And a news update on Sunday from Arkansas Governor Asa Hutchinson stated that, "Governor Asa Hutchinson toured flood-ravaged parts of Northeast Arkansas Sunday afternoon with U.S. Secretary of Agriculture, Sonny Perdue, Senator John Boozman, Congressman Rick Crawford and Congressman French Hill. The group, including staff from Senator Tom Cotton's office and Congressman Bruce Westerman's office, participated in a flyover tour of Randolph and Lawrence Counties—some of the hardest hit areas in the state—to survey damage to crops and farmland. The tour included parts of White and Pulaski Counties, as well."
Sunday's update added that, "A news conference was held after Sunday's flyover tour at the State Police Hangar at TAC Air in Little Rock."  (Click below to view).
Governor Hutchinson stated yesterday that, "Secretary Perdue knows the value of agriculture to our state, and he has committed to expediting the federal government's response to the damage assessment in Arkansas, and I'm pleased to announce that starting Wednesday, FEMA will be in Arkansas working with our regional teams to assess that damage."