FAO Report: Global Hunger is on the Rise Again
Background
An update on Friday from the Food and Agriculture Organization (FAO) of the United Nations indicated that, "After steadily declining for over a decade, global hunger is on the rise again, affecting 815 million people in 2016, or 11 percent of the global population, says a new edition of the annual United Nations report on world food security and nutrition released today. At the same time, multiple forms of malnutrition are threatening the health of millions worldwide.
"The increase – 38 million more people than the previous year – is largely due to the proliferation of violent conflicts and climate-related shocks, according to The State of Food Security and Nutrition in the World 2017."
Friday's release added that, "The report is the first UN global assessment on food security and nutrition to be released following the adoption of the 2030 Agenda for Sustainable Development, which aims to end hunger and all forms of malnutrition by 2030 as a top international policy priority."
The State of Food Security and Nutrition in the World 2017- Key Findings
Last week's FAO report indicated that, "The absolute number of people in the world affected by chronic food deprivation began to rise in 2014 – going from 775 million people to 777 million in 2015 – and is now estimated to have increased further, to 815 million in 2016."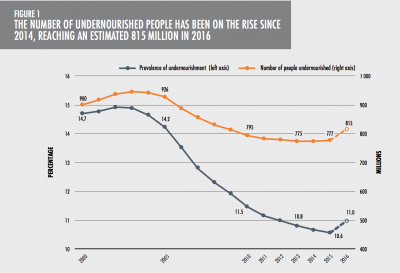 With respect to the location of the world's undernourished people, the report stated that,
Owing in part to the size of its population, the highest number of undernourished people is in Asia.
"FAO estimates that in 2016 almost 520 million people in Asia, more than 243 million in Africa, and more than 42 million in Latin America and the Caribbean did not have access to sufficient food energy."
While addressing why there has been a recent increase in the prevalence of undernourished people, the report stated that, "New information from food commodity balances for many countries points to recent reductions in food availability and increases in food prices in regions affected by El Niño / La Niña-related phenomena – most notably in Eastern and Southern Africa and in South-Eastern Asia. In addition, the number of conflicts has increased in the past decade…"
The report also indicated that when comparing food insecurity among men and woman, "[t]hree-year averages [show] that the prevalence of food insecurity was slightly higher among women at the global level as well as in every region of the world."
Meanwhile, the FAO report also stated that, "The global prevalence of obesity more than doubled between 1980 and 2014.
In 2014, more than 600 million adults were obese, equal to about 13 percent of the world's adult population.
"The prevalence is higher on average among women (15 percent) than men (11 percent). While it varies widely across regions of the world, the problem is most severe in Northern America, Europe and Oceania, where 28 percent of adults are classified as obese, compared with 7 percent in Asia and 11 percent in Africa."
While going into more detail on the issue of global conflict, the report explained that, "The vast majority of the chronically food insecure and malnourished live in countries affected by conflict: an estimated 489 million of 815 million undernourished people and an estimated 122 million of 155 million stunted children."
With respect to conflicts that have been sparked by food prices, FAO stated that, "There is a growing body of empirical evidence that points to food price hikes as an important contributing trigger of social unrest such as protests, riots, violence and war…[T]he dominant explanation for the food-price–conflict link is consumer grievances: higher prices create or increase economic constraints and/or sentiments of (perceived) relative deprivation, which activates grievances that in turn lead to conflict. A second explanation emphasizes the breakdown of authority and legitimacy when the state fails to provide food security, leading people to act out grievances against the state."
More recently, the global food price crises of 2007–08 and 2011 triggered riots in more than 40 countries, where the cost of imported basic goods increased, thereby eroding real incomes.
And, the FAO report added that, "A study in Asia and Africa from 1989 to 2014 shows that the risk of conflict increases for each additional year of growing-season drought and is even more pronounced for low-development countries."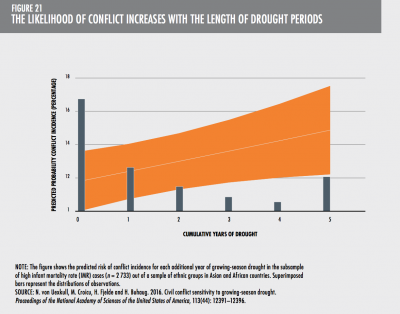 The FAO report pointed out that, "Contributing to improved food security, nutrition and sustainable peace will require a change in mind-set to a more deliberate, preventive approach, and from short-term and output-based interventions to longer-term sustainable and collective outcomes linked to a strategic focus on resilience building."