Federal Reserve: Observations on the Ag Economy- November '17
On Wednesday, the Federal Reserve Board released its November 2017 Beige Book update, a summary of commentary on current economic conditions by Federal Reserve District. The report included several observations pertaining to the U.S. agricultural economy.
* Sixth District- Atlanta– "Agriculture conditions across the District were mixed. Most of the District remained drought free although parts of Alabama, Georgia, Louisiana, and Mississippi were classified as abnormally dry or in moderate drought conditions. Initial assessments of Hurricane Irma's damage to Florida's agriculture industry indicated that citrus growers felt the biggest impact; nursery crops, sugarcane, vegetable and non-citrus fruit, cattle, and dairy also reported losses. Compared to last year, District crop production forecasts were up for soybeans, peanuts, cotton, and sugarcane, and down for rice and pecans. On a year-over-year basis, prices paid to farmers in September were up for corn, rice, oranges, broilers, and eggs and were down for cotton, soybeans, and beef."
* Seventh District- Chicago– "Crop yields in the District were below last year's record. Widespread rains slowed the harvest, but helped areas that had been experiencing drought conditions. With both corn and soybean prices lower than a year ago, farm revenues were expected to be down.
Contacts indicated that some crop operations would be unable to cover their expenses, which led to a deterioration in agricultural credit conditions and spurred sales of assets to cover losses.
"In some cases, higher livestock income helped offset crop losses. Hog and cattle prices moved up during the reporting period, leading to plans for expanded production. Milk prices were lower, but cheese prices stayed high."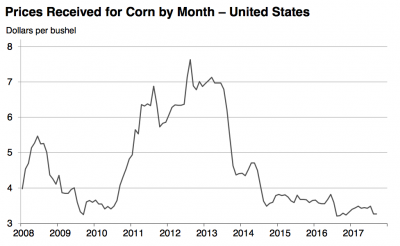 * Eighth District- St. Louis– "Agriculture conditions have improved moderately since the previous reporting period, although farmers continue to struggle with low crop prices. Expected yields for corn, cotton, rice, and soybeans were all higher in mid-November than they were in mid-October. The mid-November expectations were also higher than realized levels in 2016. Expected corn yields saw the largest improvement, with November expectations 3 percent above October expectations. Contacts concurred with the projections for all four crops, noting that there will be record yields in a lot of areas."
* Ninth District- Minneapolis– "District agricultural conditions remained weak overall, as good harvests were not expected to offset low prices. Early reports from harvests indicated solid production in District states, though corn and soybean production in the Dakotas was expected to decrease from last year. Respondents to the Minneapolis Fed's third-quarter (October) survey of agricultural credit conditions indicated that farm income and capital spending decreased relative to a year earlier, with further declines expected for the remainder of the year."
* Tenth District- Kansas City– "The District farm economy and credit conditions continued to weaken since the previous reporting period, but the pace of the declines slowed. Farm income remained weak in November, which continued to reduce working capital and increase demand for financing. Farm loan repayment rates also generally declined, but at a more moderate pace than in the previous reporting period. District contacts reported that stronger livestock markets and expectations of a strong fall harvest kept loan repayment rates from declining more sharply. Farmland values also moderated further in most areas, but remained steady in areas where crop production was particularly high. District contacts noted that credit monitoring has increased slightly and interest rates on farm loans have edged higher alongside the elevated risk in the sector. However, most contacts expected only minimal sales of farm assets to improve cash flow and working capital."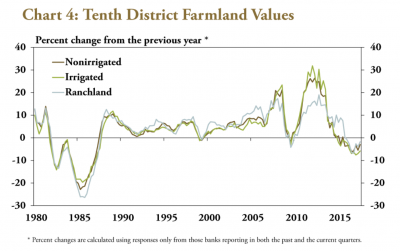 * Eleventh District- Dallas– "Crop harvesting continued at a normal pace, with generally favorable crop conditions. An estimate from Texas A&M University puts agricultural losses from Hurricane Harvey at $200 million, which is not as high as expected and far less than what was seen from Hurricane Ike in 2008 and Hurricane Irma. Texas corn and sorghum production is expected to be down in 2017 largely because of fewer acres planted, while cotton production is expected to be up more than 10 percent this year, according to the USDA.
There was still financial stress in the farming sector, with producers primarily concerned about low crop prices across the board.
"On the livestock side, pasture conditions were fair to good and cattle prices increased sharply over the last six weeks largely in response to strong domestic demand and booming exports."
* Twelfth District- San Francisco– "On balance, activity in the agriculture sector was flat. Exports of some processed manufactured milk products were strong. Excess supply of wheat put downward pressure on prices and hampered profitability of growers in Eastern Washington. Harvest yields of potatoes in Idaho were slightly below long-run averages."