If a China-U.S. Trade Dispute Emerges, Could Soybean Exports Be Affected?
Soybeans- Chinese Trade Concerns
Recall that last week, President Donald Trump imposed tariffs on imports of solar panels and washing machines.
The Wall Street Journal explained that, "The tariffs are aimed mainly at Asian manufacturers—Chinese makers of solar panels and South Korean producers of washing machines."
At the time, Bloomberg news pointed out that, "China is the biggest maker of solar panels and expressed displeasure at the move.
The country is also the largest buyer of U.S. soybeans, at a time when growing production and inventories have weighed on prices and intensified the battle between the U.S. and South America for market share.
"Could the crop get sucked into a China-U.S. trade dispute?"
A Choices magazine article from last year stated, "China, which has advanced to become the United States' largest agricultural export market in an unprecedented time frame, plays a key role in the economic wellbeing of U.S. agriculture."
With respect to the potential for additional U.S.  trade policy actions against Chinese imports, Simon Denyer reported on Tuesday at The Washington Post Online that, "William Zarit, chairman of AmCham China, warned that Chinese officials had told him they would 'definitely' retaliate if the U.S. administration introduced tariffs or other restrictions on Chinese imports as a result of ongoing investigations into steel and aluminum imports and intellectual property violations."
The Post article added that, "Lester Ross, chairman of AmCham China's policy committee, said it was likely that Chinese authorities would target retaliation toward sectors that have 'political resonance' in the United States.
"In particular, he said, that might mean favoring Europe's Airbus over Boeing for aircraft orders, or cutting imports of agricultural commodities, whose producers 'are predominantly in states that voted for Trump.'"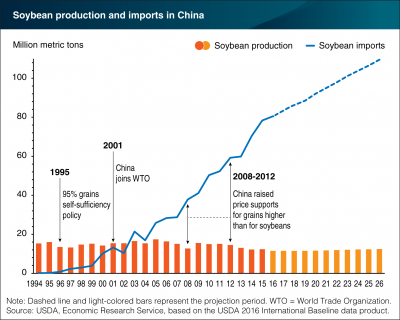 And Los Angeles Times writer Jessica Meyers reported on Tuesday that, "Beijing already has imposed tougher requirements on American soybeans, a top export to China grown in many of the states Trump won. Chinese authorities could go after additional agriculture or aircraft, another major export."
Last week, a Bloomberg news article stated, "Commodities would be particularly exposed if U.S. President Donald Trump's decision to impose tariffs on foreign solar panels and washing machines sparks a tit-for-tat trade war with nations around the world."
The article explained that,
If China wanted to hit back, soybeans could be a weapon.
"That would sting farmers in the U.S., which sold $13.9 billion worth of the commodity to the Asian nation in 2017. While America counts China as its biggest market for the oilseed used in animal feed, swelling global stockpiles and bumper crops forecast from Brazil to Argentina mean Beijing has a choice of sellers to turn to in the event of a retaliation on U.S. imports."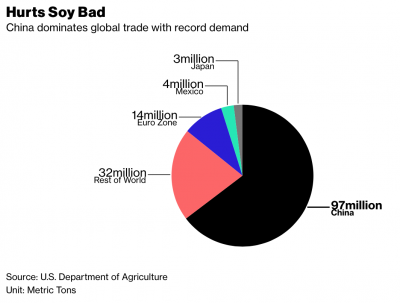 In other trade news regarding China, an update Wednesday from USDA's Foreign Agricultural Service (FAS) stated that, "The U.S. Department of Agriculture continues to expend significant resources in China, working to break down trade barriers, promote U.S. farm and food products, and ensure that the country will remain a strong export market well into the future."
The FAS update noted, "China offers our best opportunity for major export growth in the future."
Soybeans- Protein Concerns
Beyond the hypothetical potential of retaliatory trade action by China, Reuters writer Karl Plume reported last week that, "U.S. soybean growers are losing market share in the all-important China market because the race to grow higher-yielding crops has robbed their most prized nutrient: protein.
"Declining protein levels make soybeans less valuable to the $400 billion industry that produces feed for cattle, pigs, chickens and fish. And the problem is a key factor driving soybean buyers from the U.S. to Brazil, where warmer weather helps offset the impact of higher crop yields on protein levels."
Mr. Plume noted that, "A decade ago, the United States supplied 38 percent of soybeans to China, the world's top importer, compared to 34 percent from Brazil. Now, Brazil supplies 57 percent of Chinese imports compared to 31 from the United States, according to China's General Administration of Customs."
The Reuters article indicated that, "These are troubling trends for the $41 billion U.S. soybean sector, but the industry's response has yet to take on much urgency. That's because the erosion of protein levels has come over many years, and many industry players still have short-term economic incentives to prioritize higher yields over higher protein."
Last week's article noted, "'China needs soybeans, and we're at risk of becoming a residual supplier if we don't work on protein improvements,' said North Dakota farmer Jared Hagert, a director and past chairman of the United Soybean Board, an industry association."