As House Considers Farm Bill, Lower Farm Income Persists, While Drought Impacts Southern Plains
As the House of Representatives works on passing its version of the Farm Bill this week, a report yesterday from the Kansas City Fed noted that, "bankers in the Tenth Federal Reserve District reported lower farm income and credit conditions for the fifth straight year."  Meanwhile, a recent Wall Street Journal article pointed out that ongoing drought conditions in the southern Great Plains "could punish the agricultural sector, affecting everything from cotton to cattle to farming-equipment sales."   Today's update looks briefly at these reports regarding the agricultural economy as well as recent articles highlighting House Farm Bill developments.
Ag Economy- Credit Survey, Drought Concerns
Cortney Cowley and Ty Kreitman, writing in Thursday's Ag Credit Survey from the Kansas City Fed, noted that, "Despite moderate increases in prices of key agricultural commodities, District bankers reported that farm income and spending continued to decrease. The decline in the first quarter makes 2018 the fifth consecutive year that bankers have reported lower farm income than the year before (Chart 1)."
"Reduced farm income also restricted cash flow and contributed to more farm loan denials than in recent years. In the first quarter, more than 8 percent of farm loan requests were denied because of customer cash-flow shortages (Chart 2)," the Fed update said.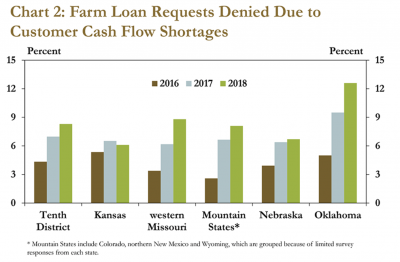 With respect to the credit environment, the Kansas City Fed indicated that, "Similar to farm income, credit conditions continued to stabilize but remained weak in the first quarter of 2018…[and]…Interest rates continued to increase in the first quarter of the year."
And Wall Street Journal writer Jim Carlton reported earlier this week that, "After three fairly wet years, a drought ranging from 'severe' to 'exceptional' has descended on the southern Great Plains of Colorado, Kansas, New Mexico, Oklahoma and Texas, according to the U.S. Drought Monitor at the University of Nebraska-Lincoln. Home to one of the nation's most fertile farming areas—crop production in the Texas region alone generates about $12 billion in economic activity—observers say the drought could punish the agricultural sector, affecting everything from cotton to cattle to farming-equipment sales.
"'It's going to be in the billions in terms of crop loss,' said Darren Hudson, director of the International Center for Agricultural Competitiveness at Texas Tech University in Lubbock."
Mr. Carlton added that, "Already, the Plains drought has dealt a blow to two other major pillars of the region's ag economy: winter wheat and cattle. An estimated 60% of the 4.7 million acres of winter wheat in Texas as of May 7 was considered 'poor to very poor,' according to Texas Wheat Producers, a trade group, meaning the crops are likely unusable. Kansas, the top winter-wheat-producing state, is expected to have its smallest crop in almost 30 years."
Farm Bill- Background
Melanie Zanona reported earlier this week at The Hill Online that, "Republican leaders are scrambling to lock down enough votes for the GOP farm bill, with members still divided over the measure's sugar support program and work requirements for food stamps.
The legislation, a top priority for retiring Speaker Paul Ryan (R-Wis.) because it contains elements of welfare reform, is scheduled to hit the floor this week.
The Hill article reminded readers that, "This year's farm bill would impose tougher work requirements on millions of food stamp recipients and shift the program's funding toward job training — a change that Ryan and the GOP say will help lift people out of poverty."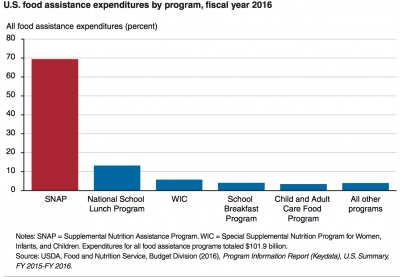 Ms. Zanona also pointed out, "While the SNAP overhaul has helped woo some conservatives who would normally oppose the farm bill — and GOP leaders have highlighted the changes as a key selling point — other hard-liners say the changes don't go far enough and have been pushing for actual funding cuts to SNAP."
Also this week, Bloomberg writer Alan Bjerga reported that, "Farm legislation usually has enough incentives to satisfy everyone across the partisan divide in Congress. Not this year."
Mr. Bjerga explained, "The reauthorization has historically passed Congress by wide margins, given the popularity of farm subsidies in rural areas and the Supplemental Nutrition Assistance Program, more commonly known as food stamps, in urban ones. Its path has become more complicated with the rise of lawmakers who base their appeal on criticizing government spending."
The Bloomberg article noted that, "Any plan that passes the House must be reconciled with a Senate version. Pat Roberts of Kansas, chairman of the Senate Agriculture Committee, said he plans to craft his own bill that's designed to appeal to both parties because bipartisan support will be needed for a measure to win approval in his chamber."
More specially with respect to Senate action, Reuters News reported this week that, "Democratic Senator Amy Klobuchar said on Tuesday that the U.S. Senate expects to finish a bipartisan farm bill sometime in June."
Farm Bill- House Activity
DTN Political Correspondent Jerry Hagstrom reported on Thursday that, "Crop insurance and overall farm subsidies will face a challenge from one amendment on the House floor after proposed amendments to the bill were thinned out Wednesday evening.
"The amendment affecting crop insurance that was made in order was a broad one introduced by Rep. Tom McClintock, R-Calif., that would phase out agricultural subsidies. Yet another amendment will seek to overhaul the sugar program."
DTN Ag Policy Editor Chris Clayton reported on Thursday that, "An amendment by Rep. Virginia Foxx, R-N.C., to remove production limits in U.S. sugar and remove import barriers received lengthy debate but was overwhelmingly defeated 137-278 late Thursday afternoon.
"The one amendment allowed on farm programs would phase them out completely. Rep. Tom McClintock, R-Calif., said his amendment would allow commodity and crop insurance subsidies to continue for two years, then would phase them down over the next decade. Under such elimination of farm programs, McClintock said, if consumers want more wheat and cabbage and less soybeans and sugar, then farmers would grow more wheat and cabbage and less soybeans and sugar."
The DTN article indicated that, "If the rest of the world would go to a level playing field, then U.S. farmers would compete, [House Ag Committee Chairman Mike Conaway (R., Tex.)] said, but U.S. farmers need a safety net. He called on colleagues to defeat the amendment and protect farmers.
"'Let's show them we support them,' Conaway said. 'Let's show them we have got their back. A yes vote says 'Nevermind, we don't care about you.' A no vote for McClintock sends exactly the message we want to send, and I'm hoping this is a stunningly large no vote so the American producers — who are some of the hardest-working, best people on the face of the Earth — can understand this Congress understands the unfair, foreign competition in which they are competing with.'
"Following Conaway's call, McClintock's amendment to phase out farm programs went down in flames in a 34-378 vote with no Democrats backing McClintock's amendment and just a few conservatives supporting it."
Farm Bill- Uncertainty
Wall Street Journal writers Joshua Jamerson, Jesse Newman and Heather Haddon reported late on Thursday that, "A group of hard-line conservatives rejected an immigration deal that was intended to unlock Republican votes needed to pass a five-year, $867 billion farm bill, leaving the measure up in the air on the eve of a scheduled House vote.
"The House Freedom Caucus, a group of roughly three-dozen conservatives who have made immigration policy one of their signature issues, turned back a proposal put forth by House Majority Whip Steve Scalise (R., La.). The conservatives represent crucial bloc of votes for the farm bill, and they are using their clout to put pressure on leaders to stop an unrelated effort to bring immigration legislation to a vote."
The Journal article explained that,
The wrangling has clouded the future of the farm bill, which binds federal support for farmers with food-stamp benefits for the poor, elderly and disabled.
"Congress would need to pass an extension to maintain funding for current farm-safety-net programs if lawmakers don't pass a new farm bill by the time the current law expires, on Sept. 30. Without the new legislation, funding would lapse for dozens of smaller programs, including assistance to new farmers, trade and rural development."
Kristina Peterson noted in yesterday's Wall Street Journal that, "Members from agriculture-heavy states said they weren't surprised that conservatives were adding some late hurdles to the farm bill's passage.
"'The Freedom Caucus for the entire time they've existed have been a challenge,' said Rep. Frank Lucas (R., Okla.), a former chairman of the House Agriculture Committee."
And Politico writers Liz Crampton, Helena Bottemiller Evich, and Rachael Bade reported late yesterday that, "With the vote still scheduled for Friday morning, it is unclear where things stand. GOP leaders are waiting for word on whether the Freedom Caucus will deliver the final votes needed to push the bill over the finish line."
Today's Morning Agriculture update from Politico indicated that: "The House appears to be barreling toward voting on the farm bill today despite lingering uncertainty over whether House Ag Chairman Mike Conaway has enough votes to push the legislation through."
The House voted on the Farm Bill Friday morning, and it failed to pass, 198-213.