Following Some Positive Trade News, Renewed Trade Concerns Arise for U.S. Farmers
Towards the end of May, positive news regarding U.S. trade policy began to emerge for U.S. farmers: China canceled its anti-dumping measure on U.S. sorghum imports; the U.S. issued a  joint statement indicating that China would purchase more U.S. exports, including "meaningful increases" in agricultural products; and, the U.S. suspended its threat to impose tariffs on $150 billion in Chinese imports while negotiations with China continued.  However, more recent trade developments appear to be less sanguine for U.S. farmers and ranchers, which is the subject of today's update.
China
William Mauldin and Lingling Wei reported in Wednesday's Wall Street Journal that, "The Trump administration sent a sudden, harsh message to its Chinese counterparts, saying the U.S. was moving forward with its threat to apply tariffs on Chinese imports and other actions to restrict Beijing from accessing sensitive U.S. technology.
"Tuesday's move surprised many observers after the White House had for days trumpeted the outlines of a deal in which any trade war with China would be put on hold while negotiators—led on the U.S. side by Treasury Secretary Steven Mnuchin —worked on a deal that would have China reduce its $375 billion annual trade advantage by buying more U.S. goods."
The Journal article noted that, "The White House said Tuesday that it would announce by June 15 a final list of $50 billion in imports from China that would be subject to tariffs of 25%, with the duties implemented 'shortly thereafter,'" and the article added, "Officials in Beijing, who were working on measures to ease trade tensions, were caught off-guard by the announcement in Washington, according to people with knowledge of the matter. A few days ago, U.S. trade negotiators led by Mr. Mnuchin, and their Chinese counterparts, led by Liu He, President Xi Jinping's economic envoy, had called a truce in the simmering trade conflict, saying both sides would put threatened tariffs on hold."
Reuters news pointed out last week that, "The United States' measures against China's investments are against World Trade Organization rules, and China reserves the right to take countermeasures, the commerce ministry said on Thursday."
Farmers have not been doing well for 15 years. Mexico, Canada, China and others have treated them unfairly. By the time I finish trade talks, that will change. Big trade barriers against U.S. farmers, and other businesses, will finally be broken. Massive trade deficits no longer!

— Donald J. Trump (@realDonaldTrump) June 4, 2018
Meanwhile, Lingling Wei reported in Saturday's Wall Street Journal that, "U.S. and Chinese trade negotiators are haggling over how to get Beijing to carry out recent promises to purchase more American farm and energy products, with Washington pushing for long-term contracts that Chinese officials are reluctant to commit to.
"The snag is hanging over high-level negotiations scheduled for this weekend. U.S. administration officials, having said earlier that a lack of progress by the advance team might lead to Commerce Secretary Wilbur Ross canceling a trip to Beijing, said Mr. Ross remains scheduled to be in China on Saturday. The plan is for two-days of talks in Beijing with China's top trade negotiator, Liu He, but the White House's recent moves to revive the threat of tariffs on Chinese imports have complicated the prospects for his mission."
Saturday's article added, "The U.S. team led by Mr. Ross is aiming to secure a deal in which China would buy more U.S. soybeans, beef, poultry, natural gas and crude oil, among other agricultural and energy products. The U.S. hopes that such purchases would narrow its trade deficit with China, which stood at $375 billion last year. President Donald Trump wants the trade gap slashed by at least $200 billion by 2020."
China already charges a tax of 16% on soybeans. Canada has all sorts of trade barriers on our Agricultural products. Not acceptable!

— Donald J. Trump (@realDonaldTrump) June 4, 2018
However, Keith Bradsher reported on Sunday at The New York Times Online that, "The United States and China ended trade talks in Beijing on Sunday without any announced deals and with Chinese officials refusing to commit to buying more American goods without a Trump administration agreement not to impose further tariffs on Chinese exports.
"'If the United States introduces trade measures, including an increase of tariffs, all the economic and trade outcomes negotiated by the two parties will not take effect,' China said in a statement distributed by the state-controlled news media."
Canada, Mexico, and the EU
In other trade developments, Wall Street Journal writer William Maudlin reported on the front page of Friday's paper that, "The Trump administration raised the prospect of a global trade war by imposing tariffs on imports from the closest U.S. neighbors and allies, who swiftly pledged to retaliate with duties of their own."
The Journal article explained,
The new tariffs—on steel and aluminum imports from Canada, Mexico and the European Union—come as the U.S. is studying global levies on autos and auto parts. The administration also plans tariffs on industrial supplies from China. Beijing has promised to retaliate with its own duties.
Mr. Mauldin stated, "The reaction from allies was swift and severe. Canadian Prime Minister Justin Trudeau said his government would impose a 25% tariff on steel imports from the U.S. and a 10% tariff on aluminum and a wide range of other U.S. goods, including some food and agricultural products. Ottawa said it would hold consultations for two weeks before imposing the tariffs on July 1.
"Mexico's Economy Ministry said it would target a number of U.S. goods, including some steel and pipe products, lamps, berries, grapes, apples, cold cuts, pork chops and various cheese products 'up to an amount comparable to the level of damage' linked to the U.S. tariffs.
"The EU has said it is also planning to hit back with its own duties on U.S. exports worth €6.4 billion ($7.5 billion), including on steel, motorcycles and some agricultural products."
And, Politico's Morning Agriculture reported on Friday, "As expected, President Donald Trump's announcement of tariffs targeting steel and aluminum imports from Canada, Mexico and the European Union led those major trading partners to announce retaliatory measures heavily targeting food and ag products."
Morning Agriculture noted that,
The National Grains Council said it is bracing for farmers feeling the brunt. 'These countries are among our closest neighbors and friends. We have spent years building markets in these countries based on a mutual belief that increasing trade benefits all parties,' the group said.
"Corn farmers are moving into planting season not knowing who will purchase their crop when it's ready for harvest, said Kevin Skunes, president of the National Corn Growers Association. 'With a 52 percent drop in net farm income over the last five years and depressed commodity prices, this is not the time to face such a burden,' he said."
And late last week, Doug Palmer reported at Politico that, "It [the U.S. tariff decision] also indicates that the administration has given up hope of finishing NAFTA negotiations with Canada and Mexico in the near future. That raises the question whether Trump will have the patience to wait until later this year or possibly even 2019 to get a new agreement, or if he will make good on a campaign promise to pull out of the 24-year-old pact."
Pork:  Additional Details
Donnelle Eller reported on the front page of Saturday's Des Moines Register that, "Iowa pork producers already dealing with a 25 percent tariff on U.S. pork exports to China could face another trade hit, with Mexico considering a 20 percent tariff on hams and pork shoulders.
Growing trade worries have cut pork prices in recent weeks, costing Iowa producers about $560 million, said Dermot Hayes, an Iowa State University economist.
"Mexico is the largest export market for U.S. pork, based on volume."
The Register article noted that, "The tariffs are 'potentially devastating news for Iowa's pig farmers and the rural Iowa economy,' said Gregg Hora, president of the Iowa Pork Producers Association."
Shruti Singh reported late last week at Bloomberg that, "'It's a tragedy if we lose any major portion of our export business,' Christopher Hurt, a professor of agricultural economics at Purdue University in West Lafayette, Indiana, said in a telephone interview. 'It comes at a bad time.'
"Hurt is forecasting average losses for U.S. hog farmers of about $9 per animal in 2018 and $13 next year. Those estimates don't include any impact from tariffs by China or Mexico, and the trade disputes may not necessarily cause exports to drop, he said. If they do decline for any reason, the losses for ranchers could be even larger. If the portion of U.S. output that's exported was to fall to 18 percent from 22 percent currently, the losses in 2019 may widen to $18 a hog, Hurt estimates."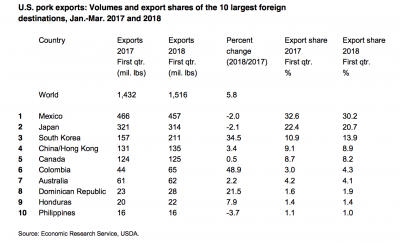 In its May Livestock, Dairy, and Poultry Outlook report, USDA's Economic Research Service stated, "It is anticipated that exports will continue to be a key component of demand for U.S. pork in 2019. Pork exports next year, forecast at 6.125 billion pounds, or almost 4 percent higher than exports forecast for 2018, will be driven by the favorable prices from stepped-up U.S production volumes, relative to prices of pork produced in competing countries and regions. Similar to this year, 2019 production and export forecasts, taken together, imply that exports will account for slightly more than 22 percent of U.S. commercial pork production next year."
Perspective From Sec. Perdue, Farm State Lawmakers
Amy Bickel reported on Thursday at the High Plains Journal Online (Dodge City, Kans.) that, "[Sec. of Agriculture Sonny Perdue] offered reassurance that President Donald Trump cares about farm country while noting the devastation a potential trade war with China could have on ag-dependent states like Kansas.
"'I think we will get it done,' Perdue said of trade agreements, including the North American Free Trade Agreement that he and his staff work on daily.
"However, Perdue added, 'the certainty and predictably' that American farmers want regarding trade isn't there yet."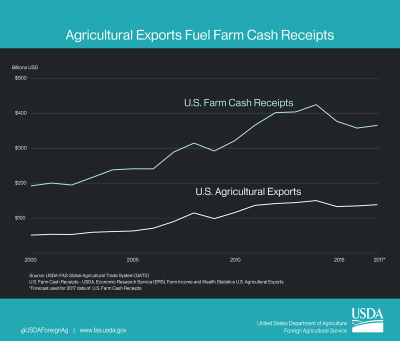 The article stated, "'The president is very much aware of how important exports are to the ag community,' Perdue said. 'We know about 20 cents of every dollar comes from foreign trade.'"
Ms. Bickel added, "[Senator Jerry Moran (R., Kans.)] said trade helps American agriculture stay competitive around the globe. He and [Senate Ag Committee Chairman Pat Roberts (R., Kans)] have had several meetings with the president regarding the impact of international trade to the economy. Moran said Trump suggested creating a program that would pay farmers on trade losses. Moran said he and lawmakers stressed that is not what farmers and ranchers are wanting.
'Our farmers and ranchers don't want another government program,' he said they told Trump. 'They want to earn their living in the markets.'
"'Our point to him was trade is the key to our survival across our states,' Moran added. 'There is no more important issue in my mind for our success in Kansas than our ability to export, and it is not just agriculture.'"
DTN Ag Policy Editor Jerry Hagstrom reported on Friday that, "House Agriculture Committee ranking member Collin Peterson, D-Minn. said late Thursday that the tariffs that President Donald Trump announced today on European Union, Canadian and Mexican steel and aluminum and the likely retaliation against U.S farm exports will lead him to work with Senate leaders on a farm bill to protect farmers from 'the market fluctuations caused by these actions.'"
The DTN article quoted Rep. Peterson as saying, "'Instead of a farm bill focused on welfare reform, I look forward to working with [House Agriculture Committee] Chairman [Michael] Conaway [R-Texas], [Senate Agriculture Committee] Chairman [Pat] Roberts [R-Kansas] and ranking member [Debbie] Stabenow [D-Mich.] (and the administration) to come up with a farm bill that helps protect farmers from the market fluctuations caused by these actions and invests in trade promotion to help them rebuild lost markets.'"
Mr. Hagstrom added, "Agriculture Secretary Sonny Perdue has said that USDA is prepared to use the authorities of the Commodity Credit Corporation to provide payments to farmers hurt by trade retaliation.
"Roberts has said that rather than aiding farmers through the CCC, the administration should maintain a pro-trade stance."