Tariffs and Commodity Prices: Impacts and Reactions
Several recent news articles have discussed tariffs on U.S. agricultural exports and the impacts these policies are having on global commodity markets.  As the effects of trade policies ripple through the agricultural sector, a separate set of news items have highlighted how politicians and farmers are reacting to the impacts.  Today's update provides an overview of these news stories.
Tariffs and Commodity Prices- Recent News Articles
Wall Street Journal writer Benjamin Parkin reported late last week that, "Gluts of corn, wheat and other crops are finally easing after years of oversupply, but prices have yet to meaningfully rebound.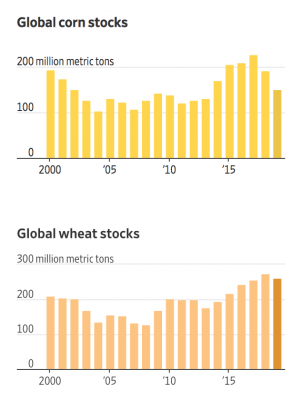 "The enormous stocks of agricultural commodities that piled up around the world in recent years are due to start falling, the U.S. Department of Agriculture says. A combination of robust demand for grain to feed to livestock and droughts from Kansas to the Black Sea region have helped chip away at record oversupply.
That has done little to bolster prices, however, leaving some analysts scratching their heads. Hedge funds and other investors instead have focused on the prospect that tariffs on U.S. agricultural goods levied by China, Mexico and others could kill demand, erode market share and leave American farmers sitting on even larger surpluses.
Mr. Parkin explained, "Corn futures at the Chicago Board of Trade have fallen 15% from a late May peak. They traded last week at the lowest point in almost a year. Prices for wheat are down around 10% over a similar period and cotton has slid 7% from mid-June."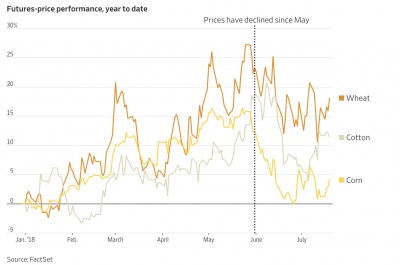 The Journal article noted that, "Many of these crops are in the crosshairs of governments around the world looking to retaliate against U.S. duties on steel, aluminum and other products. China this month introduced tariffs on U.S. soybeans, corn, wheat and cotton. Mexico, one of the largest buyers of American grain, is already levying duties on U.S. goods including pork and cheese, and many expect corn could follow if there's any new escalation."
"Analysts say traders are taking their cues from soybean prices, which fell to near 10-year lows this month. China is the largest buyer of American oilseed. The duties of 25% already have the country's grain merchants buying more soybeans from Brazil, but the agency says higher costs will force some to cut back on oilseed consumption. Chinese imports are expected to fall as a result, pushing up domestic and global supplies next year," the Journal article said.
Meanwhile, Emiko Terazono reported last week at The Financial Times Online that, "Brazilian soyabean premiums have surged to a near four-year high against those of the US as the US-China trade war leads to a scramble by Chinese traders for alternative sources."
"The premium is the highest since September 2014 and comes as Chinese buyers have been cancelling their US orders as the 25 percentage point tariff increase by Beijing on US soyabean imports took effect this month," the FT article said.
Ms. Terazono added, "According to US Department of Agriculture data, more than 830,000 tonnes of soyabean exports to China have been cancelled since April, the equivalent of about 14 vessels. This contrasts to 170,000 tonnes last year."
Bloomberg writer Ken Parks reported on Wednesday that, "South America's main soybean-producing nations could benefit from higher demand from China through 2020 thanks to a Sino-U.S. trade war, according to one of Uruguay's largest farm companies."
The article noted that, "U.S. soy that otherwise might have gone to China could displace Uruguayan soy in Europe, [Jose Pedro Sanchez, chief executive officer of Union Agriculture Group Corp.] said. In that scenario, China would probably end up buying almost all of Uruguay's soy, he said."
And Reuters writers Michael Hirtzer and Tom Polansek reported on Friday that,
China, which in 2017 bought about $839 million worth of U.S. sorghum, has not purchased significant volumes since February, according to U.S. Department of Agriculture data. Tensions have been high since China launched an anti-dumping probe of U.S. sorghum in February, though it dropped it in May.
"Sorghum farmers in coastal Texas are among the first growers to harvest crops since the world's two largest economies started announcing tariffs on each other's goods, leaving them scrambling to find buyers," the article said.
Politicians and Farmers React
On Friday morning, President Donald Trump tweeted about farm issues and soybean prices, noting in part that, "Farmers have been on a downward trend for 15 years."
However, Bloomberg writer Megan Durisin reported later Friday morning that, "President Donald Trump on Friday blamed a plunge in U.S. soybean prices on 'bad (terrible) trade deals.' Mother Nature is really the culprit.
"Soybean futures soared to all-time highs in 2012 — five years before Trump was elected — as a drought ravaged Midwest farms and crimped production. In the seasons since then, farmers in U.S. and Brazil, the top exporters, have reaped several back-to-back bumper crops and prices have slumped."
Meanwhile, Associated Press writers Steve Karnowski and Blake Nicholson reported last week that, "Many anxious American farmers are delaying purchases and investment while hoping for a truce in a U.S.-China trade war that has left their crops at a competitive disadvantage overseas.
"The longer the Trump administration's tariffs remain in place, the more China's retaliatory tariffs against American exports stand to hurt U.S. soybean and pork producers."
But recent reporting from Bloomberg's Alan Bjerga suggests that from a political perspective, many farmers are sticking with President Trump- at least so far.  (See clip below).
Similarly, Des Moines Register writer Donnelle Eller reported in article that was published on the front page of Sunday's paper that, "The clock is ticking as Republicans work to hold the support of farmers, a group that helped push President Donald Trump to victory in Iowa and the nation two years ago. With the midterm election just four months away, that support could determine whether Republicans keep control of statehouses, governor's offices and Congress.
So far, farmers and GOP leaders say ag country mostly supports the president's quest for better trade deals with China, Mexico, Canada and other major trade partners.
"But they question how long that will last amid an avalanche of farm challenges: tariffs in their largest export markets, a record amount of soybeans in bins and elevators, and commodity prices that fail to cover the costs to grow their crops."
A news release Thursday from Iowa GOP Senator Joni Ernst stated that, "Senator Ernst released the following statement, with regard to White House trade advisor Peter Navarro telling CNBC that the economic impact of a trade war is a mere 'rounding error,' and that the administration is playing a broader 'chess board':
"'Mr. Navarro, America's farmers are caught in the crosshairs of this game of 'chess.' Offhand comments like the ones that Mr. Navarro made in his interview with CNBC today disregard the people whose livelihoods depend on global trade. In Iowa alone, more than 456,000 jobs are supported by trade, and these new tariffs are threatening $977 million in state exports.  That is no 'rounding error.' Those are real people – Iowans – who are waiting for terms to be negotiated, for new deals to be finalized.  We need to lessen the pressure on these hard-working farmers, and let them sell their goods."
And The Wall Street Journal editorial board stated in Saturday's paper that, "Meanwhile, White House trade adviser Peter Navarro told CNBC on Thursday that the damage from the trade war so far is no big deal. 'We got two economies that add up to around $30 trillion in annual GDP. The amount of trade we're affecting with the tariffs is a rounding error compared to that,' he said. That drew a sharp rebuke Friday from the American Farm Bureau Federation that has watched retaliatory tariffs hit U.S. agriculture especially hard.
"'Prices for all of our export-sensitive farm goods have tanked since May, when this tariff game started. Farm income was already off by half compared to four years ago, with debt levels rising—hardly a strong position for agriculture going into this trade war,' said the Farm Bureau. 'This situation will only worsen as combines roll between now and the fall election season. The nation's farmers and ranchers support the broader goal of strengthening our overall economy and trade balance, but not at the risk of long-term, irreparable harm to our ag exports and the jobs they create.'"
And a recent update posted at Axios Online indicated that, "Speaking with Mike Allen at an Axios event in Washington, Secretary of Agriculture Sonny Perdue said that foresters, farmers and ranchers are bearing the brunt of the trade dispute, and that he hopes to have a mitigation plan before major harvests begin after Labor Day."