Farmers Tested by Tariffs as the U.S. and China Prepare For Trade Talks
Today's update explores recent news articles that discuss the impacts of the U.S., China trade dispute, with a focus on how farmers are reacting to ongoing tariffs.  In addition, midlevel talks between the U.S. and China have been scheduled as the two countries began to prepare for their first major negotiation in more than two months.
Chinese Tariff Perspectives
Don Lee reported on the front page of Saturday's Los Angeles Times that, "Doug Saathoff, whose great-grandfather began farming around Trumbull, Neb., in the late 1800s, planted his first soybean in 1996 and hasn't lost money since. Even droughts haven't hurt because there's plenty of underground water.
"But that streak is in jeopardy, thanks to President Trump's trade war with China, which has pummeled soybean exports and prices. Increasingly anxious about his family's livelihood, the 44-year-old has taken small steps to save money, such as canceling satellite television and buying a used combine harvester rather than a new one.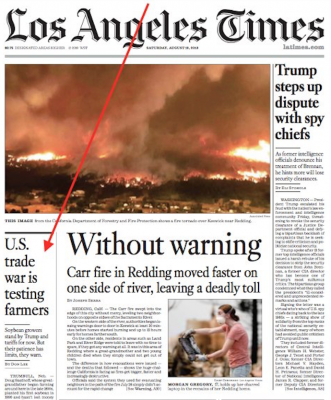 "One thing hasn't changed: his support for Trump, whom Saathoff credits for taking China to task for its unfair trading behavior.
He and some of his fellow farmers are willing to give the president more time to win concessions, betting that Trump won't let things get really bad for American soybean farmers, who export about one-fourth of their crops to the Chinese market. But he also warned that their patience won't last forever.
Mr. Lee explained, "In recent weeks, China has essentially halted new purchases of soybeans while moving to shift orders to other countries and providing incentives to its domestic farmers to produce more beans.
"One result has been a drop in soybean prices, from about $11 a bushel earlier in the year to less than $9 today — the break-even point for many farmers.
"Their worst fear is a permanent loss of the China business."
And Reuters writer Jarrett Renshaw reported on Friday that, "The administration's move to impose numerous tariffs on imports has sparked retaliation, particularly from top agricultural buyer China, which put levies on products like hogs, corn and soybeans, hammering those markets. Soybeans are among the hardest-hit, with prices down 15 percent since May 1."
The article indicated that, "'The anxiety is starting to escalate,' said Iowa Governor Kim Reynolds, a Republican locked in a tight race with Democrat Fred Hubbell. 'They are willing to give him some more time, but the window is closing and they have to see some movement somewhere to alleviate the pressure.'"
Mr. Renshaw pointed out that, "China's tariffs are a direct hit to Iowa, the nation's top exporter of corn and pork, and No. 2 exporter of soybeans behind Illinois. Iowa exported nearly $11 billion in agricultural goods in 2016, trailing only California, according to USDA data.
"China is the world's biggest importer of soybeans and among the largest pork buyers. But Iowa farmers are also getting hit by levies imposed by Mexico, the leading importer of U.S. pork."
However, Bloomberg writer Lydia Mulvany reported on Friday that, "If Deere & Co. has anything to say about it, the hand-wringing over global trade tensions has gotten overblown — at least as far as the farm economy is concerned.
"While China's retaliatory tariffs against U.S. soybeans has sparked a collapse in prices for the commodity, that story could be overshadowing other improvements in the agriculture world, Chief Financial Officer Raj Kalathur said Friday on a call to discuss quarterly earnings. He pointed to strengthening fundamentals in the corn, wheat and cotton markets and said overall global demand for grain is still growing.
"'The farm economics picture for next year may actually be stronger than realized,' Kalathur said. Costs will be relatively stable, and 'absent all these other noises,' demand for crops 'will be up,' he said."
U.S., China Trade Developments
Lingling Wei in Beijing and Bob Davis reported on the front page of Saturday's Wall Street Journal that,
Chinese and U.S. negotiators are mapping out talks to try to end their trade standoff ahead of planned meetings between President Trump and Chinese leader Xi Jinping at multilateral summits in November, said officials in both nations.
"The planning represents an effort on both sides to keep a deepening trade dispute—which already has involved tariffs on billions of dollars of goods and could target hundreds of billions of dollars more—from torpedoing the U.S.-China relationship and shaking global markets."
"Scheduled midlevel talks in Washington next week, which both sides announced on Thursday, will pave the way for November," Saturday's Journal article said.
Bloomberg writers Justin Sink and Andrew Mayeda reported late last week that, "President Donald Trump prodded China to offer more at the bargaining table as the two countries prepared for their first major negotiation in more than two months in an effort to head off an all-out trade war.
"'We're talking to China, they very much want to talk,' Trump said Thursday at a cabinet meeting at the White House. 'They just are not able to give us an agreement that is acceptable, so we're not going to do any deal until we get one that's fair to our country.'"
The Bloomberg article added, "'It's a good thing that they're sending a delegation here — we haven't had that in quite some time,' National Economic Council Director Larry Kudlow told CNBC Thursday. 'The Chinese government in its totality must not underestimate President Trump's toughness and willingness to continue this battle to eliminate tariffs and non-tariff barriers and quotas to stop the theft of intellectual property and to stop the forced transfer of technology.'"