U.S., China Trade Conflict Could Escalate as Talks Floundered; While USDA Sets to Release Trade Aid Details
Recent news reports suggest that trade talks between the U.S. and China last week yielded little progress towards resolution.  Some experts indicated that the ongoing trade conflict between the two countries could worsen.  Meanwhile, the U.S. Department of Agriculture could release details on its trade aid package as early as Monday.
Trade Talks Yield Little Progress, Trade War Could Get "Uglier"
Reuters writers Michael Martina and David Lawder reported on Saturday that, "U.S-China trade talks this week were heavy on details but short on progress as U.S. negotiators outlined cases of American firms harmed by Chinese practices and China argued it was meeting its WTO obligations, people familiar with contents of the discussions said.
"The two days of talks in Washington led by mid-level officials did little to resolve a worsening trade spat between the world's two biggest economies and ended on Thursday without a joint statement."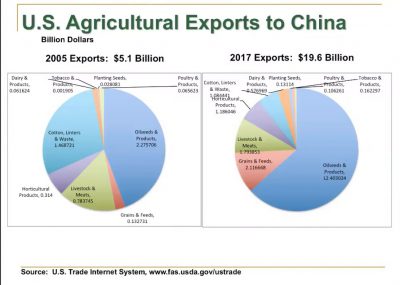 Saturday's article pointed out that, "The talks took place as the two sides followed through on threatened tit-for-tat tariffs on $16 billion worth of the other's goods. Beijing has filed a complaint with the World Trade Organization about the U.S. duties.
"During the talks, Chinese negotiators repeatedly invoked what they said was Beijing's compliance with WTO rules, an argument that did not impress the U.S. side."
Martina and Lawder added,
No further talks have been announced.
And a Bloomberg News article from late last week reported that, "The two days of talks led by U.S. Treasury Undersecretary for International Affairs David Malpass and Vice Commerce Minister Wang Shouwen marked the first major interaction between the two sides since June."
"The trade war between the U.S. and China is primed to escalate after their governments failed to make progress in two days of talks," the article said.
On Friday, Bloomberg writer Shawn Donnan reported that, "The trade war between the U.S. and China is about to get uglier. After a long, hot summer spent weighing risks and firing warning shots, the hawks in President Donald Trump's administration have gained the upper hand — and they're set to unleash a fall offensive."
The Bloomberg article noted that, "'We're facing an escalating trade war over the next few months,' says David Dollar of the Brookings Institution, who served as the U.S. Treasury's top man in China under the Obama administration."
USDA Trade Aid Package- Details as Early as Monday
Reuters writer Mark Weinraub reported late last that, "U.S. Agriculture Secretary Sonny Perdue said on Thursday that details of a planned $12 billion aid package for U.S. farmers hurt by the Trump administration's trade wars may be disclosed on Monday.
"Perdue, who had told Reuters that the plan would include between $7 billion and $8 billion in direct cash relief for farmers, said it was being reviewed by the Office of Management and Budget."
The article explained that, "Perdue said he hoped to have the program up and running after Labor Day and declined to give further details before he met with farmers in upstate New York.
"The aid package, announced in July, was expected to include cash for farmers of soybeans, sorghum, corn, wheat, cotton, dairy and hogs as well as government purchases of fruits, nuts, rice, legumes, beef, pork and milk for distribution to food banks and nutrition programs."
Mr. Weinraub also noted that, "China has traditionally bought some 60 percent of U.S. soybeans but has been out of the market since implementing retaliatory tariffs.
'It's not going to seem like it's equitable,' Perdue said of the aid allocation on Thursday.
"The aid plan is intended only for the current crop cycle, Perdue has said."