Quick Take: Farmland Values
Today's update looks at a variety of information sources that highlight recent developments relating to farmland values, with particular focus on Illinois, Iowa and the States in the Minneapolis Federal Reserve District.
Illinois
A recent news release from the Illinois Society of Professional Farm Managers and Rural Appraisers (ISPFMRA) stated that, "Prices paid for Illinois farmland continued the 'slightly lower' trend according to the Mid-Year Snapshot Survey completed by [ISPFMRA]."
The release noted that, "'In the first half of the year the value of Excellent quality farmland is down two percent and Average quality land is down one percent,' says David Klein, AFM, ALC, Soy Capital Ag Services, Bloomington, IL., and overall chair of the Farmland Values program sponsored by the Society. 'According to our member survey, prices being paid for Good and Fair quality land prices are very similar from the beginning of the year.'
Klein notes that the survey results indicated the state-wide average price for Excellent quality land by mid-year dropped roughly $200 per acre to $10,522 from the beginning of 2018.  Survey results indicated prices for other land classes were estimated to be down less than $100 per acre respectively.
With respect to cash rents in Illinois, the release added, "University of Illinois' Gary Schnitkey, Ph.D. who coordinates the survey, indicated respondents expect cash rents to also trend slightly lower, depending on soil classifications.
Excellent — $305 per acre to $290
Good — $265 per acre to $250
Average — $220 per acre to $ 210
Fair — $185 per acre to $175
Additional details from the Mid-Year Survey indicated that, "China has implemented tariffs on U.S. agricultural products. 59% of respondents indicated that this action has already negatively impacted prices while 41% indicated that it has not.
"A continuation of soybean tariffs on U.S. soybean exports would likely cause soybean prices to average below $9 per bushel. If tariffs continue, all respondents believe that farmland prices would fall:
20% expect decreases to be less than 5%
61% expect price declines between 5 and 10%
19% expect price declines over 10%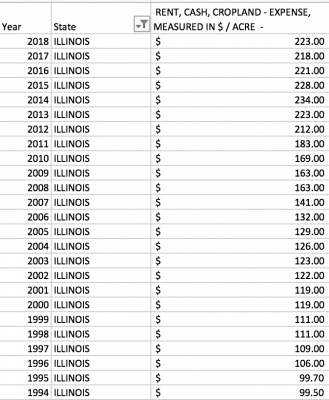 Iowa
A news release last week from the Iowa Chapter of the Realtors Land Institute stated that, "The REALTORS® Land Institute – Iowa Chapter is pleased to announce the results of our September 2018 Land Trends and Values Survey.
The results of these surveys show a statewide average decrease of cropland values at -1.7% for the March 2018 to September 2018 period. Combining this decrease with the 2.9% increase reported in March 2018 indicates a statewide average increase of 1.2% from September 1, 2017 to September 1, 2018.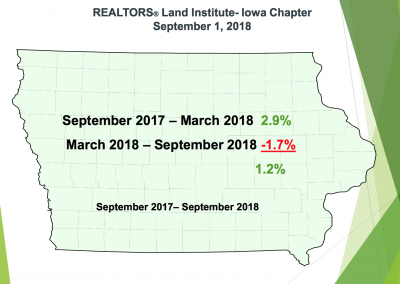 Des Moines Register writer Donnelle Eller discussed the report in an article last week and pointed out that, "Tariffs that depressed commodity prices, along with higher interest rates, are getting blamed for Iowa's farmland average value declining over the past six months, a new report shows.
"Even with that uncertainty, Iowa farmland held steady over the year, eking out a slight increase, according to the Realtors Land Institute, Iowa Chapter."
Ms. Eller added, "Northwest Iowa had the most priciest land, with high-quality land valued at $11,029 an acre. The best deal on high-quality land was in south-central Iowa at $7,188 an acre."
Federal Reserve Bank of Minneapolis
An update last month from the Federal Reserve Bank of Minneapolis stated that, "Farm incomes fell from April through June, according to results of the second-quarter (July) agricultural credit conditions survey. Spending on capital equipment and farm household purchases also decreased. Falling incomes pushed the rate of loan repayment down slightly, while renewals and extensions increased, though most lenders reported that both were flat.
Somewhat surprisingly, respondents noted that cropland values generally increased slightly.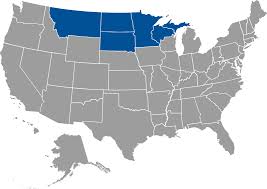 The Fed update explained that, "Though quarterly surveys in recent years typically indicated steadily but moderately declining land prices in the wake of a long period of soaring growth, the second-quarter results generally pointed to a moderate increase in land values. The picture for cash rents was more mixed.
The average value for nonirrigated cropland in the district increased by more than 3 percent from a year earlier, according to survey respondents.
"Irrigated land increased by 2 percent, while ranchland values rose by a little more (between 2 percent and 3 percent). The district average cash rent for nonirrigated land decreased by 3.5 percent from a year ago, while rents for irrigated land rose more than 2 percent.
"The increase in land values was mostly consistent across the district. Cropland prices increased the most in North Dakota, where lenders reported that nonirrigated land values rose nearly 6 percent compared with a year earlier, but all district states saw growth in that category. Rents for the same class of land fell 7 percent in Minnesota and 3 percent in South Dakota, but increased by about 3 percent in North Dakota and Wisconsin."