Senate Ag Committee Holds Hearing on U.S. Agricultural Trade
On Thursday, the Senate Ag Committee held a hearing titled, "Perspectives on U.S. Agricultural Trade," where lawmakers engaged in a discussion with Gregg Doud, the Chief Agricultural Negotiator with the Office of the United States Trade Representative, and Ted McKinney, USDA's Under Secretary For Trade And Foreign Agricultural Affairs.  USDA Chief Economist Dr. Robert Johansson also provided technical background at the hearing.
Hearing: Background
During his opening remarks on Thursday, Committee Chairman Pat Roberts (R., Kans.) noted that, "We need to hold our trading partners accountable, but I am concerned that some of the trade actions we have seen in recent years are causing uncertainty and unpredictability for the agriculture industry."
Chairman Roberts added,
Simply put, the entire food and agriculture value chain relies on trade.
And Committee Ranking Member Debbie Stabenow (D., Mich.) pointed out that, "Agricultural exports add over $8.4 billion to the U.S. economy each year, while supporting more than 1 million American jobs on and off the farm."
"We need to be mindful of the long-term impacts for agriculture. Producers in my state are concerned that current and future Administration actions could result in agriculture permanently losing important trading partners," Sen. Stabenow said.
In his testimony Thursday, Ambassador Doud pointed out that, "It is impossible to testify today without first mentioning the renegotiation of the North American Free Trade Agreement (NAFTA) and the benefits for U.S. agriculture…We have recently reached an agreement with Mexico that improves on NAFTA in almost every way. On agriculture, it maintains our farmers' and ranchers' tariff-free access to the Mexican market and modernizes the agreement in important ways that will cut red tape on our southern border. Currently, Ambassador Lighthizer and my colleagues at USTR are working to improve our agricultural situation with Canada, particularly in the areas of dairy, poultry, eggs, grain, wine, and other products."
Amb. Doud added, "I am disappointed that in recent months our trading partners have decided to retaliate against nearly $30 billion of our $143 billion in agricultural exports following necessary actions taken under our trade laws to defend our national security or to respond to unfair trade practices. During my first six months in this role, I have had over 150 meetings with stakeholders and have met hundreds of farmers, ranchers and agribusiness representatives – all of them have communicated to me the impact of the tariffs and the role of trade for all commodities including row crops, livestock, horticulture, and processed products."
Undersecretary McKinney noted in his opening remarks that, "America's hard-working agricultural producers have been treated unfairly by China's trading practices and targeted specifically with retaliatory tariffs in a blatant attempt by China to exert political pressure on Congress and this Administration. In response to this unjustified retaliation by China and other countries, the President directed Secretary Perdue to craft a short- term relief strategy to protect agricultural producers while the Administration works on free, fair, and reciprocal trade deals."
Hearing: Discussion- Market Facilitation Program Details
During the discussion portion of Thursday's hearing, Sen. Roberts asked for additional details regarding the Trump Administration's trade aid program: "The largest program in the administration's trade mitigation package is the Market Facilitation Program. Can you offer some background on how the department determined the methodology and the payment rates for the different commodities eligible for the program?"
Dr. Johansson explained, "This was specifically targeted to the 232 and 301 retaliatory tariffs, and so we wanted to make sure that our program was able to reflect those tariffs and those tariff levels from the countries that are levying those tariffs on the specific commodities that are listed under those tariff regimes. And we wanted to do so in a, as I mentioned, in an equitable and consistent manner across the different commodity groups.
"So there are a lot of different models that can be developed from an economic perspective to reflect trade damage. We wanted to focus on a trade damage approach which is similar to what we would normally use if we were to go and support USTR in actions at the WTO in Geneva, when we go there to argue that a country's actions are unwarranted and we are claiming damage from those actions."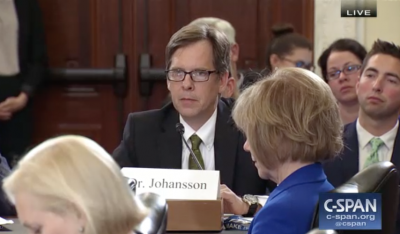 Dr. Johansson added, "[T]hose commodities that were exported to the countries that are retaliating are going to show the highest trade damage effects from these tariffs.
And that's why you see such a large component of the program being directed to producers of soybeans, since soybeans was our largest export to China. And on the other hand, for producers of corn, for example, we don't sell as much corn, for a lot of reasons, understandably, but to the retaliating countries, EU and China, in this sense, for corn.  And that's why the payments to corn producers are so much smaller.
Iowa GOP Senator Joni Ernst queried: "Dr. Johansson, many farmers across Iowa were really shocked when they saw that a mere 1%—or one, excuse me, one cent point for our corn for the reimbursement or the payment assistance and through the Market Facilitation Program, despite the significant losses that we have seen since the trade tensions took hold.
"So we've seen higher tariffs from China that have resulted in a 70% tax on U.S. ethanol exports. And prior to the tariff increases, U.S. ethanol exports to China had been up 57% year over year. U.S. ethanol is now essentially shut out of a growing market, while China is transitioning to E10. So we are really missing out in that area. So can you walk me through how the USDA arrived at the payment rate for those corn farmers? And did your model calculate for the rate…for the lost ethanol exports?"
Dr. Johansson noted in part that, "I'll just say quickly on the ethanol side while we did see some increases in ethanol, China had taken some, already taken some actions relative to our ethanol exports there that had reduced our exports of ethanol to China prior to the 232 and 301 actions being taken. Now of course they are also listed as being affected by the tariffs as well.
"That being said, the amount of ethanol we do sell to China would not have been affected specifically looking at the 232 and 301 actions to a significant degree. And the programs were intended primarily to address producers, farmers and ranchers that were producing primary commodities and not processed, and not on the process side."
Continuing, Dr. Johansson stated:
On soybeans, for example, the value of soybean exports that were being affected by the tariffs was roughly $13.9, $14 billion, and on corn, for example, it was $300 million. So there's a significant difference between the amount of soybeans and other types of commodities relative to corn, just because corn shipments to the countries that are retaliating were relatively low compared to those other ones, and the methodology that we used, for the reasons I talked about earlier, were focused on being consistent across the commodities score, teeing off of our export values to those countries.
Meanwhile, a news update from USDA on Thursday stated that, "U.S. Secretary of Agriculture Sonny Perdue today released a detailed accounting of how USDA calculated estimated damage from trade disruptions."
That report can be downloaded here: "Trade Damage Estimation for the Market Facilitation Program and Food Purchase and Distribution Program."
Reuters News reported Thursday, "A second round of tariff-related aid to U.S. farmers could be announced in December, according to a white paper released by the U.S. Department of Agriculture on Thursday.
"The government model used to account for growers' losses may factor in new tariff levels enacted against trade partners, such as China or the European Union, according to the paper. It does not state how much money could be directed to farmers, or how such funds would be split up."
And on Wednesday, the Congressional Research Service released a report titled, "Farm Policy: USDA's Trade Aid Package," that also provided additional background into the aid program.
Trade Talks with China
Wall Street Journal writers Lingling Wei in Beijing and Jacob M. Schlesinger reported Thursday that, "The Trump administration is giving Beijing another chance to try to stave off new tariffs on $200 billion in Chinese exports, asking top officials for a fresh round of trade talks later this month, people briefed on the matter said.
"The invitation from Treasury Secretary Steven Mnuchin comes as some Trump officials said they sense a new vulnerability—and possibly more flexibility—among Chinese officials pressured by U.S. tariffs imposed earlier this year and threats for more."
The Wall Street Journal has it wrong, we are under no pressure to make a deal with China, they are under pressure to make a deal with us. Our markets are surging, theirs are collapsing. We will soon be taking in Billions in Tariffs & making products at home. If we meet, we meet?

— Donald J. Trump (@realDonaldTrump) September 13, 2018
However, the Journal article pointed out that, "Given the difficult nature of the trade talks between the two countries over the past year, there is no guarantee the invitation will yield a meeting. On Thursday, China's Commerce Ministry confirmed it received the invitation."
And Reuters writer Mark Weinraub reported Thursday that, "The grandfather known as 'Secretary Sonny' on Instagram and Twitter has racked up thousands of miles, visiting 42 states, on a goodwill tour trying to shore up support among farmers who heavily supported Trump in 2016 – but now see their livelihood threatened after losing much of the massive Chinese market for staple crops such as soybeans, pork and sorghum."
Mr. Weinraub stated that, "While many farmers remain loyal to the president, they have urged him and congressional Republicans to resolve the trade disputes with China, Europe, Canada and Mexico quickly as commodity prices and exports plummet. Some have worked to maintain relationships with Chinese importers behind the scenes.
"Others are downright angry, questioning the protectionist policies and criticizing the administration's recently announced subsidy package for farmers, meant to help soften the blow of retaliatory Chinese tariffs. 'Trade not aid' has become a rallying cry."