Farm Bill Negotiations: Tensions Persist
The current Farm Bill has expired and tensions among key members of the Conference Committee persist. Today's update provides an overview of recent articles that highlight ongoing Farm Bill issues in greater detail.
Background- Farm Bill Expiration
Juliegrace Brufke reported on October 1st at The Hill Online that, "Congress quietly allowed the farm bill to expire over the weekend despite House Republicans' hopes they would come to a consensus and pass a reauthorization ahead of the Sept. 30 deadline."
The Hill article explained that, "While there was talk of a short-term extension, a stop-gap measure ultimately was not brought to the floor before the lower chamber recessed ahead of the midterm elections.
"A number of top negotiators — including Sen. Debbie Stabenow (D- Mich.) and Rep. Collin Peterson (D-Minn.) — have argued Congress' real deadline isn't until December as the majority of baseline programs remain funded until later this year."
Farm Bill: Current Issues
Politico writers Helena Bottemiller Evich and Catherine Boudreau reported on Monday that, "Mounting tensions between two of the lead negotiators on the farm bill are jeopardizing Congress' chances of passing a measure allocating hundreds of billions of dollars for agriculture and nutrition programs before a new session begins next year.
Texas Republican Mike Conaway, the House Agriculture chairman, wants more money for Southern cotton growers. Michigan Democrat Debbie Stabenow, Senate Agriculture's ranking member, is pushing funds for urban farming and renewable energy. Their bitter fights over farm subsidies have deadlocked talks in a conference committee. The 2014 farm bill expired on Oct. 1 without a single face-to-face negotiating session between top negotiators in the three days before the deadline — a sign of just how far lawmakers are from any kind of deal.
Evich and Boudreau explained that, "At the heart of the impasse is how the farm subsidy pie will be divvied up among regions of the country. Stabenow and Roberts oppose House provisions that the Congressional Budget Office projected would send more cash to farmers in the Southern Plains, including more than $500 million to cotton growers, a top constituency in Conaway's West Texas district. In order to offset the cost of that proposal, the House bill would shrink subsidies for row crop farmers across the country.
"Conaway isn't happy about how the Senate bill would eliminate a $2 billion perk for rural utilities that borrow from the federal government, a trade-off that opened up funding for a number of Stabenow's priorities, including initiatives promoting renewable energy development and local and regional food, research funding for urban and indoor farming, and assistance for beginning farmers and ranchers."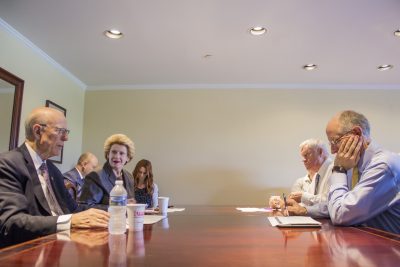 Monday's Politico article added: "But the fights over farm subsidies have meant the lawmakers haven't spent much time discussing food stamps, commonly known as SNAP. 'The four of us have talked very little about it,' Conaway said last week of the nutrition title, noting staff has been holding 'substantive conversations.'"
Meanwhile, House Ag Committee Ranking Member Collin Peterson (D., Minn.) was a guest on Monday's "Adams on Agriculture" radio show with Mike Adams.  Rep. Peterson provided perspective on the status of the Farm Bill legislation.
During the "Adams on Agriculture" interview (audio replay here (MP3- 11:00); unofficial FarmPolicyNews transcript here) Mr. Adams queried: "Okay, so we're hearing about now differences of opinion on kind of slicing up the pie, if you will, among different regions of the country, different types of agriculture. How big of an issue is that?"
Rep. Peterson indicated that, "Well, I don't think it's a very big issue, but the people that are concerned about this apparently think it's a big issue because we've been going around and around. I just don't think it's a huge issue one way, you know, on either side. It's not a lot of money in terms of the whole bill. And I'm not sure, you know, if anybody's going to actually get that much money out of what they're fighting over, so it's…but it's important to them, and for whatever reason it's an issue, and, you know, it's taken up a fair amount of time, and time that we maybe should have been focused on trying to get the SNAP thing worked out."
More broadly, Rep. Peterson noted that, "And people have kind of got themselves painted into corners on this thing, which is a lot of the problem. And the way these bills got done are part of the problem because the Senate, you know, took this cushion of credit and used that money to basically get every Democratic senator to vote for this bill.
At the end of the day, I don't believe we're going to have a bill that every Democratic senator can vote for. But as of right now that kind of seems to be the goal. I don't think that's realistic. On the House side you've got a bill that passed on a partisan basis, and the chairman seems to think he needs to have most of the Republicans, and I don't think that's realistic either. Because if you get most of the Republicans you're not going to get it through the Senate, and if you have all of the Democratic senators you're not going to get it through the House. So that's kind of where we're…the big picture of where we're at here.
Mike Adams also asked, "All right, now, and you've made it clear, as you just stated, you want to get this thing done and you want to get it done this year. But if the elections next month give your party power, a majority in either one of the chambers, will there be pressure then in your party to wait and do it in the new Congress next year?"
Rep. Peterson stated: "No. Absolutely not. And I've had discussions with our leadership, and they are supporting me in getting this done this year. So the outcome of the election is not going to have any impact in the Democratic caucus in terms of getting this thing done."
Meanwhile, DTN Ag Policy Editor Chris Clayton reported Monday, "While the argument over work requirements in the Supplemental Nutrition Assistance Program (SNAP) has drawn most of the attention, a couple of tweaks to base acres in the House version of the farm bill also is a sticking point in the talks.
"As Farmdocdaily out of the University of Illinois Extension posted last week, the House bill provides a one-time base-acre update only available for farms in counties designated as being in 'exceptional drought for 20 or more weeks from 2008-2012.' Farmdocdaily stated, 'These counties could update yields to 90% of the simple average of yield per planted acre for the 2013 to 2017 crop years.' Texas is the dominant state that qualifies for that yield update, but so do farms in much of western Oklahoma, western Kansas, southwest Nebraska, eastern Colorado and eastern New Mexico. A swath of counties across Georgia and western South Carolina would also qualify.
"CBO concluded that just cotton farmers in those areas allowed up update base acres would receive $577 million more in PLC payments over the next decade. To make up for this base update, the House bill also would eliminate base-acre payments to any farmer who did not plant a program crop on base acres from 2009-2017."
The DTN article noted that, "The arguments are not just between Conaway and Stabenow, though. Sen. Charles Grassley, R-Iowa, laid into the possible base-acre shift last week, telling agriculture reporters the plan is a major giveaway to cotton producers at the expense of other commodity producers.
"'Can you believe what Conaway's trying to do — rob the wheat farmers and the corn farmers and soybean farmers of their base so he can get more for cotton?' Grassley said. 'Cotton just got a billion dollars through another action of Congress in the last six months. When are they ever going to be satisfied? What does it take to satisfy the cotton farmers?'"
Mr. Clayton indicated that, "DTN asked a spokesperson for Conaway about Grassley's statements and received some comments Conaway made to farm broadcaster Jeff Nalley. In those comments, Conaway said, 'We've got a drought yield update that my opponents on the other side and other Senators are saying well you know, look at what Conaway's done for Texas. Well, it's the drought and if we want to define a drought differently, fine let's have that conversation but those multi-week, multi-year droughts have an impact on what we're trying to do particularly with the yield update that we're trying to address. We also look at pay-fors under Title One that the negative impacts more on Texas than other places so, I'm as best I can, trying to represent all of agriculture and not just cherry production or some specialty crop.'"