Effects of Ag Tariffs Ripple Beyond Exports
Recent news articles demonstrate that tariffs on U.S. agricultural commodities are having an impact not only on the quantity of U.S. goods exported to China, but also the flow of some agricultural products within the U.S., and 2019 acreage allocation decisions by farmers.  Meanwhile, a recent Wall Street Journal article reported that, "President Trump said the U.S. is getting much closer to a trade deal with China, a sign of optimism ahead of the Group of 20 leaders summit in Argentina later this month."
Beyond Export Quantities, Tariffs Impacting U.S. Commodity Flows and Acreage Decisions
Reuters writer Dominique Patton reported late last week that, "China's purchases of Brazilian soybeans in September jumped 28 percent from the prior year, data from the General Administration of Customs showed on Thursday, as buyers stocked up ahead of an expected shortfall in the fourth quarter.
"This is the first time that China has provided data on the country of origin for its commodity imports since the month of March.
China typically buys most of its soybeans in the fourth quarter from the United States but has sharply curbed its purchases of American beans amid an ongoing trade war.
The article noted that, "Chinese buyers imported 7.59 million tonnes of Brazilian soybeans in September, up from 5.94 million tonnes a year ago, according to data released on Thursday.
"Brazil accounted for 95 percent of the total 8.01 million tonnes imported in September, compared with 73 percent at the same time last year."
And as China purchased more soybeans from Brazil, it also purchased fewer from the U.S.
Bloomberg News reported late last week that, "China, the world's biggest soybean importer, cut shipments of the oilseed from the U.S. by more than 80 percent in September from a year earlier as retaliatory tariffs imposed as part of the ongoing trade war between the world's top two economies take their toll.
"Inbound cargoes from the U.S. plunged to 132,000 metric tons from 937,000 tons in the same month last year, Bloomberg calculations based on customs data show."
The Bloomberg article explained that, "China imported the smallest volume of soybeans for September in two years and inbound cargoes in the fourth quarter are set to slump 17 percent from a year earlier to 20 million tons as the country shuns U.S. soybeans that incur a 25 percent tariff, said the China National Grain and Oils Information Center."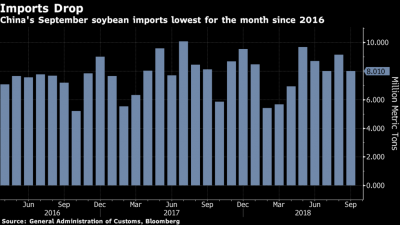 Beyond soybeans, a separate Reuters article from last week reported that, "China's grains shipments from the U.S. in September also slid significantly as the tariffs curbed buying, the data showed.
"China's September corn imports from the U.S. fell to only 515.7 tonnes, down from last year's 174,965 tonnes, according to the data.
"China brought in 59,455 tonnes of U.S. sorghum in September, down more than 80 percent from a year earlier."
Tariffs are not only impacting the quantities of commodities that are being exported, but also the flow of some agricultural products within the U.S.
Bloomberg writer Isis Almeida reported Thursday that,
U.S. President Donald Trump's trade war isn't only rattling global soybean markets. It's also shifting the flow of crops within the U.S., changing pricing patterns and boosting how much of this season's bumper crop needs to be stored.
"Traders shipping soybeans through the Pacific Northwest, a key export hub to China, are now diverting supply from that route south to the Gulf of Mexico, where the product can be shipped to countries including Iran and the European Union. Corn flows are also changing, with some elevator owners shipping more of the grain to make space for soybeans."
The Bloomberg article stated that, "The trade war already created a merry-go-round of sorts in international trade, with Argentina and Canada buying U.S. soybeans for local processing while exporting their own produce. It's now doing the same within the U.S., creating local-price arbitrages and reshaping the way crops flow."
Prospective 2019 acreage allocation decisions are also being impacted by tariffs.
Reuters writer Michael Hirtzer reported Friday that, "The U.S. Department of Agriculture, in the agency's first estimate for next year's planting to include the impact of the tariffs, on Friday estimated 2019 corn plantings to rise about 3 million acres to 92.0 million acres. Wheat acres would rise to 51.0 million acres, up from 47.8 million this year, while soybean acres would fall to 82.5 million acres.
Acreage of soybeans, planted before retaliatory tariffs were imposed, rose to 89.145 million this year, up about 15 million acres from a decade ago.
Mr. Hirtzer noted that, "Aron Carlson, president of the Illinois Corn Growers Association, devoted nearly half of his 3,600 acres to soybeans this year but plans to cut back.
"He said he may increase corn planting by up to 20 percent at his farm in northern Illinois. The state is the biggest U.S. soy producer."
The Reuters article added that, "While soybean prices tumbled to a decade-low on Sept. 18, corn is not frequently exported to China and slumped to merely a 22-month low. Wheat prices are up 19 percent this year as reserves in many exporting countries have fallen to their lowest since 2007-08.
"Corn demand has benefited from long-term growth in the livestock industry and grain-based ethanol. Drought in Brazil and Argentina also made corn importers more reliant on the United States."
And Jim Spencer reported on Saturday at the Minneapolis Star Tribune Online that, "Retaliatory tariffs that China placed on U.S. soybeans after President Donald Trump slapped protective tariffs on billions of dollars worth of Chinese imports have cost U.S. soybean farmers their most reliable export market, driven down their incomes and could cost some their livelihood if the trade war between the world's two largest economies continues, economists and bankers say."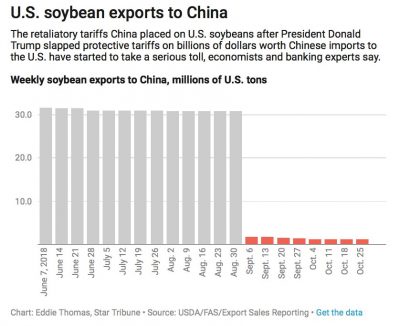 Mr. Spencer indicated that, "If the U.S. cannot regain the Chinese market in short order, said Kent Thiesse, a vice president and farm loan specialist at MinnStar Bank in Lake Crystal, some farmers in Minnesota could be forced to sell off land, refinance loans, and in 'worst case scenarios, not be able to continue farming.'
Thiesse said the potential farm crisis could rival troubles the agricultural sector faced during the grain embargo to Russia in the 1980s.
On Monday, New York Times writer Binyamin Appelbaum reported that, "The latest federal data, through mid-October, shows American soybean sales to China have declined by 94 percent from last year's harvest."
The article pointed out that, "North Dakota's soybean industry was created by Chinese demand for the beans, which are crushed to make feed for animals and oil for human consumption;" and added: "In the mid-1990s, there were 450,000 acres of soybeans in the state. Last year, there were 6.4 million."
Mr. Appelbaum indicated that, "As China swallows the world's supply of non-American soybeans, other countries are buying more beans from the United States, especially European nations that usually import beans from Brazil."
However, the article stated that,
None of this is nearly enough. During the first six weeks of the current export year, which began in September, American soybean exports to China are down by about 6 million tons from last year, while soybean exports to the rest of the world are up by only 3 million tons.
More broadly, Jim Puzzanghera reported in Sunday's Los Angeles Times that, "[The] U.S. agriculture industry boomed from 2011 to 2014 because of strong commodity prices, boosted by exports, said the nonpartisan Congressional Research Service. During what it called 'a golden period,' net farm income hit a record high of $123.7 billion in 2013, but it's down 47% since then."
"Strong demand domestically and from a fast-growing China led farmers to increase production. Trade has been a boost for agriculture, until recently," the LA Times article said.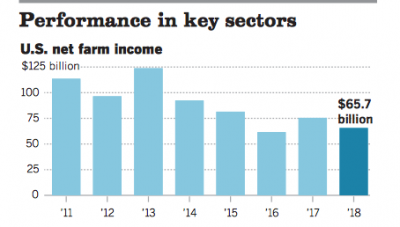 Mr. Puzzanghera added, "But larger harvests, fueled by good growing conditions, led to a drop in prices. And now the trade war is becoming a problem for farmers."
Administration Trade Perspective
Wall Street Journal writer Alex Leary reported Friday that, "President Trump said the U.S. is getting much closer to a trade deal with China, a sign of optimism ahead of the Group of 20 leaders summit in Argentina later this month.
"'We'll be having dinner. We'll be discussing it,' Mr. Trump told reporters Friday of his coming meeting with President Xi Jinping in Buenos Aires."
The Journal article noted that, "'I think a very good deal will be made with China. They want to make it very badly. We want to make a deal if we can. A lot of progress has been made,' Mr. Trump said.
"At the same time, Mr. Trump said tariffs had hurt the Chinese economy and he is prepared to deploy more."
And Don Lee reported on the front page of Sunday's Los Angeles Times that, "Even as American farmers and other businesses complain about the harm from tariffs, [U.S. Trade Representative Robert Lighthizer] has shown no sense of urgency to sit down with Chinese counterparts. And he will almost certainly be urging Trump to press for concrete structural changes in China's economic policies when he meets with Xi, rather than accept vague commitments and promises to buy a bunch more airplanes, soybeans and other goods to shave the U.S. trade deficit with China."
Meanwhile, Bloomberg News reported Sunday that, "If Chinese President Xi Jinping is getting ready to make big concessions to the U.S., his much-anticipated speech at a Shanghai trade fair didn't show it.
"Xi hit back against President Donald Trump's 'America First' policies Monday with some of his most pointed language yet, denouncing 'law of the jungle' and 'beggar-thy-neighbor' trade practices. At the same time, he didn't outline any new proposals that would suggest he was prepared to meet Trump's demands, such as halting forced technology transfers or rolling back support for state-owned enterprises. Stocks declined across Asia."
Nonetheless, Reuters writers Michael Martina and Winni Zhou reported Sunday that, "Chinese President Xi Jinping promised on Monday to lower tariffs, broaden market access and import more from overseas at the start of a trade expo designed to demonstrate goodwill amid mounting frictions with the United States and others."
The Reuters article stated that, "With little in the way of fresh policies from Xi on Monday, all eyes now turn to an expected meeting between him and Trump at the G20 summit in Argentina at the end of the month."
And Bloomberg writers David Tweed, Enda Curran, and Alfred Cang reported Monday that, "A top Chinese official's offer of trade talks with the U.S. on Tuesday did little to assuage concerns that the world's two largest economies were headed for a confrontation that could disrupt the global order.
"Chinese Vice President Wang Qishan — a long-time ally of President Xi Jinping — told Bloomberg's New Economy Forum in Singapore that Beijing remained ready to discuss solutions to its trade war with the U.S. But Wang also warned that China wouldn't again be 'bullied and oppressed by imperialist powers,' underscoring fears by business and political leaders on hand that rising nationalism in both countries would be harder to manage."