U.S. Agricultural Exports Up From a Year Ago, But Chinese Tariffs Dim Soybean Prospects
In its latest quarterly forecast for U.S. agricultural trade, USDA indicated that, "For fiscal 2018, the [agricultural export] forecast of $144.0 billion is an increase of $1.5 billion from the previous forecast in May, largely due to higher corn, cotton, and soybean meal exports."

The USDA quarterly outlook added, "The fiscal 2018 grains and feeds export estimate for the United States is forecast at $31.6 billion, up $400 million from May due to higher corn exports. The estimate for corn is raised $900 million to $11.2 billion on larger export volumes, a record if realized. Strong exports reflect robust global demand and reduced competition from Argentina and Brazil."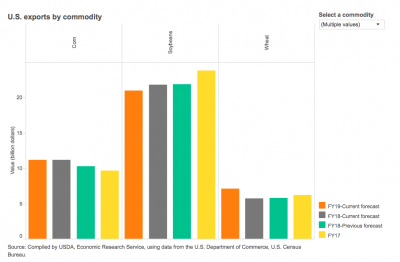 In an update on Monday from USDA Radio, Gary Crawford explained that the final fiscal year 2018 figure for U.S. agricultural exports was $143.4 billion, 600 billion less than USDA had been forecasting."
Nonetheless, the export number was $3.2 billion higher than for fiscal year 2017.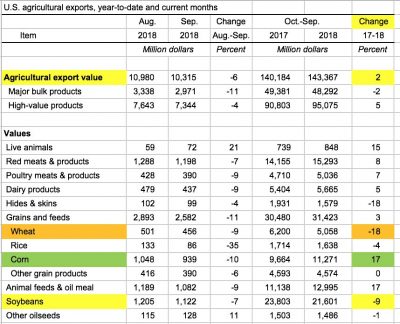 Corn exports were up by 17 percent in value terms; however, soybean exports were lower by nine percent.
By volume, fiscal year 2018 corn exports increased by fourteen percent.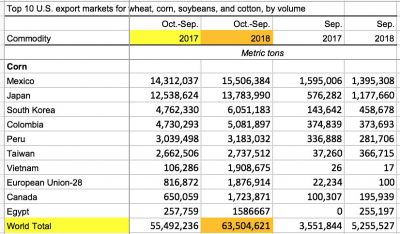 And soybean exports declined by five percent, on a volume basis year-over-year.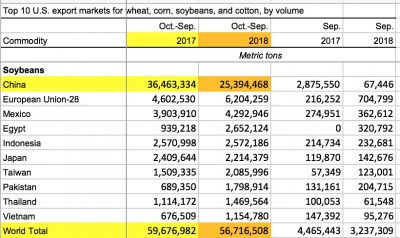 USDA's Foreign Agricultural Service (FAS) published a more detailed analysis of U.S. soybean exports to China late last month in a report titled: "Lower Soybean Imports in MY18/19, Despite U.S. Soybean Price Competitiveness."
The report stated that, "China's soybean imports and soybean meal consumption are expected to fall in marketing year (MY) 2018/19 due to ongoing trade tensions between the United States and China and an outbreak of African Swine Fever (ASF). Among the effects of the bilateral trade dispute are the additional 25 percent tariff on U.S. soybeans and widespread concern among importers that China will implement administrative actions at port to discourage purchases from the U.S. The trade situation has ignited efforts by China to reduce U.S. soybean imports and slash soybean feed use, through reductions in the feed protein ratio and the use of substitute protein meals."
The FAS update noted that, "China's soybean imports are forecast to fall to 85 MMT in MY18/19, down about 10 percent from the estimated 94 MMT in MY17/18. Although U.S. soybeans remain within a competitive price range even with the additional 25 percent tariff, many importers have shared that they are unwilling to risk facing possible administrative barriers to U.S. soybean imports at Chinese ports. Importers are also wary of making what may be perceived in China as a political statement in deciding to purchase U.S. soybeans during the ongoing U.S.-China trade dispute."
More broadly, in its August trade forecast, USDA noted that, "Fiscal 2019 agricultural exports are projected at $144.5 billion."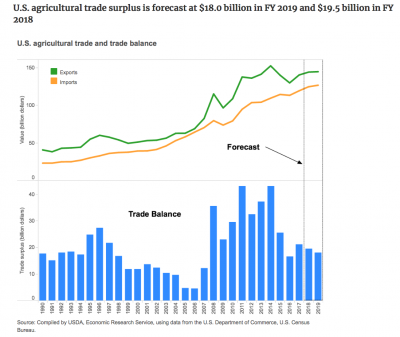 However, USDA added that, "Agricultural exports to China are forecast down $7.0 billion from fiscal 2018 to $12.0 billion as soybean sales are expected to be sharply lower due to retaliatory tariffs, which also curb demand for other products."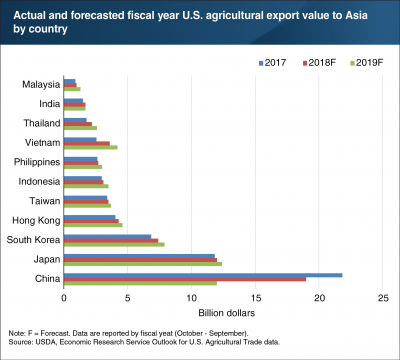 USDA will release its next trade outlook on November 29th.