2019 Farm Sector Income Forecast, March
The USDA's Economic Research Service (ERS) indicated on Wednesday that, "Net farm income, a broad measure of profits, is forecast to increase $6.3 billion (10.0 percent) from 2018 to $69.4 billion in 2019, after decreasing $12.0 billion (16.0 percent) in 2018. Net cash farm income is forecast to increase $4.3 billion (4.7 percent) to $95.7 billion.
" In inflation-adjusted 2019 dollars, net farm income is forecast to increase $5.2 billion (8.1 percent) and net cash farm income is forecast to increase $2.7 billion (2.9 percent).
If realized, inflation-adjusted net farm income and net cash farm income would remain below their historical averages ($90.0 billion and $108.0 billion) across 2000-17.
Reuters writer P.J. Huffstutter reported Wednesday that, "Last month, USDA projected that net farm income would hit $77.6 billion in 2019 – the highest total since a global glut in grains sent commodity prices falling over the past five years.
"That forecast, however, was based on older data and was far less detailed because of the 35-day partial federal government shutdown, which ended Jan. 25. Wednesday's farm income report was originally set for a Feb. 6 release."
With respect to receipts, the ERS explained that, "Crop cash receipts are forecast to be $201.7 billion in 2019, an increase of $4.0 billion (2.0 percent) from 2018 in nominal terms."
More narrowly, "Corn receipts are expected to rise $2.5 billion (5.2 percent) in 2019, reflecting forecast higher prices. Wheat receipts are expected to increase almost $0.5 billion (5.4 percent) from 2018, reflecting expected increases in both quantity sold and the price of wheat. Soybean receipts in 2019 are expected to decrease ($2.6 billion or 6.6 percent), reflecting anticipated declines in both price and quantities sold."
Meanwhile, "Total animal/animal product cash receipts are expected to rise $4.6 billion (2.6 percent) to $179.9 billion in 2019, reflecting expected increased receipts for milk, cattle and calves, and turkeys. "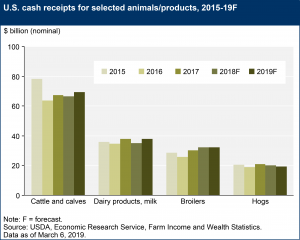 While discussing commodity program payments, ERS noted that, "Payments in 2019 under the Price Loss Coverage (PLC) and Agriculture Risk Coverage (ARC) programs are expected to decline due to more favorable 2018/2019 market prices for most key covered crops (those that generated the majority of the PLC and ARC payments made in 2018)."
Also, "Conservation payments—reflecting the financial assistance programs of USDA's Farm Service Agency and Natural Resources Conservation Service—are expected to exceed $4.3 billion in 2019, up 8.6 percent from 2018."
ERS pointed out that, "The large payments projected in the 2018 and 2019 forecast for the miscellaneous programs category reflect payments from the Market Facilitation Program. This program provides direct payments to assist corn, cotton, sorghum, soybean, wheat, dairy, hog, shelled almond, and fresh sweet cherry producers in response to trade disruptions."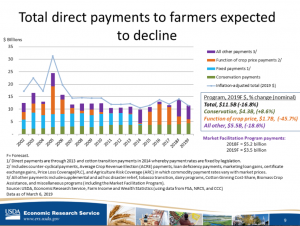 Federal crop insurance represents another aspect of net farm income, and is represented in the graph below, which is from Wednesday's ERS Webinar Farm Income and Financial Forecasts, March 2019.
In a look at production costs, Wednesday's update pointed out that, "Farm sector production expenses (including expenses associated with operator dwellings) are expected to increase 0.6 percent in 2019. Forecast at $372 billion, 2019 production expenses remain below the record high of $391.1 billion in 2014."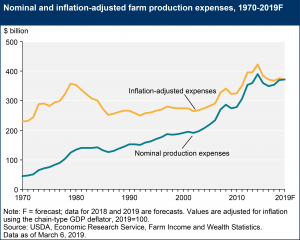 Wednesday's update also provided a perspective on farm household income, and stated that, "Farm households typically receive income from both farm and off-farm sources. Median farm income earned by farm households is forecast at -$1,553 in 2018 in nominal terms and is forecast to increase slightly to -$1,449 in 2019.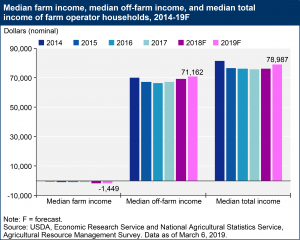 "In recent years, slightly more than half of farm households have had negative farm income and therefore rely on off-farm income to support their well-being."