U.S., China Trade Dispute Escalates, While Some Trade Aid Details Emerge
The U.S., China trade dispute escalated this week, weighing on some agricultural markets.   Meanwhile, news reports indicate that the executive branch is working on additional trade aid for farmers negatively impacted by the ongoing dispute.  Today's update highlights these issues in more detail.
Background- Trade Tensions Escalate
Ana Swanson and Keith Bradsher reported on the front page of Tuesday's New York Times that, "The United States and China intensified their trade dispute on Monday, as Beijing said it would increase tariffs on nearly $60 billion worth of American goods and the Trump administration detailed plans to tax nearly every sneaker, computer, dress and handbag that China exports to the United States."
"The president said he would take steps to blunt any pain for American farmers and provide financial support to those hurt by Beijing's retaliation," the Times article said.
Los Angeles Times writers Robyn Dixon and Don Lee reported on the front page of Tuesday's paper that, "As China hit the U.S. with retaliatory tariffs and the stock market tumbled, President Trump moved Monday to shield American farmers, but also expressed hope that a possible meeting next month with Chinese President Xi Jinping could resolve their escalating trade war."
The L.A. Times article noted that, "Trump said he was devising a new relief package for farmers of about $15 billion, an amount that he said was equivalent to the largest Chinese purchase of U.S. agricultural goods. U.S. agricultural exports to China reached $19.6 billion, more than 14% of total U.S. agricultural exports, in 2017 before falling sharply in 2018 as the trade war got underway."
'They'll be planting. They'll be able to sell for less, and they'll make the same kind of money until such time as it's all straightened out,' Trump said. 'So our farmers will be very happy.'
Chao Deng, Josh Zumbrun and Vivian Salama reported in Tuesday's Wall Street Journal that, "The actions out of Beijing and Washington on Monday illustrate just how quickly the negotiations have gone off track. Just 12 days ago, American and Chinese negotiators touted progress following a round of high-level negotiations in China, and many observers thought a deal was close to being struck last week."
Raising tariffs will hurt both US & China economies + more importantly will hurt US farmers/consumers/businesses Enough is enough China needs to negotiate seriously & quit moving the goalpost Enforceable trade deal needed for certainty

— ChuckGrassley (@ChuckGrassley) May 13, 2019
Meanwhile, Damian Paletta, Erica Werner and Taylor Telford reported on the front page of Wednesday's Washington Post that, "Until last week, many Republican senators supported a tougher approach with China. But with Trump's decision to increase tariffs, GOP lawmakers are now fielding angry calls.
"Soybean farmers, pork producers and a growing number of other agricultural interests across a range of states — including cherry producers, corn growers and lobstermen — have complained that they are collateral damage caught in the middle of the escalating trade battle.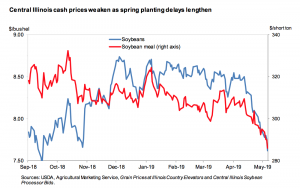 "Vice President Pence met with Senate Republicans on Tuesday to try to assure them that Trump's approach would result in a comprehensive trade deal benefiting U.S. farmers and businesses. But key lawmakers said they were still waiting for more information."
The Post article added that, "Trump plans to meet with Chinese President Xi Jinping in Japan next month, but lawmakers said Tuesday that they needed to assemble a package for farmers much sooner."
Farmers Continue to Feel the Impact
Financial Times writer Gregory Meyer reminded readers on Monday about key supply variables currently at play in the U.S. soybean market, and explained that, "US soyabean stocks left over before harvest will more than double year-on-year to 27.1m tonnes before the next harvest, the USDA said in monthly supply and demand estimates last week. A year later, in August 2020, stocks are likely to remain a stubbornly high 26.4m tonnes – four times the average over the past five years."
Michael Hirtzer reported at Bloomberg on Monday that, "Soybean futures fell to the lowest level in a decade as an escalating trade war between the U.S. and China dimmed hopes that the Asian nation will resume purchases of American beans and ease a supply glut."
"Farm bankruptcies are up all over and, you know, we're just not an economy that can handle this stress much longer": In the escalating trade war between the U.S. and China, some American farmers say they'd prefer consistent business over a bailout https://t.co/wMP4ih2qhO pic.twitter.com/PzAeKe3hf7

— CBS Evening News (@CBSEveningNews) May 14, 2019
Mr. Hirtzer pointed out that, "The conflict comes as African swine fever plagues hog producers in China and nearby countries, with pig losses in Vietnam now totaling about 4% of its domestic herd. The spreading fever may further curb demand for soybeans and other livestock feeds.
"American farmers are struggling as the tariff spat that started a year ago curbed soybean exports, sending prices tumbling and hurting grower incomes. The escalation in tensions dashes hopes of a quick deal and puts the focus back on well-supplied markets."
On Tuesday, Bloomberg writer Mike Dorning reported that, "The trade war is already reverberating through American agriculture, as farm exports to China plunged from $19.6 billion in 2017 to $9.2 billion last year. Overall, U.S. farm income dropped 16% last year to $63 billion, about half the level it was as recently as 2013.
The rainy spring this year makes things worse. Midwestern farmers typically choose between planting corn or soybeans, and corn requires earlier planting. But the window for corn is running out as farmers wait for fields to dry.
The article added that, "Jonathan Coppess, a University of Illinois professor of agricultural policy and former head of the U.S. Farm Service Agency, said that U.S. farmers' overseas competitors will gain more advantage as the dispute persists."
Executive Branch Trade Aid- Recent Reports, More Specifics
Reuters writes Humeyra Pamuk and Chris Prentice reported on Wednesday that, "The Trump administration's second package of aid for U.S. farmers hit by the trade war with China is expected to total $15 billion to $20 billion and involve direct payments, the agriculture secretary said on Wednesday.
USDA Undersecretary Bill Northey says they don't want trade mitigation payments to influence planting decisions. Says farmers should plant for the market not mitigation payments. pic.twitter.com/BaDoBYB1MW

— Mike Adams (@MikeAdamsAg) May 14, 2019
"The U.S. Department of Agriculture is still finalizing the plan, which is likely to prioritize hog and soybean farmers, the products most affected by the trade dispute between China and the United States, Agriculture Secretary Sonny Perdue and industry sources briefed on the plan said."
Acknowledging concerns that previous trade mitigation payments were not equitable among commodities USDA Undersecretary for Trade Ted McKinney says formula will be different this time.

— Mike Adams (@MikeAdamsAg) May 14, 2019
The Reuters article noted that, "'Currently we are working out the details of the source of the funds which we assume will be similar to … last year with the Commodity Credit Corporation,' Perdue told reporters on a conference call, referring to a Depression-era program created to support farm income. Funds from the Corporation do not need to be approved by Congress.
USDA Undersecretary for Trade and Foreign Agricultural Affairs says a trade mitigation package is days away not weeks. Says they are still finalizing details. pic.twitter.com/SwqY13SZCN

— Mike Adams (@MikeAdamsAg) May 14, 2019
"The USDA in 2018 pledged up to $12 billion in aid to farmers to help offset their crop losses and has to date allocated a total of around $9.4 billion, with $8.52 billion of that as direct payments to farmers."
FSA Administrator Richard Fordyce says he has not received any instruction as of yet regarding another round of trade mitigation payments. pic.twitter.com/ovBAK5wbce

— Mike Adams (@MikeAdamsAg) May 14, 2019
Wednesday's article also pointed out that, "One of the sources said the USDA had ruled out buying American farm products and distributing them to poor countries as part of an aid package, a possibility Trump had raised Friday that drew criticism."
Peterson on 2nd round of trade aid for farmers: "I don't know if they've thought thru last year's payments based on production. I'm not a fan for what they're doing, but it probably makes sense." He also says it could be too late in #plant19 to make much influence on acerage. pic.twitter.com/awyU6iFYmW

— Carah Hart (@CarahHart) May 15, 2019
And, Mike Dorning reported at Bloomberg on Wednesday that, "U.S. corn growers are pressing President Donald Trump for better treatment in his $15 billion China trade aid plan, arguing they were short changed in the administration's $12 billion assistance package last year."
Associated Press writer Kevin Freking reported Wednesday that, " Agriculture Secretary Sonny Perdue says his agency is still 'in the throes of constructing' an aid package for farmers hurt by retaliatory tariffs, but he is not saying when it will be ready."
The AP article stated that, "Perdue says he believes this year's assistance will be enough to offset losses caused by the tariffs. He also predicts the current trade battles with China will not cause long-term harm to U.S. farmers."