Progress on a Tentative Agreement on Biofuels Blending
Reuters writers Stephanie Kelly and Jarrett Renshaw reported last week that, "White House officials on Wednesday urged U.S. biofuel producers and oil refiners to accept a deal to lift biofuel blending mandates in 2020, saying overlong negotiations could make it hard to enact the change in time for next year, sources familiar with the discussions said.
"The White House is trying to soothe farmers infuriated by the Trump administration's decision in August to exempt 31 oil refineries from their requirement to blend biofuels under the U.S. Renewable Fuel Standard, which the agriculture industry says is undermining the market for corn-based ethanol as farmers are losing export sales from the U.S. trade war with China."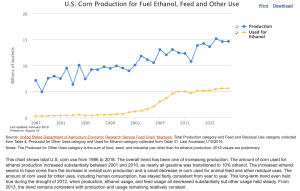 The Reuters article explained that, "Members of the White House National Economic Council first delivered their message in a closed-door meeting on Wednesday morning with representatives from major biofuel companies like Louis Dreyfus and Renewable Energy Group, four sources said.
"During the meeting, the White House officials urged biofuel company representatives to accept a Trump administration proposal to boost biofuel blending quotas next year by 5%, even though it fell short of the industry's wishes, three of the sources told Reuters, asking not to be named."
"The administration had told biofuel producers it would be willing to lift the amount of biofuels that oil refiners must blend into the fuel pool by 1 billion gallons in 2020 above current proposed levels of about 20 billion to help the industry weather a downturn and to compensate for the waivers," the Reuters article said.
On Thursday, Reuters writers Jarrett Renshaw and Stephanie Kelly reported that,
U.S. President Donald Trump said the administration has made progress on a biofuel reform package after he met with U.S. senators from key farm states on Thursday as part of an ongoing effort to boost ethanol demand and help hard-hit corn farmers.
"Trump met with a group of corn-state Republican lawmakers that included Iowa senators Joni Ernst and Chuck Grassley on Thursday afternoon, four sources familiar with the matter said. Iowa Governor Kim Reynolds also attended the meeting, two of the sources said. The president is expected to meet with senators representing oil-producing states on Friday to continue discussions on the issue, sources said."
The Reuters article added, "'I think we had a great meeting on ethanol for the farmers,' Trump told reporters at the White House. 'Let's see what happens.'"
Bloomberg writers Jennifer Jacobs, Mario Parker, and Jennifer A Dlouhy reported on Friday that, "President Donald Trump has tentatively agreed to a plan for bolstering ethanol and biodiesel, amid pressure from Midwest U.S. senators who warned that without action he risks votes in next year's election.
The blueprint discussed in a Wednesday meeting at the White House calls for the administration to begin offsetting Environmental Protection Agency exemptions waiving some oil refineries from annual blending requirements starting in 2020. That comes on top of other concessions that administration officials had already developed with the aim of encouraging greater U.S. demand for ethanol made from corn.
"The draft plan was described by people familiar with the matter who asked for anonymity because the deliberations are private. The deal could still unravel, as oil companies and allied senators seek to influence the final outcome and administration officials work to translate broad commitments into formal regulations."
The Bloomberg article pointed out that, "If the deal becomes final, the EPA would begin calculating waivers into future quotas starting with the 2020 targets. The determinations would be driven by a three-year rolling average of exemptions, so the 2020 targets would reflect waivers issued in 2016, 2017 and 2018. That could raise legal hurdles for the EPA, which would be tasked with swiftly implementing it."
"The plan was hashed out on Thursday by Trump, a representative of Archer-Daniels Midland Co. and senators from corn-growing and ethanol-producing states in a meeting at the White House," the Bloomberg article said.
On Monday, Reuters writers Jarrett Renshaw and Stephanie Kelly reported that, "U.S. President Donald Trump has tentatively approved a plan to increase the amount of biofuels that oil refiners are required to blend each year to compensate for exemptions handed out to small refiners by the Environmental Protection Agency, two sources familiar with the matter said."
The Reuters article stated that, "Under the plan, the U.S. EPA will calculate a three-year rolling average of total biofuels gallons exempted from the mandates under its Small Refinery Exemption program and add that figure to its annual biofuel blending quotas each year, the sources said. For 2020, that figure would be 1.35 billion gallons, according to a Reuters calculation.
"That would come in addition to a tentative agreement to boost next year's blending volumes by 1 billion gallons, including 500 million gallons for conventional biofuels like corn-based ethanol and 500 million gallons for advanced biofuels like biodiesel, the sources said."
And on the front page of Monday's Des Moines Register, Donnelle Eller reported that, "A farmer-owned ethanol plant in northwest Iowa has shut down — the second in Iowa — facing growing losses that leaders blame on the Trump administration.
"The plant's directors are unsure when, or if, Siouxland Energy Cooperative will reopen.
"Its future depends on whether Donald Trump restores billions of gallons of ethanol and biodiesel demand that the renewable fuels industry says his administration extinguished through exemptions to oil refiners."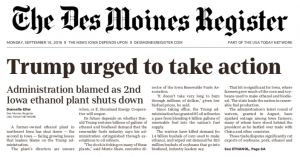 The Register article stated that, "The president met Thursday with Iowa Republicans — Gov. Kim Reynolds, U.S. Sens. Chuck Grassley and Joni Ernst — and other Midwestern GOP leaders to talk about actions the administration can take to replace the gallons lost to refinery waivers.
"Iowa's GOP leaders wouldn't discuss the meeting, but those in the ethanol industry worry that oil industry representatives, expected to meet with the president Monday, will sandbag efforts to reallocate the lost gallons."