China's Ag Import Capacity Considered as Phase One Trade Talks Continue
Reuters writers Heather Timmons and Hallie Gu reported last week that, "U.S. President Donald Trump's demand that Beijing commit to big purchases of American farm products has become a major sticking point in talks to end the Sino-U.S. trade war, according to several people briefed on the negotiations.
"Trump has said publicly that China could buy as much as $50 billion of U.S. farm products, more than double the annual amount it did the year before the trade war started.
U.S. officials continue to push for that in talks, while Beijing is balking at committing to a large figure and a specific time frame. Chinese buyers would like the discretion to buy based on market conditions.
The article noted that, "'China does not want to buy a lot of products that people here don't need or to buy something at a time when it is not in demand,' an official from a Chinese state-owned company explained.
"If U.S. agricultural products 'enter China in a concentrated way, it might be hard for the domestic market to digest,' the Chinese official added."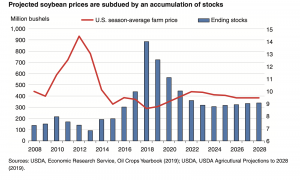 The Reuters article added that, "Moreover, a massive outbreak of African swine fever has decimated the pig herd in China, battering demand for soybeans, a key feed ingredient and the biggest agricultural import from the United States."
More specifically with respect to Chinese import demand, Bloomberg News reported last week that, "President Donald Trump touted China's promise to buy as much as $50 billion in agricultural goods over two years in a trade deal, a boost to Midwest soybean farmers suffering from the current slump in trade. But a deadly disease in China has killed off many of the pigs who would have eaten those American soybeans, possibly putting that target out of reach."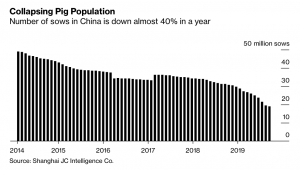 The Bloomberg article indicated that, "From a peak of almost 34 million tons in 2016, Chinese imports of U.S. soybeans dropped to 14 million last year. That could rise to 43 million tons over the next year, Nomura estimated, but that's still nowhere near enough to meet the high target."
However, with respect to Chinese pork imports, Wall Street Journal writer Jacky Wong reported last week that, "China has lost 41% of its pigs compared with a year ago because of the deadly African swine fever that has swept across the country. Apart from those pigs that were killed directly by the disease, pig farmers have also slaughtered hogs early to curb potential losses.
"That has created a serious pork shortage in China, which usually accounts for around half of the world's production and consumption. To fill the shortfall, China has to buy more pork from other countries. Its pork imports in August jumped 76% from a year ago. That includes imports from the U.S., even though Beijing has imposed tariffs of up to 70% as part of the trade war with Washington.
"There are hopes China may reduce some of those tariffs as part of a potential trade deal, but even assuming they stay, the huge price gap between the two countries offers some meatpackers a lucrative trade opportunity. Pork prices in China have tripled from a year ago as of last week. That means pork prices there are now around four times those in the U.S."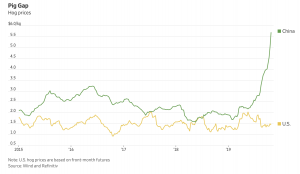 And with respect to other protein imports, Wall Street Journal writers Kirk Maltais and Ryan Dezember reported last week that, "Share prices of chicken producers have taken flight following China's lifting of a four-year old ban on importing poultry from the U.S…The ban was instituted in 2015 in response to outbreaks of avian influenza in the U.S. Lately, however, China has struggled with an outbreak of African swine fever that has cost the country roughly 40% of its hog herd and initiated a scramble for alternative proteins."
The Journal article added that, "China imported 342,000 metric tons of chicken in 2018, and is expected to more than double its annual intake to 750,000 tons in 2020, according to the USDA.
The opportunity to fill China's pork gap with chicken has U.S. poultry executives salivating.
Meanwhile, Reuters writers Keith Zhai and Hallie Gu reported last week that, "Beijing could remove extra tariffs imposed since last year on U.S. farm products to ease the way for importers to buy up to $50 billion worth, rather than direct them to buy specific amounts, the head of a government-backed trade association said."
"'What the government can do is to remove the extra tariffs, both sides need to do this. Then let the companies make the purchases based on their own will, and based on market rules,' Cao Derong, President of the China Chamber of Commerce for Import and Export of Foodstuffs, Native Produce and Animal By-Products (CFNA) told Reuters in an interview late on Wednesday."
Also last week, Reuters writer David Lawder reported that, "U.S. Treasury Secretary Steven Mnuchin said on Wednesday that it will take time for Chinese purchases of U.S. agricultural goods to 'scale up' to the $40 billion to $50 billion annual level touted by President Donald Trump if the two sides can seal a 'Phase 1' trade deal.
"Mnuchin told Reuters in an interview in Saudi Arabia that the $40 billion to $50 billion target is 'a lot,' but is based on 'very specific discussions' of product purchase commitments by China.
"'This is built on a bottom-up basis of both what we think we can deliver and what they think they need,' Mnuchin said on the sidelines of the Future Investment Initiative conference in Riyadh. 'It's a one-year target, but obviously it's going to take some time to scale up.'"
More broadly on the ongoing trade negotiations, New York Times writer Alan Rappeport reported last week that, "Treasury Secretary Steven Mnuchin said on Wednesday that the United States and China were on track toward signing the first phase of a trade agreement next month, offering fresh optimism that the long-awaited deal may finally materialize.
"But plans to have President Trump and President Xi Jinping of China sign the agreement next month when both leaders meet at the Asia-Pacific Economic Cooperation summit in Santiago were complicated by the Chilean government's decision to cancel the summit because of riots and protests."
On Friday, Bloomberg writers William Edwards, Ryan Beene, and Shawn Donnan reported that, "China and the U.S. signaled they're getting closer to agreeing on the first phase of a deal aimed at reducing tensions in a trade war that's slowed the global economy.
"The top negotiators from the world's two largest economies — China's Vice Premier Liu He, U.S. Treasury Secretary Steven Mnuchin and U.S. Trade Representative Robert Lighthizer — talked by phone Friday and both sides released statements describing the call as 'constructive.'"
And Alex Leary reported on Friday at The Wall Street Journal Online that, "President Trump suggested Friday that Iowa could be the venue to sign a 'phase one' trade agreement between the U.S. and China.
"'I want to get the deal done first,' Mr. Trump told reporters Friday evening. 'But we're thinking about Iowa. You know why? Because it would be the largest order in history for farmers. … It's a possibility.'"