China to Cut Tariffs on Some U.S. Imports as Coronavirus Worries Linger
Wall Street Journal writer Lingling Wei reported on Thursday that, "China said it would slash tariffs on $75 billion of U.S. imports in half as part of its efforts to implement a recently signed trade agreement with Washington.
"Beginning Feb. 14, China will cut tariffs on some U.S. goods to 5% from 10%, while levies on some other items will be reduced to 2.5% from 5%, China's Ministry of Finance said Thursday. The tariffs were imposed in September and December during a brutal trade fight between the world's two largest economies.
"The U.S. has already laid out plans to reduce the tariff rate on certain imports from China that have been penalized in the trade war, although most tariffs will remain. Starting Feb. 14, the U.S. will lower tariffs on roughly $120 billion in Chinese goods—including electronics and apparel—to 7.5%, from 15% currently, the U.S. trade representative's office said on Jan. 22. That also fulfills a pledge made under the U.S.-China trade agreement signed Jan. 15."
The Journal article added that, "The tariff cuts come amid growing doubts about Beijing's ability to follow through on the phase-one trade deal, in which China has pledged to boost its purchases of American merchandise and services by $200 billion over two years."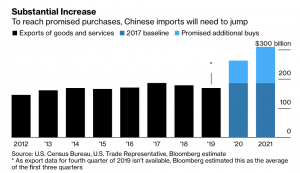 Reuters writers Se Young Lee and Yawen Chen also reported on the Chinese tariff cuts this week and pointed out that,
While the announcement reciprocates the U.S. commitment under the deal, it is also seen by analysts as a move by Beijing to boost confidence amid a virus outbreak that has disrupted businesses and hit investor sentiment.
The Reuters article noted that, "The reductions will cut tariffs on soybeans from 30% to 27.5%, although some traders say the impact could be limited as the 25% tariffs remains in place."
China is concentrating on battling coronavirus. The US government should be flexible on China-US phase one trade deal as a way to show goodwill to Chinese people working hard to contain the epidemic. I believe doing so will not harm President Trump's image among American public.

— Hu Xijin 胡锡进 (@HuXijin_GT) February 5, 2020
And Bloomberg writer Michael Hirtzer reported on Thursday that, "Soybean futures traded with little enthusiasm in a lackluster response to China's decision to cut retaliatory tariffs on American imports along with other agricultural commodities. Meanwhile, hogs jumped as traders were more optimistic for U.S. pork sales to the Asian nation as it suffers from an epidemic of African swine fever."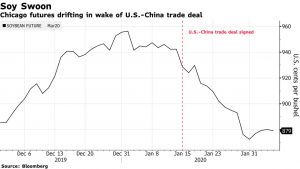 U.S. #pork exports in December hit 282,148 tonnes - an ALL-TIME high for ANY month - and that was due to a surge in exports to #China. Total pork shipments reached a record 2.67 mmt in 2019, up nearly 10% on the year. pic.twitter.com/yy54N4jeBv

— Karen Braun (@kannbwx) February 5, 2020
Meanwhile, Bloomberg writers Isis Almeida and Alfred Cang reported earlier this week that, "China has ordered about 10 cargoes of soybeans from South America, easing concerns the world's top food buyer will cancel purchases due to the spread of the coronavirus, according to people familiar with the matter.
"Buyers picked up the supplies in Brazil and Argentina this week, said the people, who asked not to be identified because the information is private. The deals show the Asian nation currently has no plans to declare force majeure and cancel shipments it previously bought, the people said. Force majeure is a clause to remove liability for natural and unavoidable catastrophes."
And in more detailed reporting regarding China's ability to fulfill its Phase One purchase obligations, Evie Fordham reported on Thursday at FoxBusiness Online that,
The U.S. expects China to be able to meet its commitments under the 'phase one' trade deal, despite a coronavirus that has killed hundreds and closed stores and factories in East Asia, Treasury Secretary Steven Mnuchin said on 'Mornings with Maria' Thursday.
"'Based on our current projections of the virus, we're not worried about that,' Mnuchin said. 'But let me again say we're monitoring the virus carefully. We'll have a much better idea over the next two weeks. … But based on current information, I don't expect there will be any issues in them fulfilling their commitments.'"
In addition, Reuters writers Richard Webner and Tom Polansek reported earlier this week that, "U.S. Agriculture Secretary Sonny Perdue said on Wednesday that the United States would have to be tolerant if the fast-spreading coronavirus impaired China's ability to increase purchases of American farm products under the countries' recently signed trade deal."
The Reuters article added that, "'If they're really trying and it really just blows the economy out of the water, then we would have to be understanding of that,' Perdue said, speaking to reporters at a cattle convention in Texas.
"Perdue noted he is not part of the government team tasked with enforcing the terms of the deal. He did not say how the United States would need to adjust its expectations."