COVID-19 and Oil Prices Taking Toll on Ethanol Plants
Bloomberg writers Isis Almeida, Fabiana Batista, and Michael Hirtzer reported on Friday that, "The coronavirus and cheap oil are hitting the fuel business so hard that ethanol plants are shutting down. Some may never come back.
The entire biofuel industry is facing a reckoning. Long before the pandemic emptied roads and exacerbated an oil price war, producers were battling chronic oversupply and trade upheaval. Now slumping demand and prices mean smaller producers and those with heavy debt loads will struggle to ride out the losses.
"'When we come out of these two Black Swan events — the price war in oil and now the coronavirus — we will probably look differently as an industry,' said Todd Becker, chief executive officer of U.S. ethanol producer Green Plains Inc. 'There are definitely plants out there that are going to run out of capital.'"
The Bloomberg article stated that, "While cheap fuel is good news for consumers, it's hurting biofuel producers and American farmers, who sell about a third of their corn crops to the ethanol industry."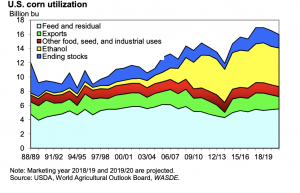 The Bloomberg writers explained that, "Slower growth in gasoline demand in the last few years meant more U.S. supplies needed to be exported, but the top overseas growth market, China, all but stopped buying American supplies amid the trade dispute. That put plants on their heels, and they've never fully recovered.
"While Beijing is returning to the U.S. agriculture market after the phase-one deal, picking up a few cargoes of corn, that won't be enough to offset the pain caused by the drop in ethanol production."
And Financial Times writers David Sheppard and Derek Brower reported on Monday that, "US crude oil prices fell below $20 a barrel shortly after trading reopened on Sunday, close to their lowest level in 18 years, as traders bet production would have to shut to cope with the collapse in demand from the coronavirus pandemic.
"The global oil industry is facing its biggest demand drop in history, with traders and analysts forecasting crude consumption could fall by as much as a quarter next month due to widespread lockdowns across the western world as the pandemic spreads."
The FT writers explained that, "While demand has collapsed, the supply of oil has also increased rapidly because of the price war between Saudi Arabia and Russia. Traders now believe the surplus could approach 25m barrels a day next month, a level that could overwhelm storage capacity worldwide within weeks."
"Prices are expected to remain under pressure until the market adjusts. Producers will probably be forced to close down output at a scale never seen in the modern oil industry," the FT article said.
1. Monday morning. Thought it would be a good time to summarize price movements in the markets since the first of the year. Used June or July futures contracts for each market. Through close last Friday. pic.twitter.com/qdMh8AjZCO

— Scott Irwin (@ScottIrwinUI) March 30, 2020
Meanwhile, Reuters writer Stephanie Kelly reported last week that, "The U.S. Environmental Protection Agency on Friday unveiled measures to help oil refineries cope with fallout from the coronavirus outbreak, including waiving anti-smog requirements for gasoline and extending the deadline for small facilities to show compliance with the nation's biofuels law."
And Bloomberg writers Jennifer A Dlouhy and Jeffrey Bair reported on Friday that, "The EPA's waiver applies to fuel refiners and distribution systems from May 1 to May 20, though additional or regional delays are possible later. Retailers generally face a June 1 deadline to switch over gasoline pumps in parts of the country where smog is a problem. The annual change to low-volatility gasoline is required to minimize air pollution during warm summer months in many parts of the country."
The Bloomberg article added that,
The EPA is also going to extend a March 31 deadline for small refineries to comply with 2019 biofuel-blending requirements, following a federal court ruling limiting their ability to win exemptions from the mandates.
"[EPA Administrator Andrew Wheeler] said the agency would begin writing a new rule 'to provide them with additional flexibilities' and will not process 2019 waiver requests at this point. The agency also announced it didn't intend to revisit or rescind any previously granted small refinery exemptions issued for prior compliance years."