RFS Turmoil Persists as Administration Requests Additional Time to Consider Ruling
Bloomberg writer Jennifer A Dlouhy reported on Friday that, "President Donald Trump's decision to defend the U.S. government's power to broadly exempt oil refineries from biofuel-blending requirements is triggering a backlash in Iowa and other states that are top producers of ethanol and the corn used to make it."
Ms. Dlouhy explained that, "The anger centers around the administration's planned response to a 10th Circuit Court of Appeals decision faulting the Environmental Protection Agency for exempting three refineries from requirements to blend biofuel into gasoline and diesel. Federal law authorizes those waivers for small refineries facing an economic hardship, but a three-judge panel said that relief is limited to refineries that have consistently won exemptions."
The Bloomberg article stated that, "Top Trump administration officials had been planning to accept the ruling and apply it nationwide, a move that would mean just a handful of U.S. refineries — no more than seven — would be eligible for the valuable exemptions.
"But Trump ordered a shift in course Thursday, after a last-minute intervention by Attorney General William Barr and an intense pressure campaign by oil-state senators, including Texas Republican Ted Cruz.
Biofuel advocates were urging the White House to make another pivot on Friday and back down from the planned appeal, ahead of a Monday legal deadline for the administration to ask the full 10th Circuit to rehear the case. The Trump administration has vacillated on biofuel policy decisions in the past, raising the possibility of yet another change in course.
Donnelle Eller and Shelby Fleig reported in Saturday's Des Moines Register that, "Iowans are criticizing the Trump administration following reports that it will appeal a federal court ruling that clamps down on waivers to oil companies seeking exemptions from a requirement that they blend ethanol and biodiesel into the nation's fuel supply."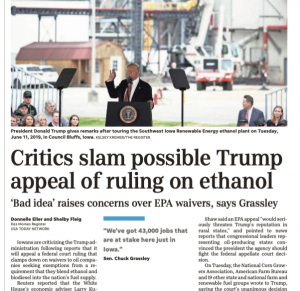 The Register article noted that, "Iowa is the nation's largest ethanol and biodiesel producer and it leads the nation in growing corn, which is used to make ethanol. It is the second-largest grower of soybeans, the oil of which is used to make biodiesel.
"'Appealing this decision is going to bring more skepticism to the industry. And we've got 43,000 jobs that are at stake here just in Iowa,' said [Iowa GOP Senator Chuck Grassley]."
Reuters writer Stephanie Kelly reported on Friday that, "U.S. renewable fuel credits fell more than 15% on Friday, traders said, after news the Trump administration plans to appeal a federal court decision that cast doubt on a program exempting small oil refineries from biofuel blending laws."
Ms. Kelly pointed out that, "U.S. biofuel laws for years have been a major point of contention between the oil industry and Big Corn, two pivotal political constituencies for Trump as he seeks re-election this November. During his time in office, Trump has tried and often failed to appease both sides."
Meanwhile, in a separate Reuters article last week, Stephanie Kelly reported that, "The Trump administration has requested an additional two weeks to respond to a federal court ruling that questioned the legitimacy of its controversial biofuel waiver program for oil refineries, according to a court filing.
"The request could prolong a period of uncertainty over the future of a program that has saved the refining industry tens of millions of dollars per year in regulatory costs, but which has infuriated biofuels companies and corn farmers who believe it undercuts demand for ethanol.
"The Department of Justice told the 10th Circuit Court of Appeals in a filing dated March 6 that the court's January decision could have 'significant practical impacts' on the U.S. Renewable Fuel Standard, and asked that the court extend its deadline to respond from March 9 to March 24. The RFS requires refineries to blend billions of gallons of biofuels into the nation's fuel poll, or purchase credits from those that do."