As COVID-19 Slows Meat Processing, Meat Shortages a Growing Concern; Livestock Producers Face Tough Choices
Bloomberg writers Deena Shanker, Michael Hirtzer, Jen Skerritt, and Lydia Mulvany reported this week that, "The U.S. is edging closer to possible meat shortages with another major plant taken off line.
About a quarter of American pork production and 10% of beef output has now been shuttered, according to the United Food & Commercial Workers, which estimates that 13 U.S. plants have seen closures.
"On Thursday, Tyson Foods Inc. said it was shutting its beef facility in Pasco, Washington, fresh on the heels of the company idling two key pork plants. Case counts are continuing to mount, including in Canada, where industry groups are saying they'll probably hold back some supplies usually exported to the U.S. And the head of JBS SA, the world's top meat producer, is warning of shortfalls."
The Bloomberg article pointed out that, "Meanwhile, 100 U.S. Department of Agriculture inspectors have tested positive for the coronavirus. The workers, part of the Food Safety and Inspection Service that employs about 6,500 inspectors, have been traveling between plants with known infections to other facilities. And at least one inspector has died after apparently contracting Covid-19, according to information the federal agency provided Thursday during a phone call with consumer groups."
"Meat prices are surging on the disruptions. U.S. wholesale beef hit the highest on record. Pork bellies, the cut turned into bacon, soared 137% in the five days through Wednesday," the Bloomberg article said.
The Bloomberg article also noted that, "With slaughterhouses closing, farmers don't have a place to sell their animals. That's forcing livestock producers to dispose of them.
"Shuttered or reduced processing capacity has prompted some hog farmers in eastern Canada to euthanize animals that were ready for slaughter, said Rick Bergmann, chair of the Canadian Pork Council. In Minnesota, farmers may have to kill 200,000 pigs in the next few weeks, according to an industry association."
With respect to cold storage meat stocks, the Bloomberg article stated that, "The U.S. government on Wednesday pushed out its monthly figures on frozen food inventories.
"Combined pork, beef and poultry supplies in cold-storage facilities now stand equal to roughly two weeks of total American meat production. With most plant shutdowns lasting about 14 days for safety reasons, that raises the potential for deficits."
Meanwhile, Donnelle Eller reported on the front page of Wednesday's Des Moines Register that, "Iowa livestock producers face tumbling prices after hundreds of meatpacking workers have tested positive for COVID-19, resulting in Midwest processing plants significantly slowing production or closing.
"The situation could turn tragic for pork producers, who face the possibility of euthanizing thousands of animals backed up on farms across the state."
The Register article noted that, "Pork processing capacity has shrunk by about 25%, crushing hog prices, which have tumbled about 50% since January. That's especially troubling in Iowa, the nation's largest pork producer, with nearly 25 million pigs in confinements across the state.
U.S. Sen. Chuck Grassley said Tuesday he's heard estimates that the country has about 100,000 pigs that should be slaughtered each day but aren't. 'Apply that over 10 days, and with a million pigs, you've got a big problem,' the Iowa Republican said in a call with reporters.
"Cattle producers face big losses and tough choices, too, but have more flexibility to hold animals on their farms longer than pork producers do."
Wednesday's article added that, "Across the country, dairy farmers are dumping milk and chicken producers are destroying eggs. Lost meatpacking capacity has contributed to falling prices for cattle producers, as well. And corn and soybean prices are below the cost of production at the same time as farmers look to plant crops.
"Iowa grain, livestock and ethanol producers could lose an estimated $6.3 billion this year because of the coronavirus, a new Iowa State University study shows."
DTN Ag Policy Editor Chris Clayton reported on Thursday that,
The chairman of the House Agriculture Committee on Thursday called on the White House Coronavirus Task Force to help deal with the growing crisis facing pork producers.
"Rep. Collin Peterson, D-Minn., wrote to Vice President Mike Pence, 'Because of COVID-19, many of America's pork producers have no access to processing and have no choice but to depopulate their herds.' Peterson added that the Trump administration needs to begin a 'robust federal response to address this dire situation.'
"Packing plant capacity continues to erode nationally as plants remain 'hotspots' across the country for large numbers of positive coronavirus cases. Tyson Foods continues announcing plant closures, with pork plants in Waterloo, Iowa, and Logansport, Indiana, suspending operations, along with a beef plant in Pasco, Washington."
And Wall Street Journal writers Jacob Bunge, Sarah Nassauer and Jaewon Kang reported this week that, "U.S. grocers are struggling to secure meat, looking for new suppliers and selling different cuts, as the coronavirus pandemic cuts into domestic production and raises fears of shortages.
"Covid-19 outbreaks among employees have closed about a dozen U.S. meatpacking facilities this month, including three Tyson Foods Inc. plants this week. Other plants have slowed production as workers stay home for various reasons.
"Grocery executives at retailers including Walmart Inc. and Costco Wholesale Corp. worry supplies of some products could run short just as demand is surging."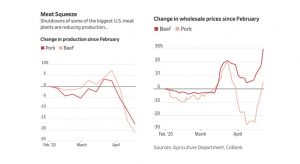 The Journal article stated that, "Last week U.S. beef production fell 24% compared with a month earlier, with pork off 20% and poultry down 10%, according to estimates from CoBank, an agricultural lender.
"Some meat orders are arriving incomplete as suppliers pull back on variety and major plants remain closed, grocery executives said. Ground-beef supplies are declining, a regional grocery executive said, and wholesale prices are creeping up after a fall that occurred when closed dining rooms clipped restaurant demand."
"The spread of Covid-19, the disease caused by the new coronavirus, among U.S. meat-plant workers has thrown the $213 billion industry into disarray. Meat companies are trucking poultry and livestock to be processed at other plants, and bringing in welders to install shields between processing-line work stations. On farms, some pigs now are being euthanized because slaughterhouses have closed, farmers said. In Iowa, Gov. Kim Reynolds this week dispatched as many as 1,000 National Guard members to help deliver Covid-19 tests to meat plants," the Journal article said.