"Flipped On Its Head" by COVID-19: Some Food Sectors "Scramble" For New Equilibrium
Kevin Rector reported on the front page of Wednesday's Los Angeles Times that, "In less time than it takes a farmer to plant and harvest a head of lettuce, the nation's entire food industry has been flipped on its head by the COVID-19 pandemic. An intricate system for matching supply with demand, established over decades, has been thrown out of whack just as unemployment and food insecurity are skyrocketing among families.
"The fallout has been particularly severe in California, where more than a third of the country's vegetables and two-thirds of its fruits and nuts are grown — and where hunger and homelessness were already deeply entrenched.
In response, a vast network of food producers, distributors, retailers and advocates have been scrambling to find a new equilibrium, to shore up the nation's food supply and their own bottom lines while reducing waste and want.
Mr. Rector noted that, "It all went haywire March 16, when Gov. Gavin Newsom asked restaurants to close their doors. The food service industry, which supplies restaurants and bars, as well as schools, hotels, production studios and catering services, immediately tanked. As nervous shoppers flocked to grocery stores to stockpile food, retail demand shot up, but not enough to make up for all the lost demand from restaurants."
"Crops planted months before based on pre-pandemic demand spoiled without buyers. Billions of dollars' worth of produce went to waste, much of it tilled back into the soil, said Cathy Burns, CEO of the Produce Marketing Assn., which represents produce companies."
The LA Times article added that, "Few parts of the supply chain have been hit as hard as meat processing. Dozens of plants have been shuttered due to coronavirus outbreaks, prompting President Trump last week to order facilities to stay open as a matter of national security. Unions and others have objected, pointing to thousands of infections among meat workers."
More specifically, Will Sawyer indicated in a recent report from CoBank ("Closed Meat Plants Today Mean Empty Meat Cases this Summer") that, "Meat supplies for retail grocery stores could shrink by nearly 30% this Memorial Day, leading to retail pork and beef price inflation as high as 20% relative to prices last year."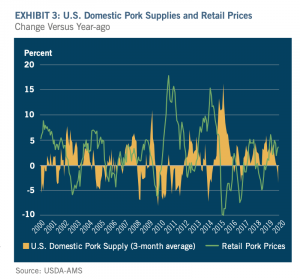 The CoBank report also noted that, "While we expect pork processing to pick up in the coming weeks, U.S. hog producers may still be forced to euthanize as many as 7 million pigs in the second quarter alone, worth nearly $700 million at historical average prices.  This would further diminish meat supplies this fall and add to the billions of dollars of losses from lower livestock prices."
Meanwhile, Bloomberg writers Jen Skerritt and Lydia Mulvany reported this week that, "America's meat-processing plants are starting to reopen, but not all workers are showing up. Some still fear they'll get sick after coronavirus outbreaks shut more than a dozen facilities last month. Employees are taking leave, paid and unpaid — or just quitting.
"At a JBS USA plant in Greeley, Colorado, absenteeism is running as high as 30%. Before the pandemic, it was about 13%. The company is paying about 10% of the workforce — people deemed vulnerable — to stay home. Others aren't coming in because they are sick."
Also, Bloomberg's Mike Dorning reported this week that, "More than half of workers at some American meat plants tested positive for coronavirus. Employees are still out sick, keeping production slow even as some facilities reopen, and grocers from Kroger Co. to Costco Wholesale Corp. are rationing supplies. Even Wendy's Co. dropped burgers from some menus."
A Tyson Foods Inc. plant in Perry, Iowa, had 730 positive cases, representing 58% of employees, Sarah Reisetter, deputy director for the state's health department, said Tuesday. Even as Trump signed the order last week, analysts and experts warned not to expect a quick rebound for meat supplies.
In another aspect of the COVID-19 fallout, Associated Press writer Roxana Hegeman reported yesterday that, "The attorneys general for 11 Midwestern states urged the Justice Department on Tuesday to pursue a federal investigation into market concentration and potential price fixing by meatpackers in the cattle industry during the coronavirus pandemic.
"In a letter to U.S. Attorney General William Barr, the state attorneys general noted that the domestic beef processing market is highly concentrated, with the four largest beef processors controlling 80 percent of the industry."
In a blog post this week ("Beef Marketing Margins"), Jayson Lusk pointed out that, "When a packing plant goes down, the packers don't need as many cattle. That is, a plant closure results in too many cattle floating around relative to the ability to process them. There is an excess supply of cattle given to the processing capacity. Thus, plant closures cause a reduction in demand for fed cattle. As a result, cattle prices fall.
"At the same time, a plant closure means fewer cattle getting turned into burgers and steaks. A plant closure results in less meat being on the market. There is a reduction in meat supply. Groceries and consumers are left competing for a smaller amount of meat, which results in meat prices getting bid up."
Dr. Lusk noted that, "So, what can we say about winners and losers from COVID-19 in the meat and livestock sectors? We know consumers are worse off. Consumers are paying higher prices for less meat. We know livestock producers are worse off. They're receiving lower prices and selling fewer animals. And packers? The graph above suggests they're worse off too. It's a kick in the pants all the way around. Whose to blame? The coronavirus."
Alternative meats have also been impacted by the COVID-19 outbreak.
Financial Times writers Emiko Terazono and Peter Wells reported yesterday that, "Beyond Meat is readying for its plant-based burgers to compete directly with real beef on price terms in the supermarket cabinet, as coronavirus disrupts the US supply chain and drives meat prices higher.
"'There is a significant surge in beef pricing that's occurred,' said Ethan Brown, chief executive, adding that Beyond Meat would discount certain products in the second quarter to 'make more inroads with the consumer.'
"The higher relative price of plant-based meat substitutes has been regarded as a barrier to wider consumer acceptance in the past. However, as the spate of US meat processing plant closures has reverberated through the country's food industry, wholesale meat prices have risen."