U.S., China Trade Talks Remain "On Track," Phase One Obligations Expected To Be Met
Bloomberg News reported last night that, "The top trade negotiators for China and the U.S. pledged to create favorable conditions for implementation of the bilateral trade deal and cooperate on the economy and public health.
"China's Vice Premier Liu He talked with U.S. Trade Representative Robert Lighthizer and Treasury Secretary Steven Mnuchin by phone Friday Beijing time, according to a statement from China's Ministry of Commerce. They also agreed to maintain communication.
'Both sides agreed that good progress is being made on creating the governmental infrastructures necessary to make the agreement a success,' according to an emailed statement after the call from the USTR. 'In spite of the current global health emergency, both countries fully expect to meet their obligations under the agreement in a timely manner.'
The Bloomberg article pointed out that, "The phone call was the first time Liu and Lighthizer have officially spoken about the agreement since it was signed in January, which was just before the coronavirus pandemic hit the world's two biggest economies and upended global supply chains. The deal called for Liu and Lighthizer to talk every six months."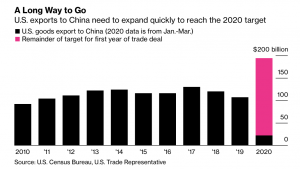 The Bloomberg article added that, "Some purchases are being made, with China buying six cargoes of soybeans Thursday and more than 600,000 tons of corn recently."
James Politi, Ryan McMorrow, and Yuan Yang reported today at The Financial Times Online that, "Top US officials said their trade pact with China remained on track despite rising tensions, easing fears that the coronavirus pandemic had upended the two countries' fragile economic truce.
"Washington's reassuring remarks come after Donald Trump has continually lashed out at Beijing's handling of the virus. The US president has also threatened to 'terminate' the trade deal because of scepticism over China's willingness to honour its pledge to buy billions of dollars of American goods."
The FT writers stated that, "Some analysts doubted China would be able meet its commitments to buy US goods given a sharp drop in consumer demand spurred by the pandemic.
'China doesn't have the ability to carry out the deal and the US knows it . . . if the US wants to be strict with the deal, then it will cause the deal to fall apart the hard way,' said Shi Yinhong, professor of international relations at Renmin University in Beijing. But President Trump 'would be crazy to add more sanctions' on China with the US economy in freefall, Mr Shi said.
Reuters News reported this week that, "The two countries will continue to hold required meetings under the trade agreement via conference call on a regular basis, the U.S. office said."
However, the Associated Press reported today that, "The two governments have yet to announce a timeline for more negotiations."
And Wall Street Journal writer Jonathan Cheng pointed out this week that, "In the first four months, China's imports from the U.S. fell 5.9% from the same period a year ago, according to the official data released Thursday."
Meanwhile, Bloomberg writer Tatiana Freitas reported on Wednesday that, "Soybean shipments from Brazil, the world's top exporter, are at an all-time high, threatening to dash American farmers' hopes of booming exports from the U.S.-China trade deal.
"Brazil's tumbling currency coupled with a bumper harvest have boosted the competitiveness of the South American nation amid a strong demand, particularly from China. Shipments totaled 34.5 million tons through April, a record for the first four months of the year, according to figures from Brazil's Economy Ministry. Exports to China rose 28.5%."
"China's purchase pledges to the U.S. are supposed to be based on 'market conditions,' which have led the Asian nation to Brazil so far this year," the Bloomberg article said.
Also this week, Reuters writers Hallie Gu and Shivani Singh reported that, "China's April soybean imports fell 12% from a year earlier, customs data showed on Thursday, after bad weather delayed cargoes from top supplier Brazil.
"China, the world's top soybean buyer, brought in 6.716 million tonnes of the oilseed in April, down from 7.64 million tonnes a year ago, according to Reuters calculations based on data from the General Administration of Customs."
The Reuters article stated that, "For the first four months of 2020, China imported 24.51 million tonnes of soybeans, customs said."
"China's soybean demand has been curbed by the deadly African swine fever disease, which has cut China's pig herd by at least 40%," the Reuters article said.
In a related article, Bloomberg writer Michael Hirtzer reported yesterday that, "China is ramping up imports of U.S. pork, going against the trend as America's meat exports have slowed overall with sick employees limiting production at meatpacking plants.
"The world's top pork consumer booked 40,200 metric tons of American meat last week, the Asian country's largest order since October, U.S. Department of Agriculture data showed Thursday. The sales came as some U.S. stores have started rationing meat and prices for both U.S. pork and beef have risen sharply."
Mr. Hirtzer noted that, "In addition to the large pork order, exporters also sold cotton, soybeans, sorghum and a small amount of U.S. beef to China."
On Friday, Bloomberg writer Josh Wingrove reported that, "President Donald Trump cast doubt on the future of his 'phase one' trade deal with China, one of the biggest accomplishments of his first term, saying Friday that he's struggling with Beijing in the wake of the global coronavirus pandemic.
"'Look, I'm having a very hard time with China,' Trump said in an interview on Fox & Friends. 'I made a great trade deal months before this whole thing happened. And it was kicking in, you know, a month ago and starting to kick in and starting to produce and then this happens and it sort of overrides so much.'"
The article noted that, "Trump's remarks contrasted with statements from Chinese and U.S. officials earlier in the day that followed a phone call among the country's top trade negotiators, Chinese Vice Premier Liu He, and U.S. Trade Representative Robert Lighthizer and Treasury Secretary Steven Mnuchin. They pledged to create favorable conditions for implementation of the bilateral trade deal and cooperate on the economy and public health, according to a statement from the Chinese Ministry of Commerce."