COVID-19 Ag Related Losses Mount, as China Seeks Virus Documentation on Soybeans
Donnelle Eller reported on the front page of Tuesday's Des Moines Register that, "The Trump administration has sent $4 billion in payments to U.S. farmers to help cover losses due to the coronavirus, part of $16 billion that's available to provide direct aid to offset losses for farmers and ranchers.
"Iowa farmers have snagged $423.5 million of the pandemic payments, the most of any state nationally, based on U.S. Department of Agriculture data through Monday.
"But critics say the coronavirus program addresses only a small portion of the losses farmers are experiencing. The American Farm Bureau Federation and other major ag groups are pushing Congress to include agriculture in the next federal coronavirus aid package."
'We've put a small Band-Aid on a very large wound that's still bleeding,' said Chad Hart, an Iowa State University agricultural economist.
Ms. Eller noted that, "Farm Bureau, which estimates the value of corn, soybeans, beef, pork and other commodities will fall by $50 billion through 2021 nationwide, is pushing congressional leaders to give the USDA access to $68 billion to address farm losses from the pandemic.
"ISU economists estimate that Iowa farmers — corn, soybean, pork, beef and ethanol producers — will lose nearly $7 billion due to the coronavirus outbreak. The largest hits are to ethanol producers, estimated to lose $2.5 billion, and hog producers, shorted an estimated $2.1 billion."
"The biggest coronavirus impact will come this fall, when farmers harvest their crops, experts say. Prices for corn, soybeans, pigs and cattle are below the cost to produce them," the Register article said.
Tuesday's article also pointed out that, "Growers had hoped for increased exports with China's pledge to buy $36.6 billion worth of American farm goods this year under the first phase of its trade agreement with the U.S. But so far, China has purchased only $6.3 billion, about half of the country's $12.2 billion year-to-date target, according to a Peterson Institute for International Economics tracker.
"While China is signaling it will increase purchases, it could take awhile. And short of adverse weather, U.S. farmers are expected to harvest a record 16 billion bushel corn crop this fall.
"'Right now, it's hard to find a pathway where we could find significant improvement in prices,' Hart said. 'We're seeing some recovery, but it's not rapid enough to match our ability to produce.'"
Meanwhile, Bloomberg News writers Chelsea Mes and Jeff Black reported on Monday that, "U.S. President Donald Trump said the phase one trade deal with China was 'fully intact,' after his adviser Peter Navarro sowed confusion and spurred a temporary stock slump with comments interpreted as a decision to end the agreement."
And Megan Henney reported on Tuesday at FoxBusiness Online that, "Senior White House economic adviser Larry Kudlow on Tuesday said that China has 'picked up its game' on trade, including addressing U.S. concerns over the theft of intellectual property.
"'That's been our view,' Kudlow said during an interview with FOX Business' Stuart Varney. 'They've actually picked up their game. It's not just commodity buying, although that is picking up too. It's some of the structural issues, like IP theft.'"
Likewise, on Wednesday, Wall Street Journal writer Kirk Maltais reported that, "China has ramped up its purchases of U.S. soybeans recently, sparking a rebound in prices and making the crop profitable again for U.S. farmers after the coronavirus pandemic had slammed demand.
Since falling to their lowest levels in nearly a year in April, soybean futures on the Chicago Board of Trade have risen 7%. Most-active soybean futures closed at $8.75 a bushel on Tuesday—topping the break-even price of roughly $8.50 a bushel needed by farmers for their soybean crops to be profitable. Some traders believe the current momentum could push soybean prices to over $10 a bushel, which would be their highest level in over a year.
Nonetheless, Bloomberg writers Isis Almeida, Michael Hirtzer, Tatiana Freitas, and Mike Dorning reported on Tuesday that, "The U.S.-China trade deal has just suffered a new setback.
"China wants international shippers of meat and soybeans to sign a document attesting their cargoes meet safety standards to ensure they aren't contaminated with the novel coronavirus. That's a step many American exporters have so far been reluctant to take for fear of liability, with Tyson Foods Inc. being the first to confirm it's signed the certificate.
"The new demands from China could end up being an impediment to shipments, further delaying the $36.5 billion in farm purchases the Asian nation pledged under the phase one trade deal."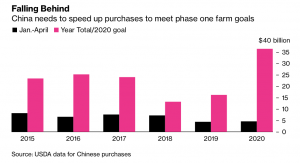 The Bloomberg writers added that, "For shippers, there are many unknowns, including whether and how cargoes will be subjected to Covid-19 testing and what sanctions could be imposed if China says the shipments carried the virus. So far, U.S. exporters seem to be taking a conservative approach, signaling concerns over signing the document."