Farm State Lawmakers: Ethanol a Priority in Senate COVID Relief Package
Reuters writer Stephanie Kelly reported late last week that, "U.S. lawmakers from Iowa are trying to add aid for the biofuels industry into a pending coronavirus relief package in the Senate, U.S. Senator Chuck Grassley said on Friday.
Grassley and his Iowa colleague, Senator Joni Ernst, hope to include a subsidy for feedstock for the ethanol industry in the bill.
"Farmers and producers of the corn-based fuel were hit hard during the coronavirus pandemic as government-imposed lockdowns sank demand for gasoline."
The Reuters article added that, "'The long-term hope for ethanol though is directly related to the extent to which the economy picks up and people start driving,' Grassley said in a call with reporters."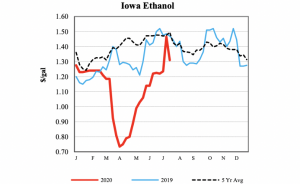 Also last week, DTN Ag Policy Editor Chris Clayton reported that, "Sen. Chuck Grassley, R-Iowa, said Friday one of his key priorities in the next coronavirus aid package out of Congress would be to subsidize feedstock for the ethanol industry.
"Speaking to reporters on a call, Grassley said he and Sen. Joni Ernst, R-Iowa, are focused on getting that kind of language in a Senate package that would subsidize feedstock for the ethanol industry. Grassley and Sen. Amy Klobuchar, D-Minn., introduced that bill in May. Their plan would reimburse biofuel producers for their feedstock purchases from Jan. 1, 2020, to March 31 through the Commodity Credit Corp.
'I think what's going to make our appeal credible besides just the loss that ethanol had — which it didn't get any help last time — is if petroleum gets help. If we can show petroleum has already gotten some help by what was put into the petroleum reserve,' Grassley said.
Mr. Clayton explained that, "The Senate plan differs from the 'Renewable Fuel Reimbursement Program' included in the House HEROES Act, which would provide a 45 cents a gallon payment for biofuel producers for qualified fuel produced from Jan. 1, 2020, through May 1. Ethanol plants that were not producing during that time frame could still receive 22.5 cent credit based on fuel volumes they produced during that time period in 2019 as well."
Meanwhile, DTN writer Todd Neeley reported on Wednesday that, "The ethanol industry in the United States has lost about $3.4 billion already in 2020 as a result of the COVID-19 economic shutdown, a new analysis from the Renewable Fuels Association said, with losses to continue to mount on into 2021.
"Though ethanol margins have been improving since the last of May, the industry is in a bit of a holding pattern waiting to see if the U.S. economy fully reopens.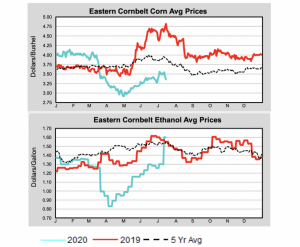 "The RFA analysis said losses for the industry could deepen if states continue to open and close as a result of COVID-19 cases."
And regarding a separate issue impacting the ethanol industry, DTN writer Todd Neeley reported last week that, "The EPA on Thursday posted six additional pending requests for retroactive small-refinery exemptions to the Renewable Fuel Standard to the agency dashboard, bringing the grand total to 58 such requests for waivers for compliance years 2011 through 2018.
"The agency now lists seven pending requests each for 2011 and 2012, 11 each for 2013 and 2015, 12 in 2014, eight in 2016 and two in 2018, in addition there are 27 listed for 2019 and one for 2020."
The DTN article stated that, "American Coalition for Ethanol Chief Executive Officer Brian Jennings said in a statement to DTN the EPA was protecting oil interests."
Mr. Neeley pointed out that, "The U.S. Court of Appeals for the 10th Circuit in Denver ruled back in January the agency illegally granted exemptions to three small refineries. In that case, the court said the refiners were not eligible for exemptions because they had not previously received them.
"Biofuel and agriculture interest groups have alleged EPA is considering granting small-refinery exemptions for previous years, which could potentially allow refining companies to continue receiving exemptions legally.
"In recent weeks the EPA announced it was postponing indefinitely the scheduled June release of the proposed renewable volume obligations in the RFS for 2021."