Pandemic, Drought, and Derecho Among Factors Impacting the Farm Economy
In an update late last month at the USDA blog, Robert Johansson, the Department's Chief Economist, highlighted how the COVID-19 pandemic was adversely impacting the American farm economy.
Dr. Johansson stated that, "The disruptive impacts of the COVID-19 pandemic on the U.S. agricultural system have been broad and varied. And they follow several years of trying production and market conditions for U.S. farmers. In 2017 and 2018, several hurricanes pummeled U.S. farms; 2019 brought historically poor planting conditions and retaliatory tariffs cut potential for our agricultural exports compared to 2017."
The update explained that, "The COVID-19 pandemic not only triggered a new type of crisis for the farming sector, it also came at a tough time for U.S. farmers. For the past few years, global commodity production has outpaced demand in most years and prices have been falling. Between 2014-2019, producer prices of corn, for example, fell 44 percent from $6.15 per bushel to $3.47, and prices of soybeans fell 35 percent — almost 5 dollars per bushel.
"However, cost of production for these commodities in 2019 was higher or only marginally lower than five years earlier."

Dr. Johansson noted that, "During the same period, many of our global competitors, supported in part by advantageous currency values, have ramped up production for export —wheat in the Black Sea region, and corn, soybeans, and cotton in South America. Meanwhile, U.S. farmers have had to deal with a significant economic (tariffs) and weather-related challenges (drought and hurricanes) that have kept production costs relatively high, squeezing the margins for many crop, livestock, and dairy farmers."
With respect to the pandemic, the USDA update indicated that, "The consequences of the crisis for farmers and their families were immediate and severe. For example, the reduction in miles driven as the public sheltered in place, meant less demand for biofuels, which in turn led to reduced demand for grains used in biofuels, particularly corn. In addition, the immediate and drastic decline in food demand by restaurants and hotel customers isolated farmers and food processors from some of their biggest buyers, especially for meat, dairy, and specialty crops. As a result, we have seen agricultural commodity prices also decline significantly over the past few months. In recent weeks we have seen a reversal in some prices as global demand is recovering."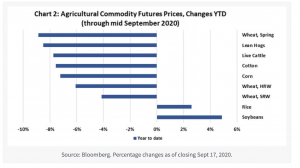 "So as consumers were dealing with localized food shortages and rising retail food prices, producers were grappling with falling farmgate prices and a glut of output that forced them to euthanize livestock, dump milk, and dispose of perishable products that could not be stored."
Dr. Johansson added that, "And the impacts of COVID-19 are expected to continue into next year: a forecast by the Food and Agricultural Policy Research Institute at the University of Missouri expects farm income to fall by $21.9 billion in 2021 compared to their forecast prior to COVID-19, even when accounting for higher payments from farm bill programs."
Meanwhile, Donnelle Eller reported on the front page of Sunday's Des Moines Register that, "Across Iowa, this year's harvest is unlike any before, farmers and agricultural experts say:
The Aug. 10 derecho's hurricane-force winds slammed through 14 million Iowa acres, wiping out crops on an estimated 550,000 acres and leaving the rest with varying degrees of damage. In addition, a drought that set in around mid-summer encompassed four-fifths of the state at its peak and still lingers. And the global COVID-19 pandemic disrupted markets that already were reeling from trade wars and a political fight over renewable fuels, an industry that consumes half of Iowa's corn crop.
The Register article noted that, "After ideal planting weather, Brent Friest said, the crop was hit with too much rain, followed by the drought and derecho."
Ms. Eller pointed out that, "USDA officials estimated in September that 550,000 acres of derecho-hit corn will not be harvested this year. The lost acreage likely will grow in October after farmers get a better look at damage, said Iowa Agriculture Secretary Mike Naig.
"The damage wasn't just from the derecho's winds, which reached 140 mph in places. Iowa farmers already were struggling with a deepening drought that weakened crops, and the storm also hammered many fields with hail."
Sunday's article stated that, "Even before the natural disasters, the global pandemic had hit Iowa farmers and workers in its meatpacking industry hard. After thousands of Iowa and U.S. meatpacking plant workers became ill with COVID-19, farmers had nowhere to send pigs and other livestock for processing and had to destroy them. Many plants had to shut down operations until increased protections could be put in place."
The Register article added that, "With some higher corn and soybean prices, [Iowa farmer Brent Renner] said strong yields could net a good year financially for some farmers. But, he added: 'We'll need a couple of good years to feel a lot better.'"