House Ag Committee Passes Supplemental Farm Disaster Bill
DTN Ag Policy Editor Chris Clayton reported this week that, "The House Agriculture Committee on Tuesday advanced a bill to provide as much as $8.5 billion in supplemental disaster aid for farmers and ranchers who faced disaster both in 2020 and 2021.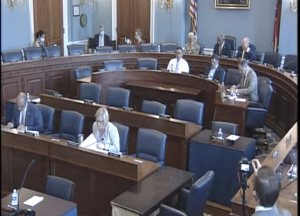 "The bill, passed unanimously by voice vote, will expand coverage of losses under USDA's Wildfire Hurricane Indemnity Program-Plus (WHIP-Plus) and cover losses including those from wildfires last year in California as well as the derecho that hit Midwestern producers last summer. The aid will also cover producer losses this year from the polar vortex as well as farmers whose crops are in D-2 'severe' drought conditions for at least eight consecutive weeks."
"The WHIP-Plus bill will include payments for qualified losses for unharvested acres, payment to certain dairy processors, as well as dairy and sugar cooperatives, and California grape producers who suffer quality losses due to grapes tainted by smoke in 2020 or 2021. The bill also includes an option for USDA to provide block grants to processors affected by disaster."
House Agriculture Committee Chairman David Scott (D., Ga.) indicated at yesterday's Committee meeting that, "The Federal crop insurance program has served as a critical risk management tool for producers, and we need more producers to participate in the program. I appreciate the leadership of our Subcommittee chair, Cheri Bustos, on ensuring we maintain and strengthen the program. The bill here today would bring in more producers by requiring them to purchase crop insurance the next two years after receiving assistance.
"The severity of these disasters has required supplemental assistance, and that's why I have prioritized extending the Wildfire and Hurricane Indemnity Program Plus for 2020 and 2021."
Committee Ranking Member Glenn 'GT' Thompson (R., Pa.) noted yesterday that, "This extension of the Wildfire Hurricane Indemnity Program disaster program for 2020 and 2021 losses is crucial. With fires raging out West, drought gripping the upper plains, and floods washing through the Mississippi Delta it seems like no producer has been spared the wrath of Mother Nature this year."
"This bill, as amended, provides for an extension of support for producers incurring crop losses due to a disaster event in 2020 and 2021 as well as extends assistance to dairies who were forced to dump milk, or farmers with losses to on-farm stored commodities."
"One of the biggest complaints we have heard about WHIP+ in 2018 and 2019 was the overly cumbersome application process and the workload that was placed on Farm Service Agency field staff. In order to address these concerns, we provide USDA with the necessary administration funds to make investments in technology and staff necessary to streamline the application process."