"Traffic authorities forecast some 2.1 billion trips nationwide in the 40 days around Lunar New Year, the first major holiday since the pandemic began during which domestic travel will be possible with minimal restrictions. What has been called the world's largest annual migration is likely to expand the ongoing outbreak and endanger the many elderly and undervaccinated people in China's rural areas, experts said, since hundreds of millions of people will travel to see family, many for the first time in three years."
The Post article added that, "While China's urban medical infrastructure has significantly improved in recent years, state media has reported that many rural clinics suffer from a lack of doctors, with some being forced to ration painkillers earlier this month."
On the front page of today's Post, Samuel Oakford, Lily Kuo, Vic Chiang, Imogen Piper and Lyric Li reported that, "A Washington Post examination of satellite imagery, firsthand videos posted to social media and witness accounts suggests that China's covid death toll is far higher than the government's tally, undermining Beijing's claim that the outbreak remains under control."
Meanwhile, Reuters writer Dominique Patton reported yesterday that, "China's Commerce Ministry said on Wednesday it will continue to impose anti-dumping and anti-subsidy tariffs on the animal feed ingredient distillers dried grains (DDGS) imported from the United States for another five years.
"The move, widely expected by the industry, keeps tariffs amounting to as much as 66% on the product, after they expired in 2021 and were followed by a one-year review period ending on Jan. 11."
And a Reuters article from today reported that, "China's agriculture ministry raised its outlook for both corn and soybean production on Thursday, bringing its forecast in line with the statistics bureau's recently reported data on the size of last autumn's crops. Corn production in the 2022/23 crop year that began in September is seen at 277.2 million tonnes, up 1.7% on the prior year, the ministry said in its monthly Chinese Agricultural Supply and Demand Estimates (CASDE) report. Soybean output is up 23.7% at 20.3 million tonnes."
Also with respect to China, Reuters News reported this week that, "Anec, a Brazilian trade group representing grain exporters, said on Tuesday the country has booked shipments of more than 1 million tonnes of corn to China in January, putting Brazil on course to export a record overall volume of that commodity in the current month.
"Earlier in the day, Anec revised its Brazilian corn exports estimate for January to 5.024 million tonnes, up from 4.326 million tonnes forecast in the previous week."
And Reuters writer Ana Mano reported yesterday that, "Brazilian farmers are poised to reap a much larger soybean crop than last season in spite of dryness in southern parts of the South American country and a slow start to the harvest in the center-west region due to rains.
"Growers in Brazil are on course to produce a record 153.4 million-tonne crop, agribusiness consultancy Agroconsult forecast on Wednesday, as it finishes preparations for a planned field expedition that will survey farms across 12 states accounting for 95% of national output."
Elsewhere, Bloomberg writer Jonathan Gilbert reported yesterday that, "With many crop traders focusing on Argentina's drought, one forecaster has tapped satellite imagery to make the bold prediction that nation's upcoming soybean harvest may plunge to a five-year low.
"Mickael Attia, a crop analyst with EarthDaily Analytics, sees the soy harvest in the second quarter shrinking to 36.9 million metric tons. That's well below the Buenos Aires Grain Exchange's estimate of 48 million tons, and would be at a level not seen by the bourse since 2018. Argentina is the biggest exporter of soy meal and soy oil."
Reuters writer Maximilian Heath pointed out yesterday that, "Argentina's Rosario Grains exchange sharply cut its forecast for the 2022/23 soybean harvest to 37 million tonnes from a previous forecast of 49 million, it said on Wednesday, as the country faces its worst drought in 60 years.
"The exchange also slashed its 2022/23 corn harvest estimate to around 45 million tonnes, down from 55 million previously."
In wheat related news, Bloomberg writer Pratik Parija reported yesterday that, "India is set to harvest a record wheat crop this season as favorable weather and heat-resistant seeds are expected to boost yields, potentially setting the stage for the country to lift restrictions on exports.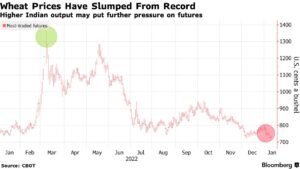 "Output may climb almost 5% from a year earlier to 112 million tons in the year to June, said Gyanendra Singh, head of the Indian Institute of Wheat and Barley Research."
Dow Jones writer Will Horner reported today that, "European wheat stocks are set to jump next year as strong wheat harvests and sluggish demand drive a surplus of the grain higher, Strategie Grains said Thursday, as it raised its forecasts for production and carryout stocks.
"Ample supplies of Russian and Australian wheat in the current 2022-23 season, coupled with an influx of Ukrainian grains thanks to a deal involving Russia to allow Kyiv to export its grain are helping to build stocks in Europe, the consultancy said in its monthly report."