Large Stocks Heighten the Importance of Ag Trade- Focus on China, Mexico
As global commodity markets cope with abundant stocks of corn, soybeans and wheat, export competitiveness has become increasingly important for U.S. farmers.  Today's update takes a closer look at these issues with particular focus on trade developments with China and Mexico.
Background: Abundant Global Supply
Earlier this week, Reuters writers P.J. Huffstutter and Karl Plume reported that, "Iowa farmer Karl Fox is drowning in corn.
"Reluctant to sell his harvest at today's rock-bottom prices, he has stuffed storage bins at his property full and left more corn piled on the ground, covered with a tarp."
The article explained that, "Farmers face similar problems across the globe. World stockpiles of corn and wheat are at record highs. From Iowa to China, years of bumper crops and low prices have overwhelmed storage capacity for basic foodstuffs.
Global stocks of corn, wheat, rice and soybeans combined will hit a record 671.1 million tonnes going into the next harvest – the third straight year of historically high surplus, according to the U.S. Department of Agriculture (USDA). That's enough to cover demand from China for about a year.
"In the United States, farmers facing a fourth straight year of declining incomes and rising debts are hanging on to grain in the hope of higher prices later. They may be waiting a long time: Market fundamentals appear to be weakening as the world's top grain producers ponder what to do with so much food."
Meanwhile, Benjamin Parkin reported on Tuesday at The Wall Street Journal Online that, "Soybean futures touched a one-year low during trading Tuesday as big South American crops exacerbate worries about the competitiveness of U.S. exports.
"The U.S. Department of Agriculture on Tuesday raised its forecast for Brazil's record soybean harvest. The monthly report showed already large grain and oilseed surpluses rising across the world growing even bigger."
The Journal article added that, "The forecasts sent soybean prices, which have already fallen for much of this year, to a new low. Economists said the slide was raising pressure on the struggling U.S. agricultural economy, where many farmers have been forced deeper into debt or out of business by a multiyear slump."
Effects of Increased Demand for U.S. Agricultural Exports
A recent update in the Agricultural Policy Review ("International Trade Has Been Major Source for Strengthening Prices") from Iowa State University indicated that, "Recent policy discussions, such as the potential for the US to impose import taxes, have heightened concerns that export demand may retreat.  However, currently, the international marketplace is providing a surge of support to the US farm economy.  Protein demand globally seems to be driving export growth for both livestock (direct meat demand) and crops (feed grain demand to raise more livestock and meat)."
The article pointed out that, "Corn export sales this marketing year have consistently exceeded our export pace for the last few years. As harvest began, the export market had already purchased over 600 million bushels of US corn, roughly doubling the advance sales from the 2015 crop. Since then, another billion bushels have been sold to international buyers. Mexico is our largest customer, buying just over a quarter of all corn exports. Japan is second with 15 percent."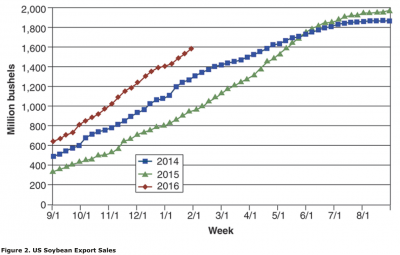 "The growth in soybean exports has not been as dramatic as for corn this year, but then again, soybean exports have set records for the past five years in a row," the Iowa State update said.
The report added that, "US agricultural production has been incredibly strong for the past few years. The record meat, corn, and soybean supplies have significantly reduced prices. Without the export boost, that trend would have continued.
However, with exports growing, crop and livestock prices have recovered enough to improve farm cash flows and provide some profit opportunities.
Meanwhile, a report this month from USDA's Economic Research Service ("The Potential Effects of Increased Demand for U.S. Agricultural Exports on Metro and Nonmetro Employment") stated that, "This report uses a computable general equilibrium (CGE) model to explore the economic effects of a hypothetical 10-percent increase in foreign demand for U.S. agricultural exports.
This demand shift was found to result in a 6.7-percent increase in the volume of such exports, worth $9.7 billion at 2013 prices, and a net increase in total U.S. employment (all economic sectors) of about 41,500 jobs—above and beyond the nearly 1.1 million full-time civilian jobs that U.S. agricultural exports currently support.
Trade Issues: China and Mexico
Bloomberg writers Alan Bjerga and Shruti Singh reported on Monday that, "President Donald Trump achieved a 'big prize' during his meeting last week with Chinese President Xi Jinping by expanding U.S. beef exports to China, White House spokesman Sean Spicer said, without offering details on any tangible steps taken toward ensuring greater access."
The article noted that, "China halted imports of U.S. beef in 2003 after a case of mad cow disease was found in Washington state. The country is the world's second-biggest beef buyer after rapid economic growth over the past decade created an expanding middle class that can afford more protein in their diets. China is already the No. 1 pork consumer."
Matthew Patane reported earlier this week at The Gazette Online (Cedar Rapids, Iowa) that, "Access to China would be a boon for Iowa's 27,000 cattle operations, said Chris Freland, executive director of the Iowa Beef Industry Council."
The article pointed out that, "On Monday, Gov. Terry Branstad — who is awaiting confirmation to be the new U.S. ambassador to China — said he is supportive of opening up the Chinese market to Iowa-made beef.
'I want to be able to serve Iowa premium beef at the embassy and the ambassador's residence,' Branstad said during a weekly news conference.
Meanwhile, Gerard Baker, Carol E. Lee and Michael C. Bender reported yesterday at The Wall Street Journal Online that, "[President Donald Trump,] in an interview with The Wall Street Journal, also said his administration won't label China a currency manipulator in a report due this week."
The Journal writers noted that, "Mr. Trump said the reason he has changed his mind on one of his signature campaign promises is that China hasn't been manipulating its currency for months and because taking the step now could jeopardize his talks with Beijing on confronting the threat of North Korea."
I explained to the President of China that a trade deal with the U.S. will be far better for them if they solve the North Korean problem!

— Donald J. Trump (@realDonaldTrump) April 11, 2017
With respect to Mexico, Wall Street Journal writers David Luhnow and Jacob Schlesinger reported on Tuesday that, "Mexican officials say they are more confident now that the two countries can strike a deal to renegotiate the North American Free Trade Agreement, which Mr. Trump attacked repeatedly on the campaign trail as the worst trade deal the U.S. ever signed.
"'We've gone from panic to concern,' another top Mexican official said."
The Journal article also stated that, "U.S. farm groups also have lobbied against changes to the pact that could restrict access to their No. 1 market for export products like corn, grown mostly in states that voted for Mr. Trump. Upping the ante, Mexico has threatened to buy more grain and corn from other producers such as Brazil and Argentina."
And it's not just corn that is a concern when considering trade with Mexico.
A recent update from USDA's Foreign Agricultural Service (FAS) ("Livestock and Poultry: World Markets and Trade") noted that, "Exports generally – and shipments to Mexico specifically – have been a driving force for U.S. pork over the past decade. Since the early 2000s, export demand has outpaced growth in domestic consumption. As a percentage of production, exports have expanded from 9 percent (2000-2005 average) to 22 percent forecast in 2017."
The FAS report added that, "Mexico in particular will propel much of the gain in overall U.S. pork exports in 2017. U.S. pork dominates the market, averaging a nearly 90 percent market share since 2000. Low transportation costs, duty-free access, and relatively low prices are the chief reasons. These advantages have become more critical as the sector looks to expand export sales in the face of increasing competition in Asia from the EU."