House Ag Appropriations Bill Passes Subcommittee- Ag Spending in Broader Budget Context
House Agriculture Appropriations Bill
On Tuesday, a news release from the House Appropriations Committee indicated that, "The House Appropriations Committee today released the fiscal year 2018 Agriculture Appropriations bill, which will be considered in subcommittee [on Wednesday]."
"The bill totals $20 billion in discretionary funding, which is $876 million lower than the fiscal year 2017 enacted level and $4.64 billion above the President's budget request. The legislation prioritizes this funding in programs for rural communities, farmers, ranchers, food and drug safety, and nutrition for those in need."
Back in May, Secretary of Agriculture Sonny Perdue appeared before the House Appropriations Agriculture Subcommittee to discuss the administration's budget outline; lawmakers expressed specific concerns about executive branch funding proposals for crop insurance and the SNAP program (food stamps).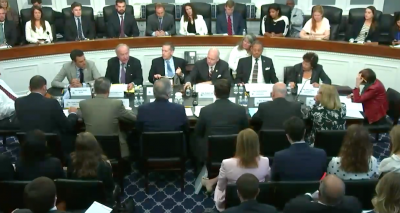 The Agriculture Appropriations bill did not include the executive branch proposed crop insurance changes and a summary of some of the provisions in the bill included the following:
Farm Programs – The legislation provides $1.6 billion for farm programs, which is $44 million above the President's budget request. This funding will continue support for various farm, conservation, and emergency loan programs, and will help American farmers and ranchers with the implementation of the farm bill. It will also ensure customer service through full staffing of local county Farm Service Agency offices and meet estimates of demand for farm loan programs.
Conservation Programs – The bill provides $904 million to help farmers, ranchers, and private forest landowners conserve and protect their land. This includes $45 million for infrastructure rehabilitation to help small communities meet current safety standards for watershed projects.
Supplemental Nutrition Assistance Program (SNAP) – The bill provides for $73.6 billion in required mandatory spending – which is outside the discretionary funding jurisdiction of the Appropriations Committee – for SNAP. This is $4.87 billion below last year's level and $2.6 million below the President's budget request, reflecting declining enrollment and a decrease in food costs. The total includes $3 billion for the SNAP reserve fund, equal to the President's request, which is used to cover any unexpected participation increases.
The House Appropriations Agriculture Subcommittee advanced the bill to the full Committee on a voice vote Wednesday.
In his remarks at yesterday's hearing prior to the vote, Subcommittee Chairman Robert Aderholt (R., Ala.) noted that, "The reality remains that, as a country, we need to get our financial house in order and find the means to address our ever growing deficit. However, this bill is not in full agreement with some of the budget proposals to defund parts of the Rural Development mission area or food aid programs."
Rep. Aderhholt also stated that:
'The bill supports America's farmers and ranchers, who are vital to our Nation's economy and our health and well-being,' and added that, 'This bill provides funding for all of USDA's nutrition programs at levels that ensure all eligible participants will receive the assistance they need.'
In a statement yesterday, Congressman Sanford D. Bishop, Jr. (D., Ga.), Ranking Member of the U.S. House Appropriations Subcommittee on Agriculture, noted that, "The FY 2018 funding bill is not as robust as I would prefer, but I am pleased that the subcommittee has largely rejected the disastrous cuts put forth by the administration."
DTN Ag Policy Editor Chris Clayton reported yesterday that, "The bill also does not go along with a Trump administration proposal to close as many as 17 USDA Agricultural Research Service facilities across the country. Aderholt said research funding remains critical to protecting the food supply and ensuring agriculture can continue to compete globally.
"A $1.6 billion funding for areas such as the Farm Service Agency and conservation programs will ensure every county FSA office if fully staffed, Aderholt added."
Mr. Clayton also noted that, "Rep. Rosa DeLauro, D-Conn., added language that would prevent Chinese chicken imports from being used for the school lunch program. DeLauro said she was concerned about the food safety risks of that imported chicken, which USDA is just now drafting rules to allow."
(Note: For additional background on this issue, see the video link below with Sec. of Agriculture Sonny Perdue, who spoke Tuesday on CNBC about ag trade issue with China).
Agricultural Spending- Broader Budget Perspective
In a broader context on the budget, Politico's Morning Agriculture explained yesterday that, "GOP lawmakers are already talking about how Congress will likely pass a continuing resolution to avoid a government shutdown on Oct. 1, when the fiscal 2017 spending package expires. Work in the House and Senate on all 12 appropriations bills for fiscal 2018 is months behind schedule, in part because Trump's budget arrived late. But there also is internal fighting among House Republicans over spending priorities, particularly how to pay for a large bump in defense spending, plus a crowded floor calendar in the Senate — making it likely that Congress will go the omnibus route once again."
And in his DTN article yesterday, Chris Clayton indicated that, "The House Budget Committee had delayed its vote on a 2018 budget resolution that was expected to detail as much as $200 billion in cuts to mandatory federal programs, such as direct farm payments or food stamps. Such spending reductions would give the House latitude to start working on a tax reform measure that focuses on large tax cuts. Heritage action pointed a finger at [House Ag Committee Chairman Mike Conaway (R., Tex.)], saying the Agriculture Committee's unwillingness to offer budget cuts to mandatory programs is hurting the ability of Congress to start working on a tax-cut package."
Helena Bottemiller Evich and Catherine Boudreau reported yesterday at Politico that, "The House Agriculture Committee on Wednesday dismissed allegations from Heritage Action that Chairman Mike Conaway's objection to agriculture spending cuts is the obstacle holding up the hotly anticipated House budget deal, calling them 'absurd.'
'With the farm economy in one of the biggest slides since the Great Depression, the chairman has been advocating for a budget that won't exacerbate the conditions of our farmers and ranchers in rural America and that won't impede development of the next farm bill,' said Rachel Millard, a spokeswoman for the committee. 'That may not fit with Heritage Action's long-running campaign against America's farmers and ranchers, but it certainly isn't the reason we still don't have a budget.'
The Politico article added that, "Conaway (R-Texas) has refused to make significant mandatory cuts to farm and nutrition programs as part of a budget agreement that aims to rein in federal spending and pave the way for tax reform."
"Conaway and other farm-state lawmakers have long argued that the Agriculture Committee shouldn't have to come up with big cuts after the 2014 farm bill cost far less than anticipated. At the time, lawmakers said the bill would save taxpayers $23 billion over 10 years, but it has saved closer to $100 billion, largely due to reductions in Supplemental Nutrition Assistance Program payments," the Politico writers said.