In Budget Proposal, White House Seeks Cuts To Agriculture
Reuters writer P.J. Huffstutter reported earlier this week that, "The White House budget on Monday proposed $46.54 billion in cuts to federal government funding for the agriculture sector over the next 10 years.
"President Donald Trump's biggest cut would come in the form of a $38 billion bite out of farm supports, including new limits on federal subsidies for crop insurance premiums and caps for commodity payments."
More specifically, on the proposed $38 billion cuts to the Farm Bill, an article on Monday from the New York Times indicated that:
President Trump is proposing a cap on crop insurance premium subsidies and eliminating commodity payments and crop insurance for farmers with adjusted gross income above $500,000 a year.
An Associated Press article from today pointed out that, "The proposed budget would limit subsidies to farmers, including a cut in government help for purchasing crop insurance. Crop insurance is an overwhelmingly popular program with farm-state senators in both parties, and previous farm bills have only increased spending. The budget would also limit spending on environmentally friendly conservation programs and some rural development dollars that help small towns build infrastructure.
"Trump isn't the first president to try to limit farm subsidies. Presidents Barack Obama and George W. Bush also proposed major reductions, but farm-state lawmakers have always kept them going. The Republican chairmen of the Senate and House agriculture committees both said Tuesday they oppose Trump's proposed cuts."
A joint statement on Tuesday from House Ag Committee Chairman Mike Conaway (R., Tex.) and Senate Ag Committee Chairman Pat Roberts (R., Kans.) noted in part that, "As we debate the budget and the next Farm Bill, we will fight to ensure farmers have a strong safety net so this key segment of our economy can weather current hard times and continue to provide all Americans with safe, affordable food."
Meanwhile, Wall Street Journal writers Nick Timiraos and Richard Rubin reported on Monday that, "President Donald Trump's budget on Tuesday will propose a $193 billion reduction in spending on the food-stamp program over a decade, according to people familiar with the plans."
The Journal article explained that, "The SNAP cuts would represent a 29% reduction in funding from levels estimated in January by the Congressional Budget Office. The U.S. spent nearly $71 billion on SNAP last year."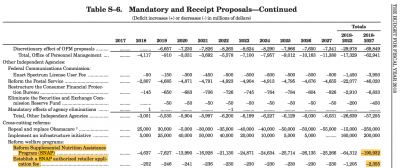 The Journal writers pointed out that, "Republicans in Congress have already focused on overhauling the food-stamp program. They have raised concerns that they fund purchases of junk food and discourage recipients from seeking higher-paying work. Democrats have said those changes could hurt poor families.
"Congress hasn't significantly changed food-stamp rules since a 1977 law. But the House last year held 16 hearings related to overhauling SNAP, culminating in a December report that suggested changes to eligibility rules and new limits on what items qualify for assistance [Note: see additional background at this FarmPolicyNews update from December]. Food stamps can't be used to buy alcohol, tobacco or hot, prepared foods.
Participation in the food-stamp program, which is administered by the U.S. Department of Agriculture, is nearly double from levels before the 2007-09 recession, even though unemployment has returned to prerecession lows.
With respect to potential changes in the SNAP program, AP writer Mary Clare Jalonick reported today that, "But making changes has always proved a hard sell, especially in the Senate, where lawmakers have been hesitant to slash what is supposed to be a temporary safety net for Americans who find themselves unable to adequately feed themselves or their families.
"And Trump's proposal could have a disproportionate effect on Republican-leaning states — seven of the 10 states with the highest food stamp participation supported Trump."
.@ConawayTX11: It's important to note, #SNAP plays a crucial role in protecting our most vulnerable citizens who've fallen on tough times.

— House Ag Committee (@HouseAgNews) May 23, 2017
In a statement yesterday, Secretary of Agriculture Sonny Perdue noted in part that, "President Trump promised he would realign government spending, attempt to eliminate duplication or redundancy, and see that all government agencies are efficiently delivering services to the taxpayers of America.  And that's exactly what we are going to do at the U.S. Department of Agriculture (USDA)."
Secretary Perdue also released a short video to USDA employees (available below).
DTN Ag Policy Editor Chris Clayton reported yesterday that, "Agriculture Secretary Sonny Perdue told USDA employees in a video that he wasn't going to sugar coat the situation. USDA will likely see a significant funding cut at the end of the budget process."
The DTN article explained that, "The USDA budget was essentially crafted without Perdue's input, as he was on the sidelines while the White House Office of Management and Budget drafted the plan. 'This is a process that happens through the Office of Management and Budget,' said Michael Young, acting deputy secretary for USDA.
"Young stressed that most of the cuts would require legislative change, primarily through the farm bill. Yet he disagreed when DTN asked if the specific plans to cut farm programs and food stamps should be considered the Trump administration's marker for the farm bill. 'That's a process that will happen in a different timeframe,' Young said."
Mr. Clayton noted that, "Zippy Duvall, president of the American Farm Bureau Federation and a fellow Georgian like Perdue, said the budget fails agriculture and rural America. The White House fails to give agriculture any credit for prior cuts and would gut the crop insurance program.
"'Farm income is down substantially since Congress passed the last farm bill,' Duvall said. 'USDA cuts of this magnitude in the current economic cycle would be unwarranted and unwise. AFBF will work with the House and Senate Agriculture, Appropriations and Budget committees to protect programs that are critical in managing risks inherent to production agriculture, and maintain programs that are vital to rural communities.'"
Looking ahead, Thomas Kaplan reported yesterday at The New York Times Online that, "The next step for Republicans in Congress is to agree on a budget blueprint, which sets spending levels and provides a road map for spending and revenue in the coming years."
The Times article indicated that, "Republican lawmakers already face a time crunch, given that Mr. Trump offered his budget three months past the statutory deadline in February.
"While new presidents routinely take more time to submit their inaugural budgets, Mr. Trump unveiled his unusually late, and in an uncommonly low-key fashion, dispatching his budget director to unveil the plan while he was overseas. That raised questions about whether he would take a leadership role in the coming spending debates.
"The House and Senate budget committees both expect to introduce their proposals in June, according to congressional aides."