House Ag Committee Examines NAFTA- Trade Issues
Since President Trump took office in January, many in the agricultural sector have been leery of potential executive branch actions on trade, particularly with respect to China and our NAFTA trading partners.  As the NAFTA renegotiation process begins to unfold, the House Agriculture Committee held a hearing yesterday titled, "Renegotiating NAFTA: Opportunities for Agriculture."  Today's update looks at some of the issues that lawmakers highlighted at yesterday's Ag Committee hearing.
Background
Back in May, the Trump administration notified Congress that it planned to begin the renegotiation process of the North American Free Trade Agreement (NAFTA) with Canada and Mexico as soon as August.  Prior to that, in April, Secretary of Agriculture Sonny Perdue, who had just started on the job, urged President Trump not to withdraw from NAFTA by showing him a map "indicating the states where jobs would be lost if the pact collapsed…many were farm states."
The President had already withdrawn from the Trans-Pacific Partnership, and many in the agriculture sector have been "holding their breath," particularly on the issue of corn exports to Mexico, in anticipation of the NAFTA discussions.  At a Senate Finance Committee hearing last month, farm state lawmakers urged the U.S. Trade Representative to "do no harm" with respect to agriculture and the NAFTA renegotiation.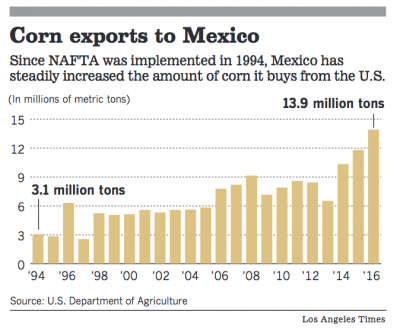 Also, Reuters news reported this month that, "With talks to renegotiate the NAFTA trade pact just weeks away, U.S. farm groups and lawmakers from rural states are intensifying lobbying of President Donald Trump's administration with one central message: leave farming out of it."
On July 17th, the administration set out its objectives for the NAFTA renegotiation.  More narrowly on the objectives, The Wall Street Journal reported at the time that, "The document does acknowledge some winners from Nafta—notably 'farmers and ranchers' who got 'much needed market access' from the pact. That's a nod to the (heavily Republican) farm-state lawmakers who have made clear to Mr. Trump he'd better not mess with their success."
And House Ag Committee Chairman Mike Conaway (R., Tex.) explained at the time that, "The administration's objectives for renegotiating NAFTA clearly demonstrate a commitment to protecting existing market access while outlining several ways to level the playing field. I'm looking forward to working closely with the administration to achieve the best deal possible for American agriculture."
House Ag Committee Hearing-  Emphasis on a Timely Renegotiation Process
With this background in mind, Chairman Conaway noted at yesterday's hearing that:
I recognize there is a certain level of angst about renegotiating the terms of our agreement. But let me reiterate, we have no interest in reversing any of production agriculture's hard-fought gains, and the administration has made clear that it doesn't either. In fact, the recently-released renegotiation objectives reinforced the importance of maintaining existing reciprocal duty-free market access for agricultural goods.
Floyd D. Gaibler, the Director, Trade Policy & Biotechnology at the U.S. Grains Council, noted in prepared remarks yesterday that, "Moreover, the recent furor of the proposed executive order to withdraw from NAFTA has prompted the Mexican government to look to Brazil and Argentina for alternatives sources of corn and other grain products. We have strong but unconfirmed evidence that Mexico is slated to purchase between 7 and 8 cargoes of corn from South America beginning in August and September. Given the political uncertainty, our customers have told us that rather than continue to future positions for grain purchase, a strategy key to mitigating price risk to purchase corn and co-products, they will resort to the more volatile and risky spot market. Those decisions have resulted in a 4% decline in corn exports (7 percent in terms of value) since the beginning of the year when compared to 2016. We expect further erosion if the shipments from South America materialize as we anticipate."
Mr. Gaibler added that, "[T]he U.S. grains sector has significantly benefited from more liberalized trade in the past 30 years, and the Council believes expanding access to export markets will continue to drive the success of American agriculture for years to come.
"In no case has this been more apparent than in our trade relationship with Canada and Mexico.  NAFTA has provided the trade underpinnings that has resulted in the most efficient and effective interregional grain and livestock value chain in the world."
Rep. Frank Lucas (R., Okla.) indicated yesterday that, "Mr. Gaibler, it's my understanding, and I think it's been reflected in comments here, that as we approach potential NAFTA renegotiations, Mexican buyers are shifting to short-term contracts and looking at sources perhaps for grain outside of North America. That's the way I'll word that. And this is just based on the potential for change in NAFTA.
"Could you discuss for a moment what the impact would be if this renegotiation turns out to be an extended process, what the effect could be on your folks, and for that matter, agriculture in general? I guess I'm looking for justification to move quickly, whatever we do."
Mr. Gaibler responded by noting that, "Well, as I said and is written in my testimony, we haven't even gotten to the negotiation and we've got a 7% decline in our sales since the beginning of the year," and added that, "And if we're not getting this thing, this negotiation done by the end of the year, you know, we anticipate that this erosion will continue. And all of us who are in the international export business know that once you lose market share, even with your best customers, it is very difficult to recover it."
Also on the issue of timeliness, former Secretary of Agriculture Tom Vilsack, who is now the CEO of the U.S. Dairy Export Council, stated to Rep. Lucas that, "Look, we have to fix what's broken in Canada. This is a market that is far too closed. It is not transparent. The rules are constantly changing and there are some serious issues that have to be dealt with in these negotiations.
"And to your point, they need to be dealt with immediately. This is not a situation where we can have an extended conversation about changes because we are facing competition with the EU and their efforts to get free trade agreements with Mexico and the one that was recently done with Japan.
So it's incredibly important that we get this done quickly and we get it done right. And to get it done right, we have to preserve what's working, we have to strengthen what can be strengthened, and we have to fix what's broken.
Rep. Alma Adams (D., N.C.) noted at yesterday's hearing that, "Let me ask, then, [Kevin Brosch, who appeared before the Committee on behalf of the National Chicken Council, National Turkey Federeation and USA Poultry & Egg Export Council], according to the Wall Street Journal, friction between the U.S. and Mexico over trade is starting to cut into the sales for U.S. farmers and agricultural companies. The past four months Mexican imports, chicken, meat, fell 11%, the biggest decline for the period since 2003. Do you have faith that the Trump administration will be able to renegotiate NAFTA without causing irreparable harm to our agriculture trading relationships?
Mr. Brosch indicated that, "Congresswoman, we had somewhat the same experience that these gentlemen have talked about. When the President announced he wanted to renegotiate NAFTA, we suddenly had a number of buyers who were looking to differentiate their supply. Traditionally, I think, I've been told by the folks I've dealt with in Mexico that they sort of looked at us as their big brother, their sort of pushy big brother, but their big brother. And I've been also told that since that announcement they're not going to look at us the same way ever again.
"But they're looking at Brazil. They're looking at other sources of supply.
And unless we move quickly, as Secretary Vilsack suggested, to close this…get this negotiation closed and get this improved and get it back on the books, we're going to have uncertainly in Mexico, and we're going to have people looking at other possible suppliers even for the things we're most competitive for.
At the conclusion of yesterday's hearing, Chairman Conaway reiterated the importance of timeliness in the renegotiation process, and also touched on bilateral trade issues, stating that:
"I had a conversation with [Secretary of Commerce Wilbur Ross] before Trade Rep. Lighthizer came in. I asked him pointblank if the deals that were negotiated on the TPP [Trans Pacific Partnership] with respect to those countries, if we could consider that the floor of any bilateral deals that we do with each of those countries from ag's perspective, and that floor then—he said yes, it would be the floor, that negotiations from there would be better than that. And I know our production agriculture folks are excited.
"We've talked mostly this morning about NAFTA, but the administration needs to be going after not only the NAFTA renegotiation, but as well as all of those other bilateral deals that created the opportunity for when the administration walked away from TPP. But we do have a floor there. As Mr. Brosch mentioned, bilateral deals are hard because you don't have trades you can make with other folks and a better deal, so looking forward to getting that done.
Time is of the essence. You've heard the comments over and over about the impact, the anxiety over this deal being renegotiated, which is an appropriate thing to do, how that anxiety is affecting our trading partners and potential trading partners.
"So encourage the administration to push forward not only on NAFTA on an expedited time frame, but as well these bilateral deals because China's benefiting, U.K. is benefiting, EU is benefiting from our lack of a deal, our lack of being in the markets fulsomely."
House Ag Committee Hearing- Dairy
In a question to Mr. Vilsack, Rep. Bob Gibbs (R., Ohio) indicated that, "I'm not that familiar how their [Canada] quota system works up there, how their supply management system works, but is it possible for dairy producers in Canada to exceed their quota and then move that milk to the United States to the processing plants that they own in the United States?"
Mr. Vilsack stated that, "Let me give you an example of the Canadian system so that you have a better understanding. This Class 7, which we've raised concerns about, essentially what they've done is they've essentially allowed processors to pay about 15% less than what they would normally pay for a U.S. product to go into their processing, and that has created, as a result of a significant increase in butter consumption, has created a lot of powder. So they put the powder basically on the world market at a below world market price, which drives the price down for everyone.
"That also would impact Canadian farmers, but they've allowed for adjustments on the other classifications of milk products and dairy products so Canadian farmers basically break even in this system, processors benefit from cheaper supply, and powder is dumped on the market. And essentially what that has done is it's created havoc for our producers, and for that matter, for producers in New Zealand and the EU.
"So it's the ability of the Canadian government to essentially manipulate this system whenever there appears to be the need or the U.S. is making inroads, they manipulate the system. And that's the problem. And it guarantees a price for Canadian producers that's significantly greater than what they would get at a market, and the consumers end up paying for it in Canada."