After Pressure from Senators, Iowa Governor- Trump Administration Signals RFS Support
In late September, the Environmental Protection Agency (EPA) released a proposal to reduce the volume requirements for biodiesel for 2018 and 2019 under the Renewable Fuel Standard (RFS).  However, on Thursday, in a letter to several senators, the EPA Administrator committed to at least maintain current blending requirements.  Today's update provides a brief timeline of some of the reaction by lawmakers, including Senator Chuck Grassley (R., Iowa), that transpired between the EPA proposal in September, to Thursday's letter from EPA.
On September 26th, Sen. Chuck Grassley delivered a speech on the Senate floor (video replay below) in which he noted that, "I was somewhat cautious early on when the President named a few members of his cabinet who were from oil-producing states.  So, along with a number of my Senate colleagues, I held a meeting in my office with the nominees for EPA and the Department of Energy, among others.
"We expressed our support for biofuels and renewable energy, and the benefit of strong biofuels policies.  One by one they assured us of their support, because they were made well-aware of President Trump's support."
Sen. Grassley noted that, "So, you can imagine my surprise today when I see that the EPA has released a proposal, out of the blue, to reduce the volume requirements for biodiesel for 2018 and 2019 under the Renewable Fuel Standard."
And, Sen. Grassley added that,
I plan to press the Administration to drop this terrible plan.  I hope the officials working for the President will keep his word, so I'll make sure the EPA hears loud and clear the impact the EPA's proposal will have on Iowa's corn and soybean farmers, and biofuel producers.
The next day, a news release from Sen. Joni Ernst (R., Iowa) indicated that she "sent a letter to President Donald J. Trump expressing her concern over the Environmental Protection Agency's (EPA) move to potentially set biodiesel volumes in the RFS for 2018 and 2019 at substantially lower volumes, which could in turn, hurt Iowa farmers, manufacturers, and rural communities."
Trump promised 2b pro biofuels & pro rural America/Pruitt RFS proposal =anti biofuels &anti rural America / EPA not doing what @POTUS said

— ChuckGrassley (@ChuckGrassley) September 26, 2017
On October 5th, a news release from Senator Grassley stated that, "Sens. Amy Klobuchar (D-Minn.) and [Sen. Grassley], along with Sen. Joni Ernst (R-Iowa) and a bipartisan group of 35 other senators, sent a letter to Environmental Protection Agency (EPA) Administrator Scott Pruitt calling for a strong Renewable Fuel Standard (RFS) as the agency works toward finalizing its rule on biofuels volume requirements for 2018 under the RFS."
Then on October 16th, a news update from Sen. Ernst stated that, "[Sen. Ernst] joined Senators Heidi Heitkamp (D-ND), Roy Blunt (R-MO), Patty Murray (D-WA), and Chuck Grassley (R-IA) along with a bipartisan group of 28 other senators in urging the U.S. Environmental Protection Agency (EPA) to increase its proposed 2019 Renewable Volume Obligations (RVOs) for biodiesel to encourage growth in the industry and diversity in the nation's energy supply, and to abandon its effort to reduce biofuel production in 2018."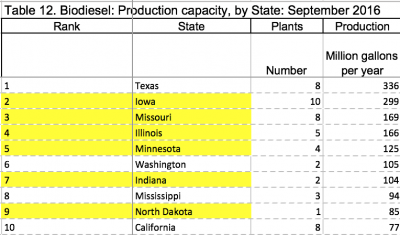 The following day, several farm state senators met with Administrator Pruitt in Senator Grassley's office.
Sen. Grassley indicated in a statement that, "It's Administrator Pruitt's duty to follow congressional intent and also make good on President Trump's pledge to support biofuels. I'll oppose any effort to reduce blending levels or undermine the integrity of the RFS. I'm watching this issue closely and plan to hold the Administration accountable."
Sen. Ernst, who was also at the meeting with Administrator Pruitt, noted that,
Our meeting today was another clear demonstration that biofuel-producing states will never stop fighting to protect the RFS.
Joseph Morton reported on the front page of Wednesday's Omaha World-Herald that, "The head of the Environmental Protection Agency sought Tuesday to calm Midwestern senators who could block his nominees if the agency sets renewable fuel mandates too low.
"All four GOP senators from Iowa and Nebraska attended Tuesday's face-to-face meeting with EPA Administrator Scott Pruitt in the Capitol Hill office of Sen. Chuck Grassley, R-Iowa."
The article stated that, "Just hours before the meeting, Grassley bluntly answered a reporter's question about what leverage the group would have if the agency fails to listen.
"'Hold up EPA nominees,' Grassley said. 'I think there's plenty of senators would do that.'"
Meanwhile, an article on Wednesday at The Des Moines Register Online by Brianne Pfannenstiel stated that, "Iowa Gov. Kim Reynolds said Wednesday she had a 'very constructive' phone call with President Donald Trump about preserving a federal mandate that requires ethanol and biodiesel to be blended into the nation's fuel supply.
'He made it clear that he stood with the Renewable Fuel Standard,' Reynolds said at a press conference in Pella."
The Register article explained that, "Reynolds spoke with Trump and Pruitt by phone Wednesday, and Iowa senators Chuck Grassley and Joni Ernst, both Republicans, also have lobbied the president."
Also on Wednesday, Bloomberg writers Jennifer A Dlouhy, Jennifer Jacobs, and Ari Natter reported more directly that, "President Donald Trump intervened personally with the Environmental Protection Agency amid pressure from Republicans in the politically important state of Iowa who worried the agency was poised to weaken biofuel quotas, three people familiar with the discussions said.
"Trump directed EPA Administrator Scott Pruitt to back off any changes that would dilute a federal mandate for biofuel use, the people said.  A top EPA official said Trump's urging was unnecessary because Pruitt wasn't planning on weakening the mandate.
"Nevertheless, the agency was told by the White House to drop two changes that were under consideration: a possible reduction in biodiesel requirements and a proposal to allow exported renewable fuel to count toward domestic quotas, said the people, who asked not to be identified because they were not authorized to speak publicly about the move."
And on Thursday, Donnelle Eller and Jason Noble reported at The Des Moines Register Online that, "Iowa's congressional leaders received reassuring news Thursday night that the federal government wouldn't cut the amount of biofuels that must be blended in the nation's fuel supply.
"Environmental Protection Agency Administrator Scott Pruitt sent a letter to Iowa Sens. Chuck Grassley, Joni Ernst and other Midwestern lawmakers on Thursday committing to at least maintain current blending requirements.
Ernst described the contents of the letter and declared victory in a conference call with Iowa reporters on Friday, saying the letter represents a 'clear win for Iowans.'
Good news for Iowa &country Thx 2 @realDonaldTrump 4making sure EPA supports biofuels & RFS. I wont stop fighting for rule of law & biofuels

— ChuckGrassley (@ChuckGrassley) October 20, 2017
Joseph Morton reported on the front page of Saturday's Omaha World-Herald that, "Iowa and Nebraska politicians on Friday hailed as a triumph Environmental Protection Agency Administrator Scott Pruitt's embrace of policies favorable to domestic production of ethanol and other renewable fuels."
Mr. Morton added that, "As a member of the Environment and Public Works Committee, Ernst had blocked a key EPA nominee over concerns about the agency's approach to renewable fuels.
"Late Thursday, Pruitt sent a letter making a laundry list of commitments to support renewable fuels. Now Ernst says she will support advancing the nomination as early as next week."
Saturday's article also pointed out that, "The letter was a striking demonstration of the political muscle flexed by Iowa and other Midwestern grain states."