Rural Economy: Farm Income, Manufacturing- Both Important Variables
Farm Earnings
The Bureau of Economic Analysis (BEA) indicated in a news release last week that, "State personal income grew 0.7 percent on average in the second quarter of 2017, after increasing 1.4 percent in the first quarter, according to estimates released [Tuesday] by [BEA]."
However, the release added that, "Farm earnings declined for the nation and in every state in the second quarter and was the leading contributor to slow earnings growth in many states."
The BEA update added that,
In Nebraska, Iowa and North Dakota, the decline in farm earnings reduced earnings growth by half a percentage point or more. The slow growth in farm earnings reflects lower prices for grains and other crops.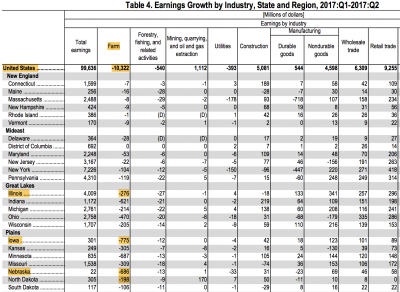 Associated Press writer Grant Schulte reported earlier this week that, "A stagnant farm economy that has slowed Nebraska and Iowa's income growth to the lowest levels in the nation is also contributing to state budget problems that could linger through next year, officials said.
"Key lawmakers from both states said they're concerned the agricultural downturn will persist, ripping through other sectors and putting additional strain on their budgets."
The AP article explained that, "Nebraska and Iowa posted the slowest income growth in the second quarter of 2017, according to the bureau report released last week. Incomes increased by just 0.1 percent in both states, compared to a 0.7 percent average nationally."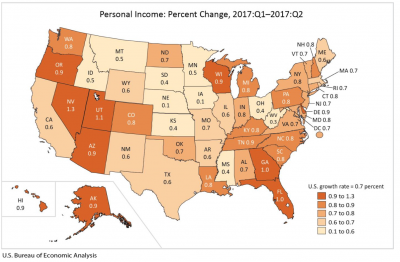 Mr. Schulte added that, "Farm incomes have fallen because of a glut of corn and soybeans that lowered commodity prices. Agriculture is the largest industry in both states."
And the AP article indicated that,
'I don't see any reason to expect a rapid recovery,' said Iowa State University economist Alejandro Plastina, who specializes in agricultural economics. 'There's strong demand for corn and soybeans, but worldwide there's so just so much in stock that it keeps prices subdued.'
Manufacturing
Meanwhile, an Associated Press article that appeared in Tuesday's Omaha World-Herald stated that, "U.S. factory activity rose to the highest level in 13 years last month as hurricanes disrupted supplies but drove up demand for manufactured goods.
"The Institute for Supply Management, a trade group of purchasing managers, said Monday that its manufacturing index rose to 60.8 from 50.8 in August, the highest reading since May 2004. Anything above 50 signals that manufacturers are growing, and the ISM survey shows they've been on a 13 month winning streak."
With respect to the importance of manufacturing in the rural U.S. economic outlook, a recent Amber Waves article from the USDA's Economic Research Service explained that, "Manufacturing provides a higher share of total jobs and total earnings in rural America than other sectors commonly associated with rural places: production agriculture and mining. In rural America in 2015, manufacturing jobs totaled 2.5 million, while farm jobs stood at 1.4 million and mining jobs (including oil and gas extraction) stood at 0.5 million.
Rural earnings in 2015 included $158.1 million from manufacturing, $45.4 million from farming, and $37.3 million from mining.
The Amber Waves article did note that, "These rural totals mask variation across different areas; in some rural areas, manufacturing employment is dwarfed by farm employment or has become relatively less important as mining employment has grown."
The ERS article added that, "Rural manufacturing is no longer the driver of job growth that it once was: 71 percent of U.S. counties experienced a decline in manufacturing employment between 2001 and 2015. Counties with the largest relative declines were concentrated in the Eastern United States, the traditional hub of U.S. manufacturing."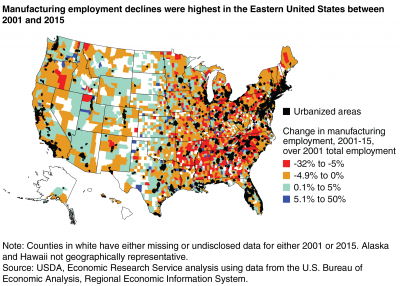 In addition, the Associated Press reported yesterday that, "A monthly survey of business leaders released Monday suggests that economic conditions are still improving for nine states in the Midwest or Plains [Arkansas, Iowa, Kansas, Minnesota, Missouri, Nebraska, North Dakota, Oklahoma and South Dakota].
"The Mid-America Business Conditions Index rose to 58.2 in September, from 57.5 in August, the report said. The July figure was 56.1.
'The overall index over the past several months indicates a healthy regional manufacturing economy' and points to solid growth for manufacturing and nonmanufacturing for the rest of the year, said Creighton University economist Ernie Goss, who oversees the survey.
Although various sectors of the rural economy interact and impact each other, as the Farm Bill debate continues, references to the "rural" economy may not alway be synonymous with the "farm" economy; nuances between the two exist and manufacturing can be an important variable impacting many non-metro regions.