USDA-FAS Report: China and Biofuels
A recent GAIN (Global Agricultural Information Network) report by USDA's Foreign Agricultural Service (FAS) took a closer look at important variables regarding biofuels and China.  Today's update includes some highlights from the report, which is available in its entirety here, "China- Biofuels Annual, 'Growing Interest for Ethanol Brightens Prospects.'"
China Fuel Use
The FAS report noted that, "China is the world's top crude oil importer and consumer. However, growth for crude oil demand has moderated due to increasing use of public transportation, fuel efficient cars, and electric vehicles. Future prospects for transportation fuel demand depend on the adoption rate for new energy vehicles, advanced fuel vehicles, and macroeconomic factors."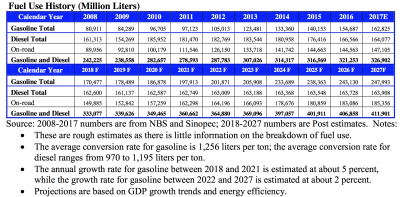 The report added that, "Over the past few decades, a growing middle-class has propelled China to become the world's largest automobile market. The national fleet for passenger vehicles continues to expand, while the national fleet for heavy trucks remains relatively stable. NBS [National Bureau of Statistics] indicated that in 2016 the national civilian vehicle fleet reached 194.4 million (including 8.8 million tri-wheel vehicles and low-speed trucks), up 12.8 percent from 2015. Among these vehicles, privately-owned passenger vehicles accounted for 165.6 million vehicles, up 15.0 percent from 2015. For 2017, vehicle sales are estimated to grow 9.0 percent from 2016 on a jump in consumer demand."
Ethanol
The GAIN update stated that,
China is the world's fourth largest ethanol producer and consumer after the United States, Brazil, and the European Union.
"Total ethanol production (potable beverage, fuel, and other industrial chemicals) for 2018 is forecast at 22,577 million liters, up about 10 percent from 2017."
"2018 fuel ethanol production is forecast at 3,950 million liters, up modestly from the 2017 estimate. Industry sources noted that if the current low petroleum prices continue, there is very little incentive to use ethanol blended gasoline.  Major feed stocks are corn (70 percent), cassava (25 percent) and molasses from either cane or beet sugar (5 percent)."
Regarding trade issues, the FAS report pointed out that, "For 2018 total ethanol imports are forecast at 5 million liters…Of that, fuel ethanol imports are forecast below one million liters on expectations that the high tariff will curb import demand. For 2017, ethanol imports are estimated at 5 million liters based on the imported volume for the first six months. Fuel ethanol imports are expected to amount to less than one million liters reflecting the slow pace during the first 6 months.
"Effective January 2017, the import duty for U.S. denatured ethanol (HS: 220710) was increased to 30 percent from the previous rate of 5 percent."
While addressing exports, the GAIN update noted that, "For 2018, ethanol exports are forecast at 150 million liters on expectations of continued government efforts to promote corn processing and lower inventories…For 2017, ethanol export estimates are at a record 150 million liters with strong sales to Saudi Arabia and North Korea during the first six months. Traders report that the reintroduction of the export rebate last year and subsidies to processors revived foreign sales. Fuel ethanol exports, however, are expected to remain small."
Meanwhile, a recent report from USDA's Economic Research Service explained that, "Chinese domestic policy dictates that fuel ethanol consumption be met almost entirely by domestic production, even though imported ethanol is significantly less expensive than domestic. With ethanol consumption growing by an average rate of 7 percent over the last decade, consumption was estimated to reach a record 1 billion gallons in 2016. Corn is the main ethanol feedstock (72 percent); wheat, cassava, corn cobs, and sorghum stalks are also used. To encourage the use of nongrain feedstocks (and discourage the use of grain), China has eliminated direct subsidies for grain-based biofuels and introduced a $122/ton subsidy (based on 1 Chinese Yuan Renminbi (rmb) to $0.15 conversion) for cellulosic and a $114/ton subsidy for other nongrain-based ethanol. In 2016, China modified its corn support price program, which could lead to changes in corn use. That is, domestic production of corn could be less profitable, potentially lowering domestic production. This could lead to large imports of corn, as well as DDGS."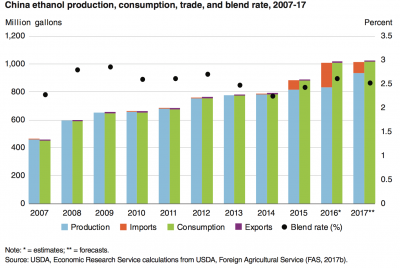 Biodiesel
The FAS GAIN report also explained that, "The biodiesel industry remains in its early stages of development in China. 2018 production is forecast at 500 million liters, same as a year ago with limited government support and stagnant capital investment. While imports are expected to remain small, exports are projected to grow. Consumption is expected to be small."