NAFTA Talks Moving "Slowly," President Floats TPP Consideration
Financial Times writer Shawn Donnan reported on Monday that, "Talks to renegotiate the North American Free Trade Agreement are moving too slowly, Donald Trump's trade tsar complained on Monday as he rejected a Canadian proposal to rethink the rules governing the auto trade on the continent."
Mr. Donnan explained that, "But [Robert Lighthizer, the US trade representative] and his counterparts also said that they saw signs of progress in a sixth round of talks that wrapped up in Montreal on Monday."
Moreover, the top US trade negotiator said that Mr Trump remained committed to talks that will now shift to Mexico City at the end of February despite the president's past threats to withdraw from the pact.
Also on Monday, Wall Street Journal writers Paul Vieira and William Mauldin quoted Ambassador Lighthizer as saying, "Some real headway was made here today.  I am hopeful that progress will accelerate soon."
The Journal article added that, "The three countries are under some time pressure. Some U.S. lawmakers are worried that disagreements over Nafta or other trade issues could affect their 2018 election campaigns. Extending the talks past late March, the latest official deadline, could also lead to political problems in Mexico, which holds presidential and congressional elections July 1."
A separate Financial Times article by Shawn Donnan on Sunday pointed out that, "Agricultural groups are also expressing frustration about the pace of talks and the ongoing uncertainty, which is already causing Mexican buyers, in particular, to look for other sources of commodities such as pork and soya beans.
"'This is not about politics,' said Brian Kuehl, executive director of the pro-Nafta coalition Farmers for Free Trade. 'This is about products and it's about sales and it's about markets.'"
Following our #NAFTA meetings in #Montreal, there is optimism about the path forward. We can't take anything for granted until we get these negotiations across the finish line. I'll keep sharing #Nebraska's priorities as this process continues. https://t.co/hb1zr89gG4

— Rep. Adrian Smith (@RepAdrianSmith) January 29, 2018
And Washington Post writer David J. Lynch reported on Sunday that, "Trump's threats to withdraw from NAFTA have prompted Mexico and Canada to look for alternative suppliers for products they buy from U.S. companies. Mexico has accelerated imports of corn from Brazil in a move some in the United States see as a warning of what would happen if the deal collapses.
"'U.S. farmers are marketing their products in an uncertain climate,' said Darci Vetter, former chief U.S. agriculture negotiator and now a consultant to the farm industry group. 'There is a cost to taking a long time to get there.'"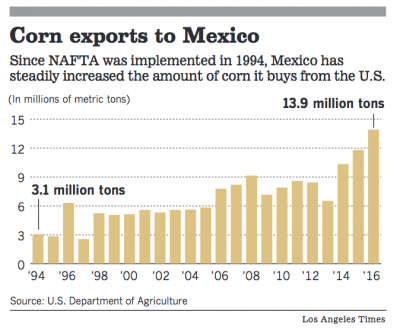 More specifically regarding NAFTA and agricultural issues, Reuters writers P.J. Huffstutter and David Ljunggren reported on Sunday that, "Trade flows have already begun to shift.
The United States remains the dominant grain supplier to Mexico. Yet Mexico imported 583,000 metric tonnes of corn from Brazil in 2017, a 980 percent jump from the previous year, according to Mexican government trade data.
"Mexican imports of U.S. soybean meal, used to feed chickens and livestock, fell 29 percent in the first 11 months of 2017, compared with the same period the previous year, according to the U.S. Department of Agriculture."
The Reuters article stated that, "A rare 30,000-tonne shipment of Brazilian corn steamed its way in November to grain terminals in the state of Veracruz, Mexico, operated by agribusiness heavyweights Cargill Inc and Archer Daniels Midland Co.
"Despite a steep decline in U.S. corn prices, with stocks sitting at a historic high, the buyer paid a premium for the Brazilian grain – as much as $2 more per tonne, according to trade sources."
Huffstutter and Ljunggren also pointed out that, "Canada last week agreed to join the new version of the Trans-Pacific Partnership [TPP], part of a broad effort to court new trade partners…The revised TPP, known as the Comprehensive and Progressive Agreement for Trans-Pacific Partnership, will reduce tariffs on Canadian pork, beef and wheat to Japan and other markets, in some cases eliminating duties altogether."
Meanwhile, in perspective on NAFTA from the U.S. Department of Agriculture, Politico writers Catherine Boudreau and Helena Bottemiller Evich noted on Friday that, "When over 20 percent of every dollar depends on foreign sales in pork, poultry, our grains and other things, we're very mindful of that," [Sec. of Agriculture Sonny Perdue] assured a nervous pork producer during a meeting at a local USDA office [in Gettysburg, Pa.] 'I think we're seeing some good news in NAFTA negotiations. I think Canada and Mexico have figured out the president's serious about that. While it's created some anxiety in the ag community and to USDA, to some degree, I think ultimately, we'll get a good deal done there.'"
Trans-Pacific Partnership (TPP)
The Journal article stated that, "Mr. Trump's comments came three days after the remaining TPP countries reached an agreement in Tokyo to refashion and relaunch the trade pact without the U.S. The pact includes some of America's largest trading partners, such as Japan, Canada, and Mexico, and some of the world's fastest-growing economies, such as Vietnam and Malaysia."
However, Mr. Schlesinger added that, "It isn't clear how serious the U.S. is about re-entering TPP negotiations, whether it would be willing to do so with all 11 members of the pact or some different coalition, and what demands the U.S. might make for joining. Diplomats from some of the TPP countries said that they weren't aware of any overtures from the Trump administration about joining the bloc and that the president's remarks seemed to have come out of the blue."