House Ag Committee Hearing with Sec. Perdue: Trade Issues
Secretary of Agriculture Sonny Perdue testified before the House Agriculture Committee on Tuesday morning  at a hearing on the "State of the Rural Economy."  Recall that back in May, shortly after his confirmation, Sec. Perdue also provided lawmakers on the Committee with an update on rural economic issues.  Trade issues with China and the ongoing renegotiation of the North American Free Trade Agreement (NAFTA) were among the key concerns that emerged on Tuesday.
Trade Background: China- Sorghum
The Wall Street Journal reported on Sunday that, "China's Commerce Ministry said Sunday that it initiated an anti-dumping and anti-subsidy investigation after preliminarily finding that heavy volumes and low prices of American exports of sorghum, bolstered by U.S. government subsidies, hurt Chinese growers.
"In announcing the action, the Commerce Ministry didn't mention the Trump administration's recent ruling to place tariffs on imports of Chinese solar panels. Chinese officials have told representatives of U.S. businesses that Beijing is preparing tit-for-tat measures to retaliate if trade is affected by President Donald Trump's 'America First' agenda."
The Journal article noted that, "U.S. agricultural goods are a likely target on Beijing's list since farm states are seen as part of Mr. Trump's political base, according to U.S. officials and business executives. China has emerged as a prime market for American sorghum, with growers exporting more than 27 million tons since 2013, according to National Sorghum Producers."
In its December Feed Outlook report, USDA's Economic Research Service noted that, "Prospects for higher U.S. sorghum shipments have drawn sorghum away from ethanol mills and onto ships bound for China. Total projected 2017/18 sorghum exports are raised 50 million bushels."
The report added that, "Large sorghum purchases by China have sharply increased total U.S. export commitments, driving a 50-million- bushel increase in projected exports to 260 million bushels."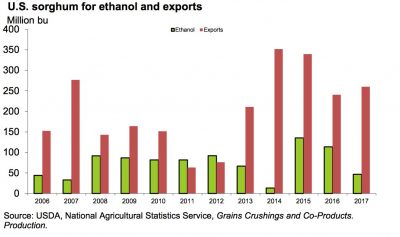 Potential trade retaliation against American soybean and pork exports have also been discussed in recent news articles.
Trade Discussions at Hearing
During his opening remarks on Tuesday, Sec. Perdue pointed out that, "For those of you in grain sorghum country, we know just with the mention of China considering anti dumping and countervailing duty taxes, the cash price on sorghum dropped over a dollar, which was 25%, just yesterday on the cash prices. So we see how fragile we are from a trade perspective, how dependent our ag economy is on trade, and as well as the labor issue."
Discussing the state of the rural economy before #HouseAg. The farm economy has its challenges, but farmers are resilient and will persevere. @USDA stands ready to offer whatever counsel Congress may request or require as they write the new #FarmBill. pic.twitter.com/1aHfZ7jwFV

— Sec. Sonny Perdue (@SecretarySonny) February 6, 2018
During the discussion portion of Tuesday's meeting, Committee Chairman Mike Conaway (R., Tex.) stated that, "One of the things I tell folks is that we've got a President who is defending America's trade policies, which means, you know, going after folks who are violating. And China's got a lot of issues going on, and they've recently, I guess, over the weekend, announced that they're going to go after our sorghum producers, sorghum here in the United States. We had had a tremendous run-up in sorghum exports to China over the last three years. Can you visit with us a little bit of what the agency can do in the interim, while this is being played out, for our sorghum producers?"
In a broad based response, Sec. Perdue indicated that,
Well, obviously the trade environment has created a lot of anxiety over the last year. I believe that our President is absolutely convinced that we can do better.
"But generally we believe that NAFTA, for instance, has been helpful to agriculture in most sectors. But as I look at some of the provisions and some of Canada's policies regarding the prohibitions against U.S. products then I think we can do better. And I think the…Mexico and Canada are coming to that conclusion.
"You mentioned China specifically. And we know that in world trade China has a policy of dominance in many sectors. The good part about it is American producers are so productive we've got to have good trade policies. And I think the administration, Ambassador Lighthizer is working toward policies that will right those. We cannot be responsible for China's reaction. Obviously the administration knows that we've got to be prepared for that. And we've advocated on behalf of the ag economy to be prepared for any kind of situation that may arise on actions they may take."
Sec. Perdue added that, "We think the sorghum issue will mollify over a period of time. It just shows you, is an example how fragile and how sensitive the ag economy and commodity prices are now to trade disruptions. And we need to be very careful as we take actions there. No one is saying that we should not, again, take actions over bad actions from China and others regarding intellectual property theft, other types of dumping there.
We just need to be very careful how we handle the ag economy because as you know, agriculture typically is the point of the spear of retaliatory measures, and we see even the conversation of considering countervailing duties, what that can do to a market like sorghum.
"So I think everyone in the administration is aware of that, and we are discussing that frankly on a weekly basis."
NAFTA, Trans-Pacific Partnership (TPP)
More specifically with respect to NAFTA, Rep. Jim Costa (D., Calif.) stated during his discussion with Sec. Perdue, "Let me segue over to trade.  You've been a voice of reason. It's been difficult for many of us to follow what direction the President is pursuing with regards to whether it's TPP or NAFTA. Thirty percent of California's milk goes to Mexico. Mexico and Canada are our second and third largest agricultural trading partners. Where are we, your quick assessment, on NAFTA at this point in time?"
Sec. Perdue explained that, "You know, NAFTA negotiation is a little bit like congressional bills. It doesn't ever happen until the end. But the good news is I'm more hopeful than I have been. I think probably we see more movement on Mexico's side than we do Canada. I believe, frankly, we'll get a better deal from both of them and preserve the benefits for all three countries."
Rep. Costa followed up by asking, "Before the end of this year?"
Sec. Perdue responded, "Yes, sir. I think, again, we've got the Mexican elections coming up. We've got one more round here, which I believe will be, in my opinion will be extended, but I think again, we get the Mexican politics out of the way, I think we'll have a deal before the end of the year."
On the topic of the TPP, Rep. Roger Marshall (R., Kans.) stated at the hearing, "The biggest problem in Kansas is the price of wheat, the price of sorghum, the price of corn, the price of milk, the price of beef and the price of pork.
"And you've addressed NAFTA already. Please take the rest of my time and address what you're seeing the future looks like in Japan."
Sec. Perdue noted that, "You may have heard, and I was very encouraged to hear our President at Davos talk about a potential interest in rejoining TPP. As we know, the TPP 11 have moved forward. But when we talked to Japan, when we looked at the other countries involved in TPP, I think they were very regretful that the United States was not part of that. And I'm going to take the President at his word. Again, he's a tough negotiator. He's American and he believes in America. But I think, again, we understand how vital trade is to our ag economy, not just in Kansas, but virtually everywhere else.
"But the wheat has not fared that well. We were on a good roll with sorghum. I never thought I'd see sorghum at a premium to corn. And that's why the hit took place with China, even announcement, there was disheartening in that regard."
During his reply to Rep. Marshall, Sec. Perdue also stated that, "NAFTA, as I indicated earlier, I'm hopeful that we can really close that out and have an improved NAFTA, a modernized NAFTA that's better for the American producers as well as we go forward. But our farmers need certainty. They're optimistic, they're resilient, they're courageous, but they need, like any business, they really deal in certainty."