House Ag Committee Passes Farm Bill on Partisan Vote
On Wednesday, the House Ag Committee passed the Agriculture and Nutrition Act of 2018 (H.R.2) on a partisan 26-20 vote.  Democrat Members of the Committee expressed frustration over the bill, while Committee Chairman Mike Conaway (R., Tex.) noted that, "I'm disappointed that my Democrat colleagues have turned their backs on America's heartland – that they've chosen partisan politics over the three years of bipartisan work in this committee. Democrats halted talks over their objection to requiring work-capable adults to either find employment or receive free training for 20 hours per week. Yet, despite this turn of events, I remain hopeful."
Committee Ranking Member Collin Peterson (D., Minn.) noted in his opening remarks that, "I told the Chairman in our first meeting in December that because of how Republican leadership handled SNAP amendments in 2013, my Democrats would not trust anything that appeared to be driven by ideology. He told me verbatim that he wouldn't jam me on SNAP, and yet here we are…either Chairman Conaway has chosen not to negotiate, or he was told by his leadership not to negotiate on one of the most significant parts of the farm bill."
Rep. Peterson added, "I didn't walk away. We didn't walk away. We were pushed away by an ideological fight I repeatedly warned the Chairman not to start."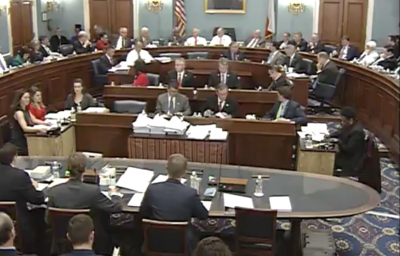 Rep. Cheri Bustos (D., Ill.) indicated at the markup that, "This bill does little to help Illinois producers. This bill cuts funding from rural development…make no mistake, this is a missed opportunity for rural America. Putting forth this hyper partisan bill is reckless, especially at a time when our family farmers are struggling. The agricultural economy is in a downturn, prices are low, and at a time like this farmers are even facing the possibility of tariffs and uncertainty around NAFTA…"
Rep. Bustos noted that,
As I travel around my congressional district, the number one ask that I receive from our farmers is to leave the existing crop insurance alone.
"Don't mess it up, they tell me. When all producers are facing tighter market conditions and a worsening farm economy, this bill seems to help some growers and not others. In a downturn we should not be limiting new risk management tools for producers."
.@HouseGOP's #FarmBill proposal seals their betrayal of rural communities & the seniors, veterans, individuals with disabilities & vulnerable communities who rely on supplemental nutritional assistance to put food on the table. https://t.co/pwUiweVIiN

— Nancy Pelosi (@NancyPelosi) April 12, 2018
During his opening remarks, Rep. Rodney Davis (R., Ill.) stated that, "Within H.R. 2 are provisions producers across the country need and which my producers have asked I support.
These provisions include tweaks to ARC and PLC to make programs work more seamlessly, investment in conservation programs, and the continuation of a crop insurance program which continues to save our country more than it would have under the old system of disaster declarations.
"This bill also makes common sense reforms to the nutrition title and SNAP that do not strip benefits from the hungry like some would have people believe, but instead continue to provide SNAP benefits for our most vulnerable, while substantially investing in those who are work capable."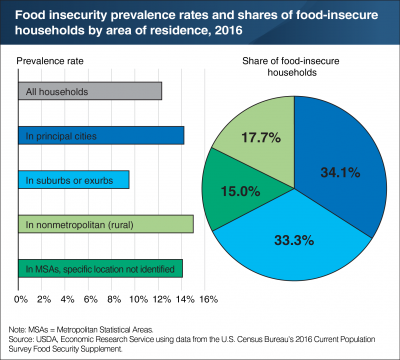 Rep. Davis explained, "In my home state of Illinois, 67% of all work capable adults receiving SNAP are not working, not because they don't want to, in most cases, because they don't have the adequate education and training that this bill is willing to provide them to actually fill the good paying jobs that they want and that they need, and that we already know are open."
The Associated Press reported on Wednesday that, "The legislation has traditionally been bipartisan, blending support from urban Democrats supporting nutrition programs with farm state lawmakers supporting farm programs.
"The measure mostly tinkers with those programs, adding provisions aimed at helping rural America obtain high-speed internet access, assist beginning farmers, and ease regulations on producers.
'When you step away from the social nutrition policy much of this is a refinement of the 2014 farm bill. So we're not reinventing the wheel. That makes it dramatically simpler,' said Rep. Frank Lucas, R-Okla., a former chairman of the committee. 'Most folks are generally satisfied with the fundamentals of the farm safety net.'
DTN Ag Policy Editor Chris Clayton reported on Wednesday that, "The bill does what most farm and commodity groups wanted over the past two years of hearings and forums by protecting crop insurance from cuts. The bill doesn't change eligibility for premium subsidies or place any restrictions on revenue policies."
Mr. Clayton noted that, "With trade being an emphasis right now, farm groups had called for doubling funding for the Market Access Program and the Foreign Market Development program — known as MAP and FMD. The bill doesn't add funding, but does restore full funding for the programs, which are considered key tools to help sell U.S. agricultural products overseas."
The DTN article added that, "The House bill would eliminate new signups under USDA's largest conservation program, the Conservation Stewardship Program. The contracts for the current 72 million acres in CSP would continue until they expire, but no new enrollment would be allowed. Instead, the bill would invest more in the Environmental Quality Incentives Program.
"The Conservation Reserve Program would increase by 5 million acres to 29 million acres, but would reduce rental rates to 80% of the current average county rental rate for ground. USDA would be required to more frequently update rental rates under CRP as well."
Rep. Ted Yoho (R., Fla.) pointed out that the Farm Bill is being drafted at a time of low farm incomes and when producers are "are having challenges accessing markets around the world."
More specifically, Rep. Marcia Fudge (D., Ohio) stated that, "The Conaway farm bill offers zero policy solutions for producers facing losses as a result of China's retaliatory tariffs."
A news release from Ranking Member Peterson on Wednesday explained that at the markup of the Farm Bill, he "addressed the threats facing American farmers following the Administration's actions on trade, and the need for certainty given a potentially significant drop in demand as a result of retaliatory tariffs from major export partners like China."
Rep. Peterson and Democrat Members of the Committee sent a letter to President Trump encouraging the President to "work with congressional leadership to increase Title 1 reference prices."
I don't think the lord is pleased with what we are doing today - @RepAdams

House Democrats called the proposed #FarmBill "Heartless" & "Deceitful". They say it reduces #SNAP benefits to millions. Supporters say the plan will get people working and off govt. assistance. pic.twitter.com/Z6w3aBQjGb

— Brie Jackson (@PositivelyBrie) April 18, 2018
Meanwhile, a news release Wednesday from Rep. Steve King (R., Iowa) stated that "his 'Protect Interstate Commerce Act' (PICA), H.R. 4879, has been included as a provision of H.R. 2, the 'Farm Bill.'"
The release added, "King's PICA legislation is designed to end unconstitutional efforts by some states to regulate the means of production of agricultural goods in other states. As one example, the State of California is attempting to prevent the sale of eggs that are raised in any state which does not adhere to California's burdensome regulations governing cage sizes. Such restrictions are an unconstitutional infringement on Congress's constitutional authority to regulate interstate commerce. King's legislation is necessary because without the protections PICA provides, producers from states that do not comply with the shifting regulatory whims of a state like California would lose access to important markets."
Washington Post writer Caitlin Dewey reported on Wednesday that, "The Farm Bill now moves to the House floor, where the acrimony is likely to continue. House Speaker Paul D. Ryan (R-Wis.) has championed the Republican food-stamp plan, which dovetails with his agenda to reform welfare programs.
"Democratic Leader Nancy Pelosi (D-Calif.), meanwhile, said on Wednesday that her party could not support what she called a 'radical, harmful bill.'"
Secretary of Agriculture Sonny Perdue stated on Wednesday, "As the bill heads to the floor, I hope the House recognizes the long-term certainty it provides for America's farmers, just as it preserves nutrition programs for people who need help feeding themselves and their families. USDA stands ready to provide technical assistance as the bill progresses in the House, and we look forward to working with our friends in the Senate as well."
And last week, Senate Ag Committee Chairman Pat Roberts (R., Kan.) and Ranking Member Debbie Stabenow (D., Mich.) indicated in a joint statement that, "We're working together as quickly as possible to produce a bipartisan bill that can pass the Senate and be enacted into law."
House Ag Committee Member Jim Costa (D., Calif.) indicated on Wednesday that, "The Senate is currently working on a bipartisan Farm Bill, and it is my hope and belief that eventually we will reach a bipartisan policy agreement that will pass in both chambers and the President will sign. This is how we should pass legislation that reauthorizes Americans' farm and food priorities to ensure they serve our communities, our economy, and our nation."