U.S.-China Ratchet Up Tariff Threats- Trump Instructs Perdue to Implement Plan to Protect Farmers
Today's update includes a brief explanation of recent trade tariff action taken by the U.S. and China.  The trade uncertainty unfolds as agricultural producers anticipate another year of stagnant farm income, and while robust production of corn and soybeans in recent years has made exports an important component of demand.  Overall, USDA has noted that agricultural exports account for 20 percent of U.S. farm income.  Meanwhile, President Trump has instructed Secretary of Agriculture Sonny Perdue to "implement a plan to protect our farmers and agricultural interests" as the trade tussle continues.
Background- Timeline of Actions and Proposals
Recall that on March 22nd, President Trump announced a plan to impose $50 billion worth of tariffs on Chinese imports.
On April 2nd, in response to steel and alumuimn tariffs imposed by the U.S. on March 8th, China imposed tariffs of up to 25 percent on U.S. imports- including pork and ethanol.
On April 3rd, the United States formally proposed tariffs on $50 billion of Chinese goods.
Then, on April 4th, China proposed $50 billion of tariffs on U.S. imports, including a proposed measure to levy retaliatory tariffs of 25 percent on agricultural products including: soybeans, corn and corn products, wheat, sorghum, cotton, beef and beef products.
On Friday, Financial Times writer Shawn Donnan reported that, "US President Donald Trump has ordered his administration to put together a plan for an additional $100bn in tariffs on imports from China, escalating a trade fight with Beijing that has unnerved financial markets around the world."
The FT article noted that, "'Rather than remedy its misconduct, China has chosen to harm our farmers and manufacturers,' Mr Trump said. 'In light of China's unfair retaliation, I have instructed the [US Trade Representative] to consider whether $100bn of additional tariffs would be appropriate . . . and, if so, to identify the products upon which to impose such tariffs.'
In another signal that Mr Trump was preparing for a long trade battle with Beijing, he said he had instructed his agriculture secretary to 'implement a plan to protect our farmers and agricultural interests' from Chinese retaliation.
Damian Paletta, Heather Long and Emily Rauhala reported on the front page of Saturday's Washington Post that, "The United States and China dug in for a protracted trade war Friday, with the Chinese government saying it would 'fight at any cost' President Trump's threat to slap new tariffs on $100 billion in Chinese goods.
"While the White House offered a slim hint Friday that it would be prepared to negotiate an end to the deepening standoff, Treasury Secretary Steven Mnuchin also acknowledged 'the potential of a trade war.'"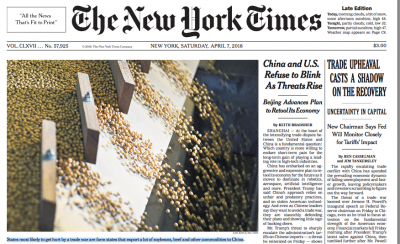 Agricultural Impacts
Donnelle Eller reported on the front page of Saturday's Des Moines Register that, "The 25 percent tariff on pork has already been put in place, costing Iowa, the nation's top pork producers, $400 million from declining prices, said Dermot Hayes, an Iowa State University agricultural economist."
Purdue University agricultural economist Chris Hurt noted last week in an update at the farmdoc daily blog ("Pork Tariffs Sour Industry Outlook"): "The 2018 outlook early this year was for modest profitability. Now, it has shifted to losses. The reasons are clear. Higher costs and lost exports as China has implemented a 25 percent tariff on U.S. pork that goes into effect today, April 2, 2018."
Bryce Gray reported on Wednesday at the St. Louis Post-Dispatch Online, "Illinois is the country's largest producer of soybeans and fourth-largest source of pork, according to the USDA. The latest agency numbers show that the state has the third-highest value of agricultural exports, totaling more than $8.3 billion in 2016.
"Ron Moore, a farmer in Roseville, Ill., and chairman of the American Soybean Association, is painfully aware of his own dependence on trade with China, and worries that the tariffs could be 'devastating' for his operation."
And, Washington Post writer Caitlin Dewey reported on Thursday, "Like most large-scale soybean farms in the United States, [fifth-generation Ohio farmer Bret Davis's] business relies heavily on foreign markets. China buys 60 percent of all U.S. soybean exports to feed a growing fleet of hogs, fish and chicken.
"The high demand has made soybeans a bright spot of profitability for farmers at a time when many other crop prices are down. But Trump's aggressive tariffs against Chinese goods, meant to protect U.S. intellectual property and manufacturing interests, have incited retaliatory actions that farmers say threaten their profits."
Ms. Dewey explained:
Long term, the prospects are even worse. Although soybean prices rallied Thursday morning, they were still down more than 20 cents. And even if prices stabilize, tariffs will erode farmers' Chinese market share, said Wallace Tyner, a Purdue University economist who has modeled the likely effect of the tariffs. Within three to five years, Tyner's model shows, Brazil and Argentina would replace the United States as China's main source of soybeans. That could force U.S. farmers to switch to less lucrative crops, such as corn or wheat.
Financial Times writers Patti Waldmeir and Tom Hancock reported on Friday that, "'I look out across my bean field, and I know that every third row goes to China,' says Bill Wykes, who farms in a slim slice of the Illinois soyabean belt an hour and a half from Chicago, the city that grain built."
The FT article added, "Bob Stewart, another Illinois farmer, puts this week's tariff announcement into perspective. 'My family settled here in the 1860s,' he says, 'this isn't going to put us out of business.' Although the family's farming operations 'probably lost $200,000' on Wednesday because of the tariff announcement, he is still planning to plant soyabeans in fields that would normally be rotated to corn this year — 'which is unheard of for us' — because of strong demand."
Politico writers Adam Behsudi, Catherine Boudreau, and Doug Palmer reported on Friday, "Brian Duncan, who raises hogs and cattle and grows row crops in Ogle County, Illinois, and is vice president of the state's Farm Bureau, told POLITICO that while he appreciates the president acknowledging that agricultural producers are going to take a hit, he is skeptical of the assistance being promised.
'We've spent decades trying to work ourselves away from government assistance,' Duncan said. 'Part of that has been the development of foreign markets.'
"He echoed [Iowa corn and soybean farmer Mark Recker's] concerns about losing markets that the U.S. has spent years developing due to all the trade uncertainty, saying that the effects of a tit-for-tat dispute could ripple across generations."
Potential USDA Assistance
Greg Kocher reported on Friday at the Lexington (Ky.) Herald-Leader Online that, "American farmers will not be 'the tip of the spear' in the escalating trade war between the United States and China, Agriculture Secretary Sonny Perdue said Friday in a visit to Kentucky.
"Asked what he would say to reassure farmers, Perdue said: 'I understand your anxiety. The president understands your anxiety. But he has committed personally to me and publicly to the farmers of America that he's not going to allow them to be held hostage in these trade disputes with China …He's not going to let farmers be the weapon or the tip of the spear there.'"
More comments from Sec. Perdue can be heard in this USDA radio clip from Friday (MP3- 1 minute).
However, farmdoc's Jonathan Coppess indicated last week that USDA's administrative latitude to take action in this situation might be limited (see video clip below).
Reuters news reported Thursday that, "The U.S. Department of Agriculture (USDA) is looking to find ways to shield farmers from the growing trade conflict between the United States and China, a department official said Thursday evening, without providing details of options under review.
"'There's a lot of different options out there' to protect farmers, said USDA Farm Production And Conservation Under Secretary Bill Northey, speaking to Reuters after a commodity conference in Kansas."
The article pointed out, "Northey says the USDA needs to 'see the reaction of what tariffs will be and what the reaction of markets are.'
"In terms of how the Trump Administration could shield farmers, Northey said there were no specific proposals yet, but 'there certainly are discussions.'"
On Friday, Reuters writer Tom Polansek reported that, "U.S. lawmakers and the farm industry were skeptical of the Trump administration's promise to shield farmers from the rapidly escalating trade dispute between the United States and China, concerned about the lack of details in protecting the U.S. agricultural export sector now embroiled in the back-and-forth."
I contacted @SecretarySonny to urge him to use every tool in the Farm Bill, including Commodity Credit Corp programs, to protect ag producers from effects resulting in potential trade actions against China. Farmers must know the Admin has their back & I urge them to act swiftly.

— Rep. Kevin Cramer (@RepKevinCramer) April 6, 2018
Mr. Polansek explained, "It is unclear what types of options exist to protect the sector, though expectations were that the omnibus farm bill, the U.S. government's main food and agricultural policy tool, could include crop insurance and potentially other subsidies that could address the concerns. That bill is up for renewal this year.
"'This is not a good situation. It just isn't,' said U.S. Senator Pat Roberts, a Kansas Republican who heads the Senate Agriculture Committee.
"However, no specific proposals for protecting farmers have been suggested, and farming industry representatives were leery of tariff relief."
And, an Omaha World-Herald article from Thursday stated, "Ted McKinney, undersecretary of agriculture for trade and foreign agricultural affairs, said he understands concerns about tariffs coming at a time when many farmers are struggling with low commodity prices. And he asked people for patience, saying U.S. Department of Agriculture officials are working to ensure that farmers will be protected in the escalating trade conflict with China.
"'I'm not talking about 20 years of patience, I'm just saying see how this goes and see what we can do,' he said."