Trade Worries Taint Farm Economy Outlook
A recent report from CoBank pointed out that trade worries are clouding the economic outlook for U.S. farmers and ranchers.  And, a recent report from Purdue University demonstrates that potential trade retaliation measures on U.S. soybeans by China could be costly.  Today's update looks briefly at these two reports, as well as other news articles that highlight ongoing trade issues in the farm sector.
China Trade Issues Cloud Outlook, Soybean Worries Linger
Last month, CoBank released its Quarterly U.S. Rural Economic Review, which noted in part, "Ongoing trade negotiations and potential trade disputes are the major concerns in the near term. U.S. tariffs on steel and aluminum may elicit responses from other countries and will certainly impact the ongoing NAFTA negotiations. Recently announced U.S. tariffs on Chinese imports triggered China to announce its own list of retaliatory tariffs which would largely affect U.S. agricultural goods.
"The completion of the 11 country Comprehensive and Progressive Agreement for Trans-Pacific Partnership (TPP) that does not include the U.S. or China could result in some erosion in U.S. export potential.
The current trade environment will likely result in many countries reexamining their trade policy strategies and attempting to diversify their supply chain arrangements.
The CoBank update added, "There is considerable risk that China's list of U.S. ag products on which levies will be applied could grow. China has hinted that it will 'keep its powder dry' which could put soybeans, corn, beef or other products at risk in the future."
The CoBank report also noted that, "Lackluster export demand has plagued U.S. soybean markets in 2018's first quarter."
And, trade data from USDA's Economic Research Service in March showed that the value of soybean exports through January for this fiscal year are down compared to last year.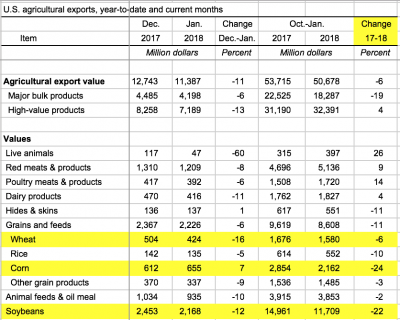 Last week, Financial Times writers Lucy Hornby and Gregory Meyer reported, "Retaliating against soyabean shipments would have a big impact on US farmers, many from states that voted for Mr Trump. But it would also involve significant pain for China which relies heavily on the US. More than one-third — 37 per cent last year — of the total soyabeans consumed in China are shipped from the US.
"'Soy is the last resort. You don't start with your biggest bullet,' said Ma Wenfang, an analyst at Beijing Orient Agribusiness Consultancy. 'If a true trade war were to erupt, they would roll out soy. That would really hurt the US.'"
With respect to how much soybean import restrictions by China could "hurt," a Purdue University news release on Wednesday stated, "Chinese soybean imports from the U.S. could drop by as much 71 percent if China were to impose trade restrictions on U.S. soybeans in response to U.S. tariffs on Chinese products, according to a study for the U.S. Soybean Export Council conducted by Purdue University agricultural economists Wally Tyner and Farzad Taheripour.
"Using an advanced version of the Global Trade Analysis Project (GTAP) model developed at Purdue, Taheripour and Tyner projected the outcome of several prospective scenarios in which the Chinese government were to adopt tariffs ranging from 10 to 30 percent on U.S soybeans. China is the world's largest soybean importer, buying 93 million metric tons of soybeans in 2016, mostly from Brazil, the U.S. and Argentina. Nearly two-thirds of all U.S. soybean exports – 62 percent – go to China."
Last week's release explained, "The analysis by Taheripour and Tyner produced a wide range of results under different assumptions of protection rates, model parameters, and product coverage.
Their best estimates of possible impacts of Chinses tariffs on soybean imports form U.S. show that if the Chinese were to adopt a 10 percent tariff on U.S. soybeans, U.S. exports to that country could fall by a third – 33 percent. Total U.S. soybean exports could decline by 18 percent, and total U.S. soybean production could drop by 8 percent, the study showed.
"In a scenario where China imposed a 30 percent tariff, Chinese imports of U.S. soybeans could drop by 71 percent, total U.S. soybean exports could fall by 40 percent, and total U.S. soybean production could decrease by 17 percent."
However, Bloomberg News reported on Thursday that, "U.S. Ambassador Terry Branstad warned China against retaliatory measures aimed at imports of American soybeans, as the world's two largest economies edged closer to a trade war.
"The former Iowa governor told Bloomberg Television on Thursday that any effort to curb U.S. soybean imports would harm regular Chinese citizens more than American growers. The crop provides a key source of protein, including as feed for hogs, for the country's growing middle class, Branstad said in an interview at the U.S. Embassy in Beijing.
"'It doesn't make sense and it would hurt the Chinese consumers,' Branstad said when asked about possible retaliation on soybeans. 'Ultimately, the Chinese will realize we need to work together on these issues and retaliation is not the answer, but instead collaboration and cooperation to address the issues that have been around for a long time.'"
China Trade- Pork
Associated Press writer Tom Beaumont reported on Saturday that, "In Sioux County, [Iowa] where swine barns interrupt the vast landscape of corn-stubbled fields, exports of meat, grain and machinery fuel the local economy. And there's a palpable sense of unease that new Chinese tariffs pushed by President Donald Trump — who received more than 80 percent of the vote here in 2016 — could threaten residents' livelihood.
"The grumbling hardly signals a looming leftward lurch in this dominantly Republican region in northwest Iowa. But after standing with Trump through the many trials of his first year, some Sioux County Trump voters say they would be willing to walk away from the president if the fallout from the tariffs causes a lasting downturn in the farm economy."
The AP article stated, "Sioux County seed dealer Dave Heying echoed a common refrain that any downturn in the farm economy would curb spending throughout the local economy, with direct impact on farm machinery dealers, mechanics and agricultural construction, among other businesses.
"'Protecting our U.S. industries is important, but my concern is, at what expense to the farmer?' Heying said of Trump's trade moves. 'It is too early to say whether or not I would support him. These types of decisions give you hesitation.'"
China Trade- Ethanol
Bloomberg News reported last week that, "China's purchases of ethanol from the U.S. climbed, with imports in coming months dependent on the Asian country's plan to impose extra import duties that could wipe out the margin that's seen buying surge this year.
"Imports of ethanol from U.S. totaled 189,035 cubic meters in February, the highest since May 2016, according to Chinese customs data. Purchases had slumped in 2017 after China imposed a 30 percent tariff on imports from the U.S."
The Bloomberg article indicated that, "China on [March 23rd] announced plans for reciprocal tariffs on $3 billion of imports from the U.S., including denatured ethanol, in response to President Donald Trump's levies on Chinese metal exports. Chinese companies have ordered more than 600,000 tons of ethanol from the U.S. for blending into gasoline in the first half of the year, according to the China Alcoholic Drinks Association, which oversees the fuel ethanol industry. China is expanding its ethanol mandate nationwide by 2020."