Pork, Ethanol Among Agricultural Products Targeted By China in Trade Conflict
Executive Branch Trade Action
Shawn Donnan reported on Thursday at The Financial Times Online that, "After 14 months in office Donald Trump is delivering on his campaign promise to crack down on what he has long labelled China's unfair trade practices by rolling out plans for new tariffs on up to $60bn in Chinese imports and other sanctions against Beijing.
"That has provoked fears of a trade war between the world's two largest economies, with China likely to retaliate against politically sensitive US exports such as soyabeans grown in farm states that swung behind Mr Trump in the 2016 election."
As a candidate, I pledged that if elected I would use every lawful tool to combat unfair trade, protect American workers, and defend our national security. Today, we took another critical step to fulfill that commitment. https://t.co/7NBI0Dibmx pic.twitter.com/nmzqos3BUA

— Donald J. Trump (@realDonaldTrump) March 22, 2018
Washington Post writer David J. Lynch explained on Thursday, "The president directed U.S. Trade Representative Robert E. Lighthizer to announce within 15 days a proposed list of products to be hit with tariff increases. After a public comment period, the final list, designed to target Chinese products that benefited from improper access to U.S. technology, will be made public."
Charles Clover, Lucy Hornby and James Kynge reported on Friday at The Financial Times Online that, "Beijing signalled its readiness to go toe-to-toe with US President Donald Trump's campaign of tariffs against China on Friday, proposing new levies on 128 American imports that heightened market fears of a looming trade war between the world's largest economies.
"China's response to Mr Trump bore the hallmarks of a carefully calibrated warning. Beijing said it was planning tariffs on about $3bn in imports, including a 15 per cent tariff on US steel pipes, fresh fruit and wine, and a 25 per cent tariff on pork and recycled aluminum.
But it also made it clear the measures were in retaliation for US steel and aluminium tariffs announced earlier this month and not the 25 per cent levy on up to $60bn of annual imports from China that Mr Trump unveiled on Thursday — raising the prospect of an even tougher response in the future.
Similarly, The Wall Street Journal explained on Friday, "Missing from Friday's list are big-ticket U.S. exports to China such as soybeans, sorghum and Boeing airplanes. The absence of those key goods showed that the Chinese government is leaving itself room to escalate—or negotiate."
Also Friday, the Associated Press reported, "From hog producers in Iowa and soybean growers in Nebraska, to apple growers in Washington state and winemakers in California, farmers expressed deep disappointment Friday over being put in the middle of a potential trade war with China by the president many of them helped elect."
Closer Look at Pork, Ethanol, Fruit and Wine Impacts
A news release from the National Pork Producers Council (NPPC) late last week stated that, "The [NPPC] warned that possible Chinese tariffs on U.S. pork could have a significant negative impact on rural America."
Last year, the U.S. pork industry exported $1.1 billion of product to China, making that country the No. 3 value market for U.S. pork.
Jim Monroe, the NPPC's Senior Director of Public Relations discussed the pork tariff issue in greater detail on the "Adams on Agriculture" radio program with Mike Adams on Friday.  A replay of their discussion is available here (MP3- 4:30).
In 2016, the United States was the second leading exporter of pork to the world market behind the European Union.
Meanwhile, China's demand for pork imports has increased the past several years.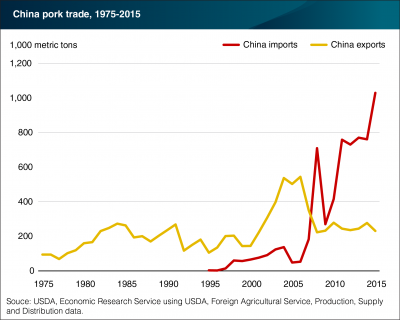 Despite this general increase in pork imports to China, more recently, pork imports have slowed.
And David Fickling noted recently at Bloomberg, "The restrictions will barely be noticed in China itself. There'll be a 25 percent levy on pork imports from the U.S., but that trade represented just 165,736 metric tons last year — about 13 percent of China's offshore pork intake, and 0.3 percent of consumption that runs to about 55 million tons a year."

Tariff impacts on China aside, the repercussions in the U.S. are certainly unwelcome to pork producers from many Midwestern states– areas that are crucial in presidential electoral politics.
Bloomberg's Toluse Olorunnipa noted on Friday, "In its initial counterstrike, China announced a 25 percent levy on U.S. pork imports — a heavy blow to Iowa, the top pork-producing state and a political battleground that swung to Trump in 2016 after going for Democrat Barack Obama in the previous two elections."
Donnelle Eller reported on the front page of Saturday's Des Moines Register, "Worries over a looming trade war have already hit Iowa pork producers' pocketbook to the tune of $240 million from falling prices, and the damage will likely grow, industry leaders say."
Ms. Eller explained that, "U.S. pork prices have already dropped about $6 per market-weight pig over the last couple of days as threats have grown…[and]…with the tariffs making U.S. pork less competitive, it would likely to push producers in Iowa and elsewhere to reduce their herds."
The Register article added that,
Ethanol producers, too, are on the Chinese tariff hit list.
"The country proposes increasing an existing 30 percent tariff on the fuel by an additional 15 percent.
"Iowa leads the nation in ethanol production, shipping out a record 4.2 billion gallons of the renewable fuel last year."
Kristen Leigh Painter, Jim Spencer and Tom Meersman reported on the front page of Saturday's Minneapolis Star Tribune, "But for Minnesota's 3,000 hog farmers, $717 million in annual revenue comes from exports, and China is their third-biggest customer after Mexico and Canada.
"'Anything that can potentially disrupt that can really be expensive for pork processors, for farmers, and ultimately for rural communities because that's where the money flows back,' said David Preisler, executive director of the Minnesota Pork Producers Association."
Saturday's article added, "Randy Spronk, a crop farmer and hog producer near Edgerton in southwestern Minnesota, said he worries that Chinese tariffs would make U.S. pork more expensive than meat available from competing countries such as Canada, Mexico, Spain, Germany and Denmark."
"For corn growers tied to ethanol production, China's retaliatory tariffs could lead to an oversupply of ethanol that could slow production and perhaps shut down some plants," the Star Tribune article said.
In addition, Wall Street Journal writers David Hodari and Lucy Craymer reported Friday, "The price of soybeans fell 1.7% to $10.12 a bushel—paring some heavier losses—and corn prices fell 1.5% to $3.71 a bushel, with both more than 3% down so far this week on the prospect of less demand from China.
"Though China's initial response to tariffs hasn't included soybeans, investors are concerned that if tensions escalate further they could extend to include oilseed, a key component in animal feed. China is by far the world's largest importer of soybeans and by far the largest buyer of U.S. beans."
In a related article, Reuters writers Hallie Gu and Josephine Mason reported Friday that,
Chinese buyers of soybeans, the United States' biggest agricultural export to the country, are quietly drawing up contingency plans to ensure supplies of critical raw materials in the event of a trade war, sources said.
Meanwhile, Geoffrey Mohan reported on the front page of the business section in Saturday's Los Angeles Times, "California's vintners and growers fumed Friday at the growing prospect that wine, nuts, fruit and other Golden State exports would become collateral damage in a trade battle between President Trump and China."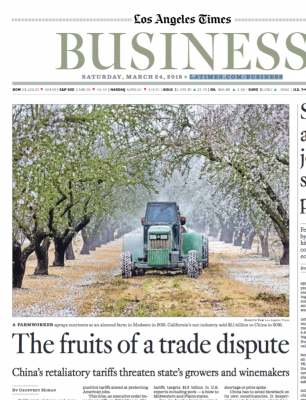 The article stated, "California's nut industry — almonds, walnuts and pistachios — sold $1.1 billion in 2016 to China, its third-largest foreign customer, according to the state Department of Food and Agriculture. China also bought more than $220 million in fresh citrus and table grapes from California that year, according to the department's data.
"The California wine industry, which has made big inroads to the Chinese market, sold about $197 million of its product there last year, according to the Wine Institute, a California advocacy organization. U.S. wine exports to China and Hong Kong (which often re-exports to the mainland) have more than quadrupled in the last decade and rose 10% last year, according to the institute.
"Each of those California sectors stands to lose momentum in a worldwide competition for a share of the rapidly expanding Chinese consumer market."
And with respect to the timing of the announced retaliation measures by China, Wall Street Journal writers Jesse Newman, Jacob Bunge, and Benjamin Parkin reported on Sunday, "China is the second-biggest customer for U.S. agricultural products after Canada, and its planned tariffs on pork, fruit, nuts and other goods are expected to worsen the U.S. farm economy's slump.
"Farm incomes this year are expected to slide to their lowest level since 2006, according to the U.S. Agriculture Department, prolonging a downturn that has pushed some farmers out of business and eroded profits for seed, chemical and equipment companies.
'This could not be happening at a worse time for American agriculture,' said Zippy Duvall, president of the American Farm Bureau Federation.
The Journal writers added, "Lean-hog future prices fell more than 4% on Friday on fears that the 25% tariff Chinese officials said they would impose on U.S. pork would sap demand in the third-largest market for American pork by value."
"U.S. pork producers, in particular, could suffer if access to Chinese consumers is curtailed. Hog farmers and meatpacking companies have expanded herds and built massive processing plants on expectations for higher pork exports," the Journal article said.