Trade Update: NAFTA, China
North American Free Trade Agreement- NAFTA
Anthony Harrup, Robbie Whelan and Paul Vieira reported on the front page of today's Wall Street Journal that, "President Donald Trump's plans to rewrite the North American Free Trade Agreement this year looked unattainable Tuesday after negotiators appeared too far apart to strike a deal before a deadline this week.
"U.S. House Speaker Paul Ryan had set this Thursday as an informal deadline if the administration were to push a pact through the Republican-controlled Congress before a new slate of lawmakers arrives in Washington next year, possibly led by Democrats.
"The U.S. and Mexican governments had hoped to reach at least the general terms of an agreement this week to allow enough time for legislative approval before year's end. Negotiators had sought to avoid complications stemming from July 1 presidential and congressional elections in Mexico and U.S. congressional midterm elections in November. Canada, by contrast, faces little pressure to rush."
The Journal writers explained that, "Mexican Economy Minister Ildefonso Guajardo said Tuesday that a deal was unlikely by Thursday, voicing frustration at U.S. demands for a five-year sunset clause and the elimination of Nafta's dispute-resolution mechanisms.
The deadline was a soft one, but each day after that date without an accord makes U.S. ratification of an accord this year more difficult to achieve.
"Negotiators showed willingness to continue pursuing an agreement in the weeks and months ahead, although that suggests Mr. Trump's promise to rewrite the 24-year-old trade pact will take much longer than his administration had hoped."
Today's article noted that, "Meanwhile, GOP senators from agricultural states also began meeting with Mr. Trump. They discouraged him from pulling out of the agreement, warning him that such a step would set up a confrontation with Republicans in Congress and potentially hurt the party in the midterm congressional elections, especially in farm states."
The Journal writers added that, "The rules of fast track, also known as trade-promotion authority, have some wiggle room, but there are concrete requirements, including a 90-day notice to Congress before a pact is signed, with a text published at least 60 days before the signing.
The upshot, say trade experts: After this week, any deal announced to Congress won't be guaranteed a vote before the next Congress takes office in January.
Earlier this week, Bloomberg writers Eric Martin, Jenny Leonard, and Josh Wingrove reported that, "Although [Speaker Paul Ryan's] comments put the firmest deadline yet on Nafta talks, many analysts have said U.S. deadlines are murky, and that a deal reached later in May or even in June could theoretically get passed. A spokeswoman for Ryan, AshLee Strong, said the May 17 target is due to timelines set out in U.S. trade law, not an arbitrary political date. 'This is not a statutory deadline, but a timeline and calendar deadline,' Strong said by email Friday."
The Bloomberg article indicated that, "The Trump administration is increasingly preoccupied with its efforts to reach a peace deal with North Korea and avoid a trade war with China. Vice Premier Liu He — who is President Xi Jinping's top aide for economic matters — will be in Washington this week for talks with the administration on ways to resolve the trade dispute between the two countries."
On Tuesday, Bloomberg writers Toluse Olorunnipa and Jenny Leonard reported that, "White House economic adviser Larry Kudlow said an agreement on a new North American Free Trade Agreement would demonstrate the U.S. can avoid a trade conflict with China."
However, the article noted that, "Speaking at an event hosted by Axios, Kudlow said he saw the odds of the U.S., Canada and Mexico agreeing on a new Nafta deal at a slim 51-49. 'I don't want to play anyone's hand,' said Kudlow. 'They are working very hard.'"
China Trade Issues
Wall Street Journal writers Lingling Wei and Bob Davis reported on the front page of Tuesday's Wall Street Journal that, "The U.S. and China are closing in on a deal that would give China's ZTE Corp. a reprieve from potentially crippling U.S. sanctions in exchange for Beijing removing tariffs on billions of dollars of U.S. agricultural products, said people in both countries briefed on the deal."
The article noted that, "A deal isn't completed and could fall apart as discussions continue, particularly since the U.S. side is sharply divided over how to deal with China."
Tuesday's article added that, "In return for the potential relief on ZTE, the people say, China would agree to hold back tariffs on a variety of U.S. agricultural products it announced in early April as retaliation for U.S. tariffs on Chinese steel and aluminum exports. The U.S. products targeted include ginseng and pork.
"China would also ease some nontariff restrictions on American farm products as part of the potential pact, according to the people. For instance, since late last year, China has tightened quality testing for U.S. soybeans, resulting in the crop getting held up at Chinese ports."
Trade negotiations are continuing with China. They have been making hundreds of billions of dollars a year from the U.S., for many years. Stay tuned!

— Donald J. Trump (@realDonaldTrump) May 15, 2018
And Reuters News reported today that, "The United States is seeking a trade deal with China, White House economic adviser Larry Kudlow said on Tuesday as talks between the world's two economic powerhouses resume in Washington this week.
"Kudlow, speaking in a live interview with Politico news outlet, said he backed U.S. Treasury Secretary Steven Mnuchin's efforts to reach an agreement with Beijing and that both countries must take action."
The article stated that, "Kudlow told Politico that the United States was not looking for a trade war with China and that it was not clear what action the United States would take toward ZTE."
While trade negotiations continue, the USDA's Economic Research Service addressed supply and demand variables associated with U.S. sorghum production in its Feed Outlook report on Monday, and stated that, "Exports are expected to decrease by 80 million bushels in 2018/19 to 165 million. In addition, China is not expected to be a buyer of U.S. sorghum given the current policies in place. On February 4, 2018, China's Ministry of Commerce began an anti-dumping investigation, which resulted in an April 18, 2018, decision to impose preliminary anti-dumping tariffs on all sorghum from the United States. This preliminary anti-dumping duty was at a rate of 178.6 percent, essentially stopping all U.S. sorghum exports to China."
With respect to soybeans, Chuin-Wei Yap reminded readers yesterday at The Wall Street Journal Online that, "American soybean exports, another Farm Belt target facing retaliation by Beijing, enjoy relatively low Chinese tariffs of 3%—but likely not for long. Beijing has said it will add 25% to that tariff, and is trying to line up alternative soybean suppliers. The U.S.—China's second-largest supplier after Brazil— charges no tariffs."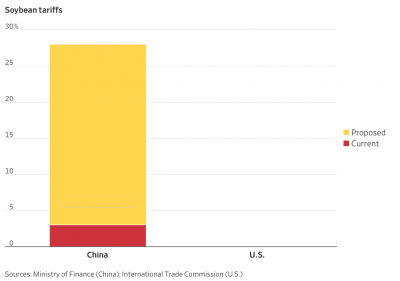 Also with respect to soybeans and China, in remarks to the National Press Club on Monday, Secretary of Commerce Wilbur Ross noted that, "China has 20 percent of the world's population but only 11 percent of the arable land.  They cannot feed themselves, so they must import to fill the gap, especially as their diets shift toward more protein content.
"Take soybeans as an example. It is true that China is our largest customer. But it also is true that Brazil accounts for a bit more than 50 percent of Chinese imports, while we are 30 percent.
"For Brazil to replace us, they would have to increase their exports to China by 60 percent.  But if Brazil could ship that much more at competitive prices they would do so already.  They have not been holding back just to help the United States."
Sec. Ross continued: "Brazil also has issues with climate and its transportation networks, which limit its ability to export materially more than it already does.  Realistically then, to fill the additional Chinese demand, they would have to divert some soybeans now sold elsewhere.  In return for a higher price to China, they might be willing to disrupt existing customer relationships."
Sec. Ross added that, "If they did so, the market they had formerly supplied would now open up for U.S. producers.
At the end of the day, it would be, at best, a pyrrhic victory for China.  Remember, food is a much higher percentage of income in China because incomes are so much lower. Therefore, the pain in China would be widespread.
Meanwhile, USDA's Economic Research Service pointed out on Monday in its Oil Crops Outlook report that, "China's domestic output of soybeans is likely to remain steady this year as the potential returns for corn look more profitable.
In 2018/19, soybean imports by China are seen rising 6 percent to 103 million tons, representing 87 percent of the expected global increase.
"Underlying that gain in soybean imports is projected 7.5 percent consumption growth for the world's largest soybean meal market."