U.S. China Trade Talks Set to Continue as Trade Row Persists
The United States and China are set to continue discussions this week over their ongoing trade disputes.  Meanwhile, China has increased inspections of U.S. pork imports while Chinese buyers continue to cancel U.S. soybean purchases.  Also last week, the World Agricultural Outlook Board updated its forecasts for global soybean production and trade.
Negotiations Continue in Washington, Chinese Pork Inspections Increase
Wall Street Journal writers Lingling Wei and Bob Davis reported late last week that, "China likely will offer to import more U.S. goods during negotiations in Washington next week as the two sides see one of the best ways to avert an all-out trade war is for Beijing to buy American.
"Sufficient progress was made when a senior U.S. delegation went to Beijing last week, say the two sides, that China is dispatching its chief economic envoy, Liu He, to Washington in the days ahead, though China hasn't confirmed his arrival date. Mr. Liu is expected to come with a shopping list of sorts, specific ideas for purchases designed to narrow the two country's vast trade imbalance."
The Journal writers explained that, "Despite the encouraging words by the leaders, trade relations between the two nations remain tense and, by some measures, are actually worsening."
"The trade fight has also cut into American farms' sales to China, one of the world's biggest markets. In April, China announced tariffs on some U.S. agricultural goods and threatened to target others, in retaliation for U.S. tariffs on Chinese steel and aluminum exports.
"Now, the U.S. pork industry faces stricter scrutiny over meat exported to China. Since late April, Chinese customs officials have inspected all shipments of pork from the U.S. and boosted sampling rates to 20% of those shipments, according to the U.S. Department of Agriculture.
For U.S. pork exporters already dealing with tariffs on their product that China implemented in April, the new steps 'will likely add additional costs to the importing process,' USDA officials said.
Soybean Issues: China Canceling Orders
Also last week, Associated Press writers Christopher Rugaber and Dake Kang reported that, "With the threat of tariffs and counter-tariffs between Washington and Beijing looming, Chinese buyers are canceling orders for U.S. soybeans, a trend that could deal a blow to American farmers if it continues."
The AP article stated that, "Data from the U.S. government data show that sales of soybeans have fallen from about 255,000 metric tons in the first week of April, when the trade dispute began, to just 7,900 in the week that ended April 26.
"Cancellations have also jumped, to more than 140,000 metric tons in the week ending April 26. In the same week last year, there were no canceled sales at all.
Some analysts argue that the shifts aren't yet particularly significant. China buys most of its soybeans from the United States in the late summer and fall, and then switches to South American sources, mainly Brazil and Argentina, in the spring. So the current market activity doesn't necessarily reflect the pattern that would occur during the main buying season.
 Soybean Issues: Updated Production-Trade Outlook
With this background in mind, a report on Thursday from USDA's Foreign Agricultural Service (FAS) ("Oilseeds: World Markets and Trade") stated that, "Global soybean production in 2018/19 is forecast to surge to 354.5 million tons, an increase of 17.8 million tons above the 2017/18 production estimate. This increase primarily reflects a recovering crop from the current drought in Argentina. Global harvested area is forecast to expand 3 percent, largely in South America and India, more than offsetting a marginal reduction in the United States."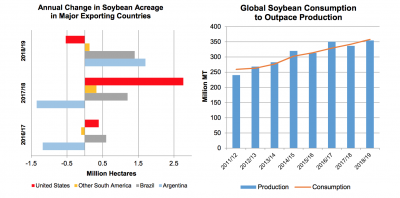 According to FAS, "In the United States, lower harvested area, coupled with trend yields, is expected to result in a slight decline of production, but is still projected to be the third-largest on record. Acreage in South America, which will be harvested in 2019, is forecast to rise 6 percent to 61.3 million hectares, with production reaching 188.5 million tons. Soybean production in China is virtually unchanged at 14.1 million tons."
Thursday's update added, "Global soybean imports are forecast to rise 5 percent in 2018/19, primarily in response to growth in China, Southeast Asia, the Middle East, and Mexico. Brazil and the United States will continue to be the main global soybean suppliers.
Brazil's soybean exports are projected to exceed those of the United States for the seventh year in a row.
Specifically regarding U.S. soybean exports, the World Agricultural Outlook Board (WAOB) indicated in Thursday's World Agricultural Supply and Demand Estimates (WASDE) update that, "U.S. soybean exports are forecast at 2,290 million bushels for 2018/19, up 225 million from 2017/18. With forecast global soybean import growth of 5 percent, the U.S. soybean export share is projected at 39 percent, up from 2017/18 but otherwise the lowest since 2012/13.  Reduced stocks in South America this fall will limit export competition during the first half of the 2018/19 marketing year."
WAOB Chair Seth Meyer pointed out on USDA radio Friday that, "We are not implying a huge resurgence in U.S. market share in terms of global trade.  We are adding another six million metic tons in Chinese demand year-over-year— by historical standards that is a slowdown, now they are at 103 million metric tons is our expectation for their imports."
The radio segment noted that the estimated U.S. soybean export increase will help reduce U.S. soybean ending stocks, resulting in an expected $0.65 increase in the season ending average soybean price.
Meanwhile, Reuters writers Naveen Thukral and Dominique Patton reported on Thursday that, "An unexpected drop in short-term Chinese purchases of Brazilian soybeans is denting exports of the oilseed from the South American nation, which just a few weeks ago looked poised to benefit from a Washington-Beijing trade war.
"Chinese importers rushed to buy Brazilian beans after Beijing proposed a 25 percent tariff on U.S. cargoes on April 4, but short-term purchases have dried up since last week as the world's top importer grapples with weak demand at a time of abundant local supply, trade sources said."
The article noted that, "Brazilian exports have also been hit as European and other Asian buyers have turned to cheaper U.S. supplies."
Last week's article pointed out that, "However, the fall in Chinese near-term demand for Brazilian beans is only seen as temporary as prices for cargoes from the South American country are expected to drop as it gathers a record harvest.
"The nation is harvesting an all-time high crop of more than 119 million tonnes, boosting expectations of stronger exports, with consultancy Céleres estimating overseas sales will rise by 2 million tonnes in 2018 to 72 million tonnes."
In a related article, Bloomberg writer Tatiana Freitas reported last week that, "China's food giant Cofco International is positioning itself to increase soybean purchases from Brazil as trade tensions escalate between the U.S. and the Asian nation, according to a person with direct knowledge of the matter.
"Cofco has strengthened its team that buys, stores and sells farmer crops, known as origination, in the South American country, recently hiring as many as 12 people to work directly with farmers in Mato Grosso, Goias, Parana and Rio Grande do Sul states, said the person, who asked not to be named because the information isn't public. Brazil is the world's largest soybean exporter."